7 Virtues
Rectitude - Justice; Right Decision
Valiance - Bravery; Courage
Benevolence - Charity; Mercy
Respect - Morality; Courtesy
Honesty - Truth; Fidelity
Honor - Dignity; Integrity
Loyalty - Faithfulness; Devotion
-----------------------------------------------------------------
Sangheili Bio
Name: Zudo Kydami
Gender: Male
Born: May 29th, 2537
Birthplace: Kydami State,Sanghelios
Age: 21
Species: Sangheili
Eye Color: Neon Red
Skin Color: Lighest Gray
Height: 8'2
Weight: 255
--------------------------------------------------
Political & Military Information
--------------------------------------------------
Affiliation:
Convenant Empire (Formerly)
Fleet of Burning Light (Currently)
DarkStorm Empire (Formerly)
-------------------------------------------------
Title/Rank:
Ultra
Shadow Guard (Formerly)
Honorguard (Formerly)
------------------------------------------------
Bloodline Members
-----------------------------------------------
Sisters: Zena Kydami
Brothers: Nihai Kydami, Finah Kydami
Brother-In-Law: Rha Kydami
Niece:Ella Kydami
Deceased: Vekta Kydami, Rtas Kydami, Garr Kydami, Rkar Kydami, Finah Kydami.
Banished: Ella Kydami
Elder: Azurox Kydami
---------------------------------------------
Head-House of Kydami
-----------------------------------------------
Kaidon: Zena Kydami
Role: Leadership, Royalty
Planet: Kydami State, Sanghelios
Symbol Meaning: Strength & Wisdom
Motto: "Our Word is Law"
---------------------------------------------
Allies of the Fleet and Sangheili Union
---------------------------------------------
Ascetics of Vadam
Blades of Glory
Drakum Lineage
Fleet of Burning Light
Fleet of Righteous Indignation
Fleet of Righteous Purity
Fotus (Forunner)
Legion of Deju
Redemption Sangheili Legions
Sangheili Separatist Legion
Sons of Sangheili
--------------------------------------------
http://foblclanwebsite.weebly.com
http://rslempire.weebly.com
Spartan Company
---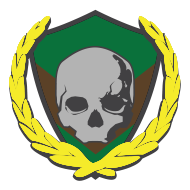 Per Terra, Per Constellatum!
2 Members
Est. 11/29/2017
The UNSC Andraste is a Charon class Frigate located within the Home Fleet. We specialize in ground operations including but not limited to: Raids, Infiltration, Resource Denial, Land Grab and much more, We operate under the direct supervision of NAVCOM and are the first ones in and last ones out. It is our job to protect Humanity and all they hold dear from the grips of Tyranny and Terrorism. If you feel you're up to the task of such a monumental responsibility, have a working headset, a working Discord app and the discipline to follow orders when given, contact Admiral Tensei today!

Feet First
Made your first hot drop into HaloWaypoint.com

Statistician
View your Service Record on the web.

Enlisted
Become a member of an active Spartan Company.