Games
Halo Infinite Multiplayer Reveal
Fall in, Spartans! A new day is upon us. Today and through this week we're excited to share, and show, the first details of what you can expect when Halo Infinite's free-to-play multiplayer experience arrives later this year on Xbox and PC. Whether you're a returning player or brand new to the franchise, Halo Infinite builds on the legacy foundations of the series' sandbox-driven multiplayer to offer something that's equal parts fresh and familiar, frenetic and fun, with a personalized Spartan journey that's only just beginning at launch.
In the days ahead we've got even more in store for you with additional insights and details coming from folks across the studio. Here's a look at what's on tap:
"The Great Journey So Far" – Available Today – Visit Xbox Wire to hear from Halo Infinite's Head of Creative, Joseph Staten.
343 Industries Halo Infinite Multiplayer Overview –Monday, 6/14 –More gameplay and insights from the team, debuts at 8AM PT on YouTube.com/Halo.
Halo Infinite Mark VII Spartan Cosplay Guide – Tuesday, 6/15 – Everything you need to know to create your own real life Spartan armor - here on Halo Waypoint.
Canon Fodder – Wednesday, 6/16 – 343 lore master GrimBrother One dives into the fiction behind multiplayer maps, vehicles, armor, and more.
Inside Infinite – Thursday, 6/24 – Our monthly blog series returns with a closer look at the future of Halo Waypoint and the work the team is doing to extend your Halo Infinite experience and we'll catch up with members of the Live team to talk player engagement and customization.
And, just in case you missed it earlier today, make sure to check out the entire Halo Infinite segment from the Xbox & Bethesda Games Showcase over at Xbox's YouTube page. Our primary focus in on our multiplayer reveal, but you don't want to miss the latest look at the campaign shared by Joseph Staten!
We'll update this blog throughout the week with links and new info as it becomes available. And of course, make sure to follow @Halo on twitter to stay up to date. Until then, read on to learn more about the multiplayer side of Halo Infinite.

QUINTESSENTIAL HALO
For nearly twenty years, Halo multiplayer has been defined by sandbox-focused emergent gameplay that offers players a wide array of weapons, vehicles, and toys in the name of competition and good fun. With Halo Infinite, the team at 343 Industries is embracing the franchise's legacy while imbuing it with new modern twists to lean into the series' strengths while simultaneously laying a foundation on which to grow and further evolve in the months and years beyond launch.
In addition to returning favorites and brand-new weapons, Halo Infinite's sandbox is punctuated by the addition of Halo 3-esque equipment – game-changing limited-use abilities that players will scavenge for during a match. In today's trailer you'll catch the first glimpse of two additional pieces of equipment: the Threat Sensor is an area-of-effect support device that periodically pulses and illuminates enemy players within it's radius while the aptly named Repulsor can be used to deflect projectiles and anything else that gets in the way. Whether it's zipping across a map to gain the high ground using a Grappleshot or digging in your defenses with a Drop Wall, equipment brings new strategic and tactical options to Halo Infinite's frenetic multiplayer combat with more additions to come in future seasonal updates.
Vehicles have always been a pivotal part of Halo's sandbox and Infinite will include an assortment of tried-and-true UNSC classics in addition to Banished-inspired favorites – many of which now support customization. From strafing runs in a Banshee to fireteam incursions in the new Razorback to the satisfying splatter of the Chopper, the UNSC's garage is well equipped for intense Spartan training skirmishes.
A NEW GENERATION, BUILT TO FIGHT
After nearly 20 years of Spartan combat and experience to contend with, we know the Halo multiplayer arena can sometimes be a daunting experience. To help address this, a key pillar for Halo Infinite is to be the most approachable and welcoming entry in the series to date. To help ensure all Spartans meet the UNSC's high bar and have the skills necessary to succeed on the battlefield, we're excited to introduce the all-new Academy. Under the mentorship of Spartan Commander Laurette, the Academy offers players the opportunity to hone their skills and get better acclimated with the armaments and environments of Halo Infinite. Recruits will be able to dial-in their marksmanship skills at the target range or jump right into customizable training skirmishes and square off against AI-controlled bots. Training Mode lets you configure specific loadouts, deploy opponent bots of various skill levels, and practice on your own terms. Bots can also be configured in Custom Games to tailor the experience and even in fill-in roster spots for MIA fireteam members.
With new training options, bots to spar against, skill-based-matchmaking, and improved systems that deliver better communication of key info to players during a match, we're excited to welcome Spartans of all skill levels and help you battle your way to the top each season.
MODES, MAPS, AND MORE
At the core of Halo Infinite's multiplayer offering is the Arena, which once again pits two teams of four Spartans against each other in a variety of new and returning modes. Halo's Arena has and continues to be defined by fair starts and teams working closely to control key areas of a map while utilizing the sandbox in the most impactful manner. Scavenging also remains a key component – players will strategically work together to acquire newly spawned weapons off a rack or take down an opponent to loot their equipment and use it against them. Remember your Academy training, jump into battle, and revel in the accolades of legendary multiplayer announcer Jeff Steitzer.
When Halo Infinite releases this holiday, it will also usher in the long-awaited return of Big Team Battle. This classic series stalwart is back, but bigger and better than ever, supporting 24 players on large vehicle-friendly maps tapping into the full extent of the sandbox. BTB is the epitome of the Halo experience and the ultimate Spartan battle fantasy with Pelicans swooping in to deploy fresh vehicles, weapon ordnance dropping from the sky, and tactical updates from Commander Laurette. Big Team Battle is the wild, raucous, fun social experience that cranks everything up to 11 and we'll be sharing more details later this summer.
In addition to Ranked and Social matchmaking playlists, players will also experience limited-time seasonal events with special rewards on the line. Console and PC players will play together via crossplay while support for cross-progression means you can move freely from one platform to the other and keep working on your Spartan's journey. Xbox Series X owners will also enjoy up to 120FPS on supported hardware and PC players will have a wide variety of configurable settings spanning framerate to graphics to key binds and more. Of course, online isn't the only way to enjoy multiplayer – Halo Infinite will also support splitscreen on Xbox and LAN play via a PC local server.
Today's reveal trailer offers glimpses of a few of the new Arena maps, and one Big Team Battle map, you'll be able to jump into later this year. We'll have additional fictional details for these maps coming as part of the Canon Fodder blog landing on Wednesday. Expect to hear more about maps, and modes, further along on the road to launch.
EXPRESS YOURSELF
A key component of the new Halo Infinite multiplayer experience is your personal Spartan that's meant to grow and evolve month after month, season after season. Players will have more options than ever before to customize your Spartan and make it uniquely yours. Each season will feature a new assortment of customization pieces and components that can be earned via gameplay, challenges, events, and purchase. We've said this before, but it bears saying again - there will be no loot boxes or elements of chance if you decide to purchase an optional customization item. And, of course, all of Halo Infinite's Spartan customization elements are purely cosmetic and have no impact to gameplay.
The Armor Hall offers more per-piece customization options than any prior Halo game including everything from helmets to visors to gloves to shoulder pads and more. Customization doesn't stop at armor – you'll be able to earn and apply coatings to weapons and vehicles, too. And that helpful and humorous voice you hear in the trailer? It's one of example of the new Personal AI that you'll be able to equip during multiplayer matches (they also help capture objectives, as pictured below). And, the final game will include even more ways to customize your Spartan than what we're showing today – there are a few surprises left to share.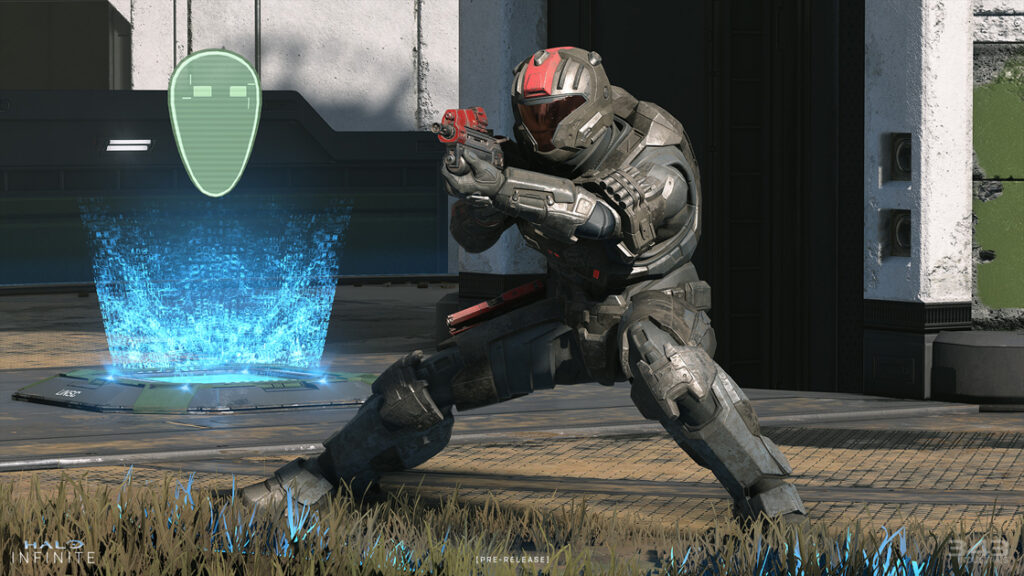 To fully support our goals for expanded player expression in Halo Infinite the team has designed a new "friend and foe" system for multiplayer games. At a high level, this functions as an "outline" system that uses different colors to denote friends and foes. These colors are configurable for accessibility purposes and whatever colors you assign will match your scoreboard, team bases, and team flags. This isn't depicted in the reveal trailer, due to its more cinematic nature, but we'll have more details to share down the road (and Halo Insiders will be able to check it out first-hand during technical previews later this summer).
ARE YOU READY?
Back when we first announced Halo Infinite, we talked about the importance the community would play in development – and beyond – via Halo Insider "flighting" (pre-release technical previews) and feedback. We've seen firsthand the good that comes from empowering and partnering with our community to get pre-release gameplay feedback and feature input which has been instrumental on our Halo: The Master Chief Collection journey over the past several years.
While our schedule shifted due to a pandemic and development timelines, our commitment to our community has not. Later this summer, we still plan for limited pre-release technical previews with Halo Insiders to help us stress test and improve the game on the road to launch. We'll have a lot more details to share as we get closer but, in the meantime, make sure you're registered with the Halo Insider program if you'd like an opportunity to potentially participate in future flights. It's quick, easy, and you're free to opt in or out at any time, but please make sure your profile is up to complete and you've got a verified email on file or we won't be able to contact you when the time comes. Spartan Laurette asked, "Are you ready?"– don't let her down – make sure you are!
Player feedback and community partnership will be even more critical in the weeks and months following release. When we say that launch is just the beginning, we mean just that – in addition to new features, content, and experiences we will be working closely with the player community to shape and evolve the game together via feedback and future flights/technical previews.
THANK YOU
We know it's been a long time coming but we're excited to finally pull back the curtain and talk more about the multiplayer side of Halo Infinite. We also know there will be questions and a need for more info so don't worry – that's exactly what we're going to provide in the days, weeks, and months ahead. We've still got work to do to wrap up development but we're committed to continuing to bring the Halo community along on the road to launch.
Creating and shipping any game is a huge undertaking but to do so amidst a global pandemic when the team has been separated and working from home for over 15 months is challenging at an unprecedented scale. As we work towards release later this year, we're grateful for the continued support and understanding from the Halo community – thank you. We also want to extend a major shout out to the teams across 343 Industries, and our partners, who have continued to overcome adversity and give their all to make a special Halo game we hope you will enjoy for years to come.
We know the expectations and stakes are high and we may not get everything exactly to everyone's liking on day one, but as a live service we're committed to partnering with players to evolve the game together. With a free-to-play service supporting crossplay on Xbox and PC, along with a more inviting new player experience, we're rolling out the red carpet for more players than ever before to jump in and share in this universe and these experiences we've all come to know and love for nearly twenty years. We're as eager and excited as you are to begin the next chapter of this journey together this holiday.
Make sure your Halo Insider profile is up to snuff, Spartans – we'll be counting on you when the time comes.
- The 343 Industries Team
ADDITIONAL READING
If you're looking for even more information about Halo Infinite, check out these blogs to learn more about the development team and their work on Halo Infinite.
Inside Infinite - April 2021: Crossplay, super ultrawide, triple keybinds, and so much more – Halo Infinite on PC is being built from the ground up with the platform's strengths in mind. Read about the team's vision and what PC players can expect in our latest Inside Infinite.
Inside Infinite - March 2021: Join the 343 Audio Team and go behind the scenes to learn about their vision and process for bringing the soundscape of Halo Infinite to life in this month's edition of Inside Infinite.
Inside Infinite - February 2021: Hear from members of the Halo Infinite team about the work they're doing to bring Zeta Halo to life and check out some updated looks at the progress that's been made since last year's campaign demo.
Inside Infinite - January 2021: 343's Sandbox Team talks about their vision, approach, and work on Halo Infinite's sandbox.
Halo Infinite will also usher in the next chapter of Halo esports - read more about the HCS team's plans in the Designing the Halo Esports Ecosystem blog series:
April 2021: Sponsors - why are they important and how do they fit into Halo esports?
March 2021: Viewership is critical to the success of the Halo esports program, how are we driving growth?
February 2021: Learn about the role tournament operators will play in the Halo esports ecosystem.
January 2021: The HCS team shares their mission, goals, and overall approach to Halo Infinite esports.