Games
INSIDE INFINITE – JANUARY 2021
Hey everyone – ske7ch here wishing you a belated Happy New Year and welcoming you to the first "Inside Infinite" of 2021! Before we dive in, I want to take a moment to share our plans for the next few months and our commitment to our community. Following last month's update, the start of the new year brings a new sense of focus and clarity as the studio collectively marches towards Halo Infinite's launch later this Fall. It's going to be an exciting year!
"Inside Infinite" is a recurring series that will hit Halo Waypoint on approximately the last Thursday of every month. Our goal with these blogs is to provide insights into the game we are making from the people who are making it. These updates are intended to be fairly high-level and will lay a foundation that we'll continue to build on over the months leading up to launch. Rather than make this strictly a one-way endeavor, following each update we'll ask for community questions on social (using #Ask343) and look for opportunities to go deeper with the team and address some of your most pressing inquiries in the following regular Community Update blog (lands approximately mid-month).
Anyone who has followed me over the years knows that I'm all about trying to set proper expectations so we want to be upfront with you – while we will always strive to inform and delight our community with these updates, this isn't the place for huge announcements, specific feature deep-dives, or gameplay trailers. We know you're all very eager for updated campaign gameplay, a proper multiplayer reveal, public flighting, and many other specific aspects of Halo Infinite. That will all come in due time as large industry events take center stage and the Halo marketing machine kicks into high gear.
This month we get things started by interviewing members of our Sandbox Team and next month we'll talk with some of the folks working to bring Zeta Halo to life followed by a chat with the Audio team in March. We're still finalizing plans for April and May but we'll update you along the way. Please keep in mind that these plans could shift but we'll let you know if anything changes. June, July, and August typically deliver big moments across the entire games industry so while we're not committing to anything specific yet, we expect to have more than just Waypoint blogs this Summer. And in full transparency, we're still actively working across the teams to make sure we have a strong roadmap post-Summer leading up to launch this Fall. Until then, we look forward to going on this monthly journey together and are grateful for your continued support.
With that, I'll kick it over to Unyshek and the Sandbox Team to talk more about their vision and approach to Halo Infinite….
SANDBOX EVOLVED
Thanks ske7ch! I'm excited to work with you and the entire studio to help bring those stories to light over the coming months. With that said, we've got a lot to talk about today, so let's dive straight into things with the Sandbox Team!
Uny: Hey all, Happy New Year and thank you for setting aside some time to talk about Halo Infinite's sandbox with us! Some players may already be familiar with Quinn, but let's kick this off with a quick round of introductions. What does your role at 343 entail and what's your experience with Halo, as a fan or employee?
Quinn DelHoyo: Sure thing! My name is Quinn DelHoyo and I have had the privilege to work in multiple roles here at 343 Industries since I joined the studio in 2013. Some of those include Multiplayer Designer on Halo 5: Guardians, Lead Weapon Designer early in development for Halo Infinite, and now as the Lead Sandbox Designer. My job is to establish, own, and drive the creative vision of all sandbox features within the game. I meet regularly with leaders across the studio to ensure the sandbox is meeting the needs of their teams and experiences. I work with the talented sandbox designers on our team to review and guide their features from concept all the way to completion. I do so using the sandbox principles found in the "Halo Combat Doctrine." (We'll get more into that below.)
Tim Temmerman: Hello! My name is Tim Temmerman and I'm a Senior Designer in charge of equipment here on the Sandbox Team. I joined 343 while Halo 5 was in development and worked on vehicle design then moved on to equipment. On Infinite, my role is to come up with our roster of equipment and guide it from concept to completion along with the designers, artists, and engineers in sandbox. In order to create something that fits our vision for Infinite, we work closely with the Multiplayer and Campaign Teams to better understand what aspects of gameplay we want to emphasize. This helps us define the boundaries for a particular piece of equipment that fits nicely within the whole experience.
David Price: I'm David Price. I came to 343 in 2018 as a weapons designer. I became the lead weapons designer as Quinn moved to the Lead Sandbox Design role. My role is to create and tune weapons along with other aspects of combat like the health model. I work closely with both Multiplayer and Campaign Teams to ensure our experience for both realms is amazing and true to the Halo experience.
Brian Berryhill: Happy New Year, Uny! Glad to be back. My name is Brian Berryhill and I joined 343 in 2017 to work on vehicles for Halo Infinite. My role would best be described as Lead Vehicle Designer. What that role entails is owning the design and pushing the quality for vehicles and their systems across Halo Infinite to ensure they meet Quinn's goals for sandbox. If there's a new vehicle, variant, or vehicle system, I was the designer for it. If there's a problem with vehicles, I'm the first point of contact. The studio has a bit of a joke to cry out "BERRYHILL!" in attempts to summon me when they find a vehicle problem in playtest. I'm really blessed that my role lets me work with all the incredible teams at 343. From sandbox, character, multiplayer, campaign, to live ops, all of these teams have vehicle needs and I get to work with them along the way.
Elan Gleiber: Hey there! My name is Elan Gleiber, and I've been a Sandbox Designer here at 343 Industries for almost 2 years. I've had the honor of working on our amazing lineup of equipment such as the Grappleshot and Drop Wall. My role here is to drive the vision of our equipment from concept to completion as we pass through various stages of development and work closely with our partner teams across campaign and multiplayer to make sure we meet the needs of the experiences they are trying to create.
Like many of you, I grew up playing Halo! Halo: CE was my first FPS and I used to spend hours playing in the custom game lobbies of CE and Halo 2 on PC. As a Sandbox Designer, it's now my turn to pass on those same memorable experiences to new and existing players alike.
Kevin Stocker: I'm Kevin Stocker and I'm a Senior Sandbox Designer focusing on interactive gameplay objects and other systems. Another large area of my focus is dedicated to the PC sandbox features and systems. I started at 343 Industries in late 2018 so I'm still pretty green here, but my love for Halo extends all the way back to the all-weekend LAN parties my friends hosted when Halo: CE was originally launched.
It's great to have you all on board with us today! Now, it may sound like a fairly straight-forward question, but what is a game's "sandbox" and what are the Sandbox Team's responsibilities on a game like Halo Infinite?
QD: The game's sandbox refers to all of the vehicles, equipment, weapons, and objects that the player will interact with. Essentially, all of the toys that the player gets to play with. The sandbox also includes all of the player systems and 'verbs' like jump, run, health values, shield recharge times, etc. The work involved with creating these are both equal parts fun and challenging due to the sheer size and expectations of a Halo game. The Sandbox Team's responsibility is to craft those toys and shepherd them through the complete development cycle from concept to polish and ultimately ship. We'll get into more of what we do and what our responsibilities are down below.
That makes sense, thanks for breaking it down like that. Since the Sandbox Team essentially builds the toys for different experiences such as campaign and multiplayer, how do you approach designing the sandbox for the entire game? In our last interview with the Live Team, Ryan and Chris outlined their team's design pillars – does the Sandbox Team have something similar?
QD: Great question. As a Sandbox Team, we have a vision statement, which describes our purpose, what we strive for, and what we want to achieve. In a way, our vision statement describes the, "what our business is" and "how we go about our business." In addition to that, we have our Halo Combat Doctrine which encompasses five core principles that surround everything we do as a team. I can touch on that in a moment. First, I'll share our vision on Sandbox vision along with our official team crest:
WE CREATE WEAPONS, VEHICLES, PLAYER MECHANICS, AND SYSTEMS THAT ARE INTUITIVE AND REWARD PLAYER MASTERY.
WE RESPECT HALO'S LEGACY BY PARTNERING WITH OUR PLAYERS WITH THE SAME HONESTY AND INTEGRITY WE USE TO CRAFT OUR GAMEPLAY.
Let's break this down a bit. The first portion of the vision statement speaks to what we as a Sandbox Team do. We create weapons, vehicles, player mechanics, and systems that are intuitive and reward player mastery. We feel strongly that everything we create has to be easy to pick up and understand (that "grok" moment for players). Once we have something that is simple to understand, we push for depth that the player can appreciate and display in-game through experience and mastery. We know that something is "Halo Ready" when we have achieved those two requirements.
The second piece of our vision comes in the form of how we operate as a team. We respect Halo's legacy by partnering with our players with the same honesty and integrity we use to craft our gameplay. This means that we acknowledge that we have a 20-year franchise and recognize that players all around the world have different preferences, likes, dislikes, etc., and we commit to making sure we're mindful of past precedents and core experiences while making sure we're considering feedback from all players (not just campaign players or not just Halo: CE purists, etc.). We strive to honor Halo's rich 20-year history. Halo is special. We recognize that we all have jobs because of how special Halo is. We wouldn't be here if it wasn't for Halo and its powerful impact on gaming. Additionally, we also feel that Halo is not just special for us but it's also special for our players as well. The relationship with our players is what we as a Sandbox Team feel is vital to keeping Halo as amazing as it is.
An example of how we, as a Sandbox Team, will partner with our players is when it comes to game balance. As our free-to-play multiplayer shifts to a true service, it's more critical than ever that we drive continued feedback loops to ensure we are prioritizing the right work and continually improving the experience. Player feedback – via community input and additional vectors like user research studies – serves as our "north star" that we'll evaluate alongside game telemetry data and our team's instincts to inform a specific outcome. We know we may not always get it right, and we won't be able to act on every piece of feedback we receive from a community as large and diverse as Halo's, but we are committed to operating with transparency to acknowledge issues and most importantly, explain the "why" behind our decisions. With Halo Infinite, the investment we have made to our tools allows us to be more responsive to balance issues and opportunities (and of course we are also committed to keeping the game fresh via meta shifts, new weapons, vehicles, etc.). Halo Infinite truly is unlike any Halo before it when it comes to our support and commitment to the game and our players.
That's awesome! You mentioned the "Combat Doctrine," which I love. Would you be open to sharing that and explaining how it helps the team design and refine Halo Infinite's sandbox?
QD: The Halo Combat Doctrine is a document that establishes core Halo gameplay philosophy. It outlines our principles of what must be true when playing in Halo's sandbox and specifically, the moment-to-moment combat. The primary purpose of these principles is to shape design discussions regarding foundational Halo combat in both campaign and multiplayer experiences. They guide us as we make decisions today, tomorrow, and henceforth. Every principle has a player goal that we must achieve. There's more than we can fully deep dive on today, but we'll cover the most important part which is the principles themselves and I'll lightly touch on the purpose of each one.
Player Goal: Players feel combat is in their hands to win or lose. Halo's combat is a dynamic, rhythm of engagement, reactive, and cerebral dance that feels like a symphony of combat choices. 
This principle speaks to that feeling of nuanced combat between players that only Halo provides, we refer to this as "the dance." Some of the key ingredients that we keep top of mind are the right balance of kill time, movement, using a diverse sandbox, energy shield based health model, etc. In every encounter, the player feels like their choices are what produces the outcome and results. In victory, they can outsmart or outplay their opponent because they used the correct toys and skillful actions for the given situation. This principle is where the classic "golden triangle" is taken into consideration.
Halo 2 dance battle on Midship
Player Goal: Players will feel that they are skilled Spartans; armored super-soldiers, not regular foot soldiers. Each weapon or piece of equipment has a distinct feel and skill to use effectively.    
The Tools of Engagement principle encompasses the symbols of what makes Halo, Halo. (Fluid movement, accurate gunplay while on the move, clear roles for every weapon, vehicle, etc.) When we began development on Halo Infinite, one of our major goals was to remove redundancy in the sandbox. Weapons were the first area we wanted to have strong roles that players gravitate to because of a certain playstyle. So, we started from a blank canvas and called out all of the high-level roles and playstyles that we wanted players to experience. From there we started to get into the details of which specific weapons were going to fill those roles. This is also where damage types as a much more feature-rich system came into play. A classic example of a damage type would be Plasma. Engaged Halo players understand that plasma is strong against energy shields, for example. In order to really build out the player choice and roles of our sandbox, we felt that it was important to feature multiple damage types in the game so that we have more attributes to play with when designing vehicles and weapons. As the game launches and we continue to develop new weapons, there will always be some crossover of roles and playstyles but we'll be much more involved with keeping the sandbox fresh which means that weapons on day one will assuredly be different after multiple updates and patches.
Image by Lorraine McLees, as featured in the Halo Graphic Novel (2006)
Player Goal: The player feels that they can stand alone and be effective without teammates or AI companions.
To abide by the Lone Wolf principle means that we must provide the player with the necessary items and features to empower them to be effective on their own. Teamwork will augment the experience, but we need to ensure that the player can feel powerful on their own. One way that we achieve this is by looking at designing, tuning, and balancing the starting loadout for players in multiplayer. The basic traits, tools, and weapons must allow the player to be effective from the moment they spawn without the need to scavenge for "good" weapons.
Linda-058's Nornfang from Halo 5
Player Goal: Player actions are quick, frictionless, and responsive.    
Halo is best when the controls feel frictionless, natural, and responsive to the point that the controller or mouse and keyboard fades away and the player is just engaged in combat. Everything should feel intuitive and we don't want the player to have to "fight" the game in order to have fun. It's because of this principle, and the fact that Halo Infinite will be on PC, that led us to rebuild the control scheme system to allow players to fully rebind and remap their controls, regardless of platform. How players control Chief or their Spartan is crucial and we recognize that players feel the most connected to the game when control customization is fully featured.  
 Player Goal: Players have a clear understanding of their vulnerability and threat identification.   
This principle conveys a couple of important values. First, the importance of the systems in the game that provides the player the ability to assess pertinent information regarding the health state of themselves and opponents so they can make the best combat decision possible. Second, the importance of energy shields as a cornerstone mechanic to Halo gameplay. The importance of energy shields as part of the overall health mechanic cannot be understated. When creating new sandbox items that interplay with damage or affect the player's vitality, we take into account all of the knobs at our disposal for energy shield tuning such as max shield value, shield stun time, shield recharge time, and more. Players need to feel durable and strong when they have shields up. If we create a sandbox toy that violates that feeling, then we run into problems as we conflict with that foundational gameplay element. When that happens, we move away from that experiment and try something else.
Master Chief at the beginning of Halo 3 - art by Dorje Bellbrook
As you can imagine, there is a lot to unpack here. But to sum it up, the Sandbox Team naturally uses these for every new vehicle, item, ability, or weapon that we create. The same holds true when we set out to design player traits like health/shield values, jump tuning, movement speeds, etc. Something that I would like to call out is that principles can (and likely will) evolve over time as Halo Infinite is launched and becomes a living breathing game with meta shifts and community desires. We hold ourselves to this doctrine but also do our best not to paint ourselves in a corner as the game evolves over time.
One topic that the Combat Doctrine covers which could be fun to dive into is the role of equipment in combat. We saw a glimpse of the Grappleshot and the Drop Wall in our campaign demo, and I've seen fans ask about equipment's role in the sandbox. What aspects of equipment stood out and made it the clear choice for improving the combat loop in Halo Infinite?
QD: Equipment is meant to be a force multiplier by design. The player can flip a combat encounter on its head if they possess an equipment item, much like how you saw Master Chief deploy the Drop Wall right when the Brute tossed the Spike Grenade in the campaign reveal last summer. What was a difficult situation swung in the Chief's favor due to quick thinking and instincts. That's something that we feel is exciting about equipment. They provide an avenue to actions that exist in a more free-form space unlike the well-defined box of a vehicle or weapon. Above is just one example from the campaign. In multiplayer, equipment is earned via combat and/or scavenging the playspace which brings a level of fairness and competition to the experience. At a high level, the equipment items themselves will perform very similarly across campaign and multiplayer experiences. For example, the Drop Wall's role as a defensive energy shield will be the same across experiences. However, we are tailoring each equipment (all sandbox features for that matter), to the experience they are being used. So, expect to see some minor differences between multiplayer and campaign when it comes to acquiring equipment, the frequency in which they can be used, etc.
TT: As we prototyped equipment, we gravitated towards those that complemented and enhanced the core combat loop – pushing the boundaries just far enough to feel empowering without being disruptive. We looked for equipment that could be paired with maps, modes, weapons, and vehicles in new and effective ways. Another key aspect was equipment with a low skill floor and a high skill ceiling. In other words, equipment that was easy to understand and benefit from for beginner players, but with elements of mastery that allow high skill players to do some amazing stuff.
Equally important is how the equipment feels on the opponent's end. Not only that it's balanced, but that there's engaging counterplay or clear telegraphing that give players on both sides an opportunity to display skill mastery.  
EG: Compared to recent Halo titles with more innate abilities, equipment in Infinite creates fewer overall instances of change within the core combat loop, however we can make those instances much more impactful and fun. We have more room to push the boundaries of our sandbox, allowing new ways for players to express their skill and game knowledge across various playstyles. This is why equipment was the clear choice, and it gives us a lot of space to grow and change the meta as the game progresses over the years.
Another big part of equipment is that connection to a legacy element from Halo 3, something that players enjoyed and can understand, and upgrading that into a modern Halo experience.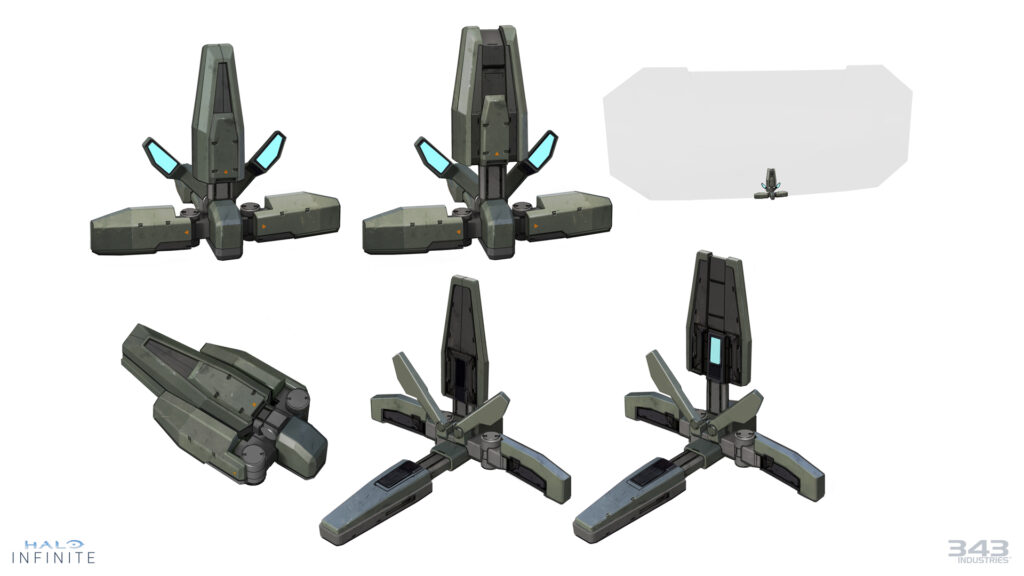 Vehicles are another core element of the Halo sandbox and in the campaign demo, we got to see the Master Chief jump in a Warthog and hit some sweet drifts and jumps. What role do vehicles play in Halo Infinite's sandbox for campaign and/or multiplayer?
QD: Vehicles are very important to Halo. I'll always remember jumping in a Warthog for the first time playing co-op Halo: CE with my friend. It was the first time that I felt like a video game brought to life playing with action figures as a young boy. Vehicles, much like weapons, have an assortment of roles that we want to be represented. I'll let Brian speak to those as he's the vehicle lord.
BB: Sweet drifts and sick jumps, that's the Warthog! Functionally, I think there are a few things vehicles do uniquely for the sandbox.
First, they unlock new traversal types, even land vehicles allow players to navigate the play space differently than while on foot. Going over an area covered in rocky crags and fallen trees? The Warthog with its high ride height and large tires will eat it up. Going over a flat marsh covered with pockets of water? The antigrav of the Ghost will let you smoothly boost through it. Stuck in a canyon trying to get to a base? The Banshee makes it a quick up-and-over. This has been easily the biggest challenge for me as the vehicle designer. To meet the fantasy of a more expansive Halo, we really needed to unlock our environment artists and level designers to make much more complex terrain. Early on I made the promise to these teams that if they made awesome looking environments, we'd make the vehicles able to traverse them. We have dev builds of all the older Halos (going back to CE), and this terrain is order of magnitude(s) more difficult. While this caused a significant re-tuning of the core vehicles that have been in every Halo, when you see the gorgeous environments of Infinite, I think it's worth it.
Second, vehicles organically form player parties. Every Halo vehicle enthusiast has a story where someone pulled up in a Warthog, beeped the horn, they got in, and they spent the whole match playing together. Even if you got destroyed, on spawn you'd find each other to go for another round with another vehicle.  Some of my best college buddies were made this way on LAN. Vehicles are the only inherently cooperative part of the sandbox so they carry the responsibility of forming these connections. I think single player vehicles are important for encounter design, but multiplayer vehicles are necessary for Halo's community.
Lastly, I think vehicles are important as long-term tempo pieces for encounters. As an example, a Sniper Rifle, due to its ammo capacity, has a finite cap to the impact it can have on an encounter/map. Vehicles have infinite ammo meaning they will exist as a challenge/boon in an encounter until they are either destroyed or hijacked. With vehicles having this different tempo, we on the Sandbox Team can give our partner teams the pieces to have more layers to their encounter compositions. This long-term tempo does mean if the sandbox isn't tuned correctly vehicles can become oppressive quickly. Specifically, what this means to me is that if the Golden Triangle doesn't provide counters to vehicles – they will be dominant. The Sandbox Team has worked hard to get a healthy interplay between all our parts and I think we're in a good spot right now but we're of course continuing to monitor feedback during playtests and eventually, public flighting.      
Another gameplay element mentioned in the team's Combat Doctrine was damage types. I've always loved Halo weapons and vehicles with these unique traits, so this is great to see. How is the Sandbox Team embracing damage types in Halo Infinite?
QD: As I said above, Halo has always had damage types to some degree from the very beginning. Early on when we were planning on sandbox areas to improve, damage types was one of the feature sets that the weapons team decided to really go after. We felt that in order to achieve stronger weapon identity than previous titles, having another category of attributes that we can fold into our designs creates a stronger choice for players. For example, if we had the damage type system in Halo 4 when the Light Rifle was created, instead of having the DMR and Light Rifle be similar minus different visual effects and damage tuning, we would have weapon traits unique to the Light Rifle because it shoots Hardlight. Rather, all Hardlight weapons would have unique attributes to them that aren't shared with your typical UNSC weaponry or what we call kinetic damage type weapons. Players should now have stronger choices presented to them. Instead of using the weapon that you like because of how it shoots or handles, in Halo Infinite you might want to grab a certain weapon because of how it affects other players, the environment, or vehicles. In essence, the ambition for damage types is to better integrate weapon types, ammo types, faction tech, etc., into the gameplay loops in a way that is easily understood by the player. That way the player can make better combat decisions based on the scenario. In addition to further clarity and purpose to the legacy damage types – i.e. kinetic and plasma – the team has also been pursuing new surprises for players that we're eager to talk about in the months ahead. I'll let Dave chime in as he's leading the charge on all weapon design for Infinite.
DP: We want to keep the rules for damage types simple, understandable, and sustainable. Halo has already had a loose rule set with plasma weapons. We wanted to further define this ruleset, so players can have expectations of a damage type. Keeping the rules simple and understandable allows us to still have weapons with unique behaviors and roles. If they want to quickly strip personal shields they can use Plasma for example. But this doesn't dictate a weapons playstyle, class, or power level. I could still have a shotgun-style weapon that is any one of these damage types. This approach allows us to still make multiple weapons that feel unique within a damage type. We want weapons to feel diverse even if they share the same damage type.
Changing gears a little now, after the campaign demo last year we saw plenty of questions emerge about the weapons. The addition of the CQS48 Bulldog shotgun, which appeared at the end of the demo, garnered some attention because of its unique characteristics. Would you or someone on the team be able to speak to the Bulldog's role in Halo Infinite's sandbox?
QD: The Bulldog is an exciting new shotgun weapon that is fast-firing and fast-loading. We have felt that the shotgun playstyle has been underrepresented in previous Halo titles, particularly in Multiplayer. We've found that there are a lot of players that want to be that "in-your-face CQC front-liner" but have never had a more readily available, less powerful, but still effective, shotgun that allowed them to play that role frequently across the multiplayer experience. That is essentially the player story genesis of how the Bulldog came to be.
DP: What Quinn said is spot on. We wanted to have a shotgun that was not a power weapon. The Bulldog is a versatile weapon that provides the player the role of a shotgun and up-close playstyle more frequently in multiplayer than previous Halo titles as it is lower on the lethality scale of weapons and is thus more prevalent. Similar to that, we wanted a shotgun that embraces the rapid-fire/dish out multiple shots quickly. That's where the Bulldog excels.
And because of the live nature of Halo Infinite, we should see the Bulldog, as well as other weapons, equipment, and vehicles, receive balancing updates from flighting and after launch, correct? I know the team has been fine-tuning weapons for a while now, what does that overall feedback and implementation process look like?
QD: Yeah! 100%. Like I said earlier, everything in the sandbox will be much more malleable as Halo Infinite grows over time. We are committed to this game, the community, and to ensure that it stays fresh with not only adding new content but taking care of the sandbox that will be there on day one. To that end, we have been building that muscle of balancing, seeking feedback, communicating the changes, etc. To provide a glimpse into our process, Sandbox sends out monthly patch notes to the studio of all the meta changes and new features that came online in the month prior. The studio right now is our player base, and we are treating the internal 343 team the same way we will treat the community: with honesty, respect, and integrity. Additionally, we are leveraging user research, daily campaign/multiplayer playtests, the 343 Pro Team, and additional external playtests in conjunction with designer feedback to inform changes and adjustments. This will not change once the game goes live - just the scale of data will be huge, which we are super excited for!
TT: Correct. Like most elements of sandbox, equipment tuning will be an ongoing process that stays reactive based on our findings and community feedback post-launch. As we play and review telemetry and community feedback, balance issues will undoubtedly bubble up around equipment. It's important to address that feedback at both a competitive pro level, and for more social players – equipment must be effective and empowering across all skill levels while being competitively viable.
DP: In terms of our weapons, we look at data and feedback from every source we can find. We then look at the weapon's intended role and function. From there we decide what the best changes are for the weapon or if it's behaving as intended. We then test the changes internally and push them live if we like them. We would like to get tuning changes out as frequently as possible when the game is live. The meta in any multiplayer games is constantly evolving. We want to be able to react along with the evolution of the game and its playstyles.
EG: You bet, and already we've spent a lot of time fine-tuning our equipment! Whether it's from playtesting across the studio or closed flighting, we routinely take all that information in and determine areas we can improve or balance for. Equipment can be used quite differently across the various skill levels, so it's important for us to make sure our changes retain the fun and competitive fairness of the equipment at all levels. It can be quite the challenge at times. However, having this consistent routine early on gives us a good sense of potential problem areas that could arise and the best ways to tackle them if they do. This is important once we hit day one as a live service, as we will be able to respond quickly and efficiently to any potential issues.
BB: For me, the first part of feedback is to fully understand the problem. A lot of feedback comes in very raw and honest. When getting that feedback, it's nice to be present to dig into the root cause of the frustration. "The Mongoose sucks because it's too slow", can be a lot of things. Is the acceleration too slow? Does it lose too much momentum when turning? Is its top speed too slow? Does it lose too much momentum when landing? Does it have too wide of a turn radius even? Once we understand the real ask, we measure that against the design goals we have for the vehicle. If we're getting feedback that shows we're not meeting our goals then we begin working on a patch. This patch is put into multiple internal flights starting with our "Sandbox Shelf Playtest" where sandbox designers tests work we haven't even committed to the main build. If the Sandbox Team gives it the thumbs up, we submit the changes and begin collecting feedback from the Motor Pool (vehicle team), campaign, and MP in their frequent playtests. During this time, I also make sure to ping people in the studio who have a lot of interest/opinions on Halo vehicles to get their perspective. After all THAT, we work with our user research and community teams (and eventually public flighting once that gets going) to make sure that these changes address relevant feedback.
Speaking of tuning, the Sandbox Team also works to tune the controls and inputs for the game, which now includes PC (mouse and keyboard) controls, right? Since this is the first time we're also building simultaneously for PC, how is the team making sure the controls for weapons, vehicles, and equipment all feel great on PC?
DP: We have a team dedicated to making sure PC controls feel best in class. We are working with our internal Pro Team as well as our partners in user research to ensure that we have a broad set of data to guide us on our PC feature planning. A major goal for Halo Infinite on PC is to hit that top tier PC experience that is as good or better than other shooters. Having MCC on PC is also a great help. It allows us to get player feedback on a live PC Halo game.
QD: We have staffed up a team here that is devoted to the PC livelihood. The Sandbox Team partners with the PC Team to build features and systems with the goal of meeting the expectations of PC players so that everything feels native to their platform. PC as a first-class endeavor is another aspect to Halo Infinite that we are actively taking into account. PC as a platform is not going to be a port after we launch the game. We are playing on PC every day. So now, not only does our game need to feel great and like Halo on a controller like it has natively for the past 20-some-years, the game and all of its systems need to take into account native mouse and keyboard functionality.
As we look ahead to our launch this Fall, what is the Sandbox Team currently focused on? Can you speak briefly about the team's remaining work and priorities over the coming weeks and months?
QD: Sandbox is super busy. We have everyone fixing bugs on our launch content and some exciting efforts kicking off for future updates – like new vehicles, equipment, etc. But we're pretty much playtesting a ton and looking for ways to polish and improve everything. All of our launch content is in-game and being played daily but it takes a strong effort to get something from 90% to a full 100% ship quality. So, we are pushing hard to squash bugs and tune our toys so they are in a good spot as we get closer and closer to launch (and public flighting before that). Additionally, we are taking time to evaluate the visuals of certain sandbox items with the goal of ensuring everything is landing the way the art directors envisioned. As a result, some sandbox items we've previously shown might be getting a facelift here and there by the time you see them again.
Alright, I've only got two more questions before I let you get back to it. Don't worry though, these are just for fun. What's your favorite weapon, vehicle, or equipment in Halo Infinite? If we haven't shown it yet, can you give us any hints as to what it may be or why it's your favorite?
QD: One of my favorite sandbox items is a vehicle that we haven't shown yet, but I'm sure I won't be alone with my favoritism once we do reveal it to the community. This vehicle isn't totally brand new, but it has received a fresh coat of paint while awaiting its triumphant return to Halo.
TT: We have some really exciting equipment we haven't shown yet, but the Grappleshot is probably my favorite of the bunch that we have shown. Not only does it just feel fun to use, but there's additional functionality that hasn't been revealed yet that adds some more… offense-focused gameplay that I'm super excited to show off.
DP: The Ravager has got to be one of my favorite weapons. It has changed a little too since it was debuted in the campaign reveal. Its role and playstyle have been pushed to allow for more area of denial play while still delivering a unique launcher style platform.
EG: The Grappleshot is definitely a favorite of mine, but I'm equally excited about an equipment item we haven't shown yet. It's highly physics-based, has TONS of interactions across our sandbox, and will leave you laughing or yelling, "Did you see that?!" Proper timing is everything with this equipment, and if you position correctly, you could very well send your enemies flying!
BB: I mean my favorite vehicle HAS to be the Warthog, right? There's no other choice, it's the GOAT! Although, we are working on a new vehicle that is looking pretty hot. This new vehicle will sit nicely between the Warthog and the Scorpion in terms of power level so it should ignite some new discussions on what vehicle to take to a mission. We just got our initial concept which really lit a fire under the team to get it into flighting, so stay tuned!
I think I know which two you're keeping secret, and those are some excellent choices all around. Now, moving on to our last question! Whose idea was it to allow players to pick up and throw Fusion Coils? It's easily one of my favorite additions to the game because it's just so fun to use.
QD: Fusion Coil tossing is the brainchild of one of our senior sandbox designers, Kevin Stocker. He's the primary design owner for all of our interactive sandbox objects/systems like grav lifts, man cannons, etc. There are a few more surprises with Fusion Coils, too. Remember how we wanted to better integrate the damage type system into the entire sandbox? Fusion Coils will be no exception. Also, wait until we show what we've done to another classic sandbox item that has been in Halo since the beginning but hasn't gotten much love until now.
KS: This feature really just came up when I was messing around in one of our test levels. I just thought it would be cool to be able to throw them, so I put it in and people seemed to like it. Since they were received well in playtests, we gave them more attention, like adding the "doomed state" so they can propel themselves around when damaged.
Alright, well I think that's all the questions I have for now. Thank you again for joining us to talk about Halo Infinite. Before you go though, do you have any closing words for the community?
QD: On behalf of the Sandbox Team, I'd like to first, thank you and Ske7ch for giving us this opportunity to speak publicly about our high-level philosophies we use to craft the sandbox. The Community Team at 343 does so much for us. Sincerely, thank you.
Secondly, I'd like to close out by bringing us back to the second part of the sandbox vision statement and our commitment to our players. We will do everything in our power to nurture the player/sandbox relationship by being honest in all of our communication. There will be times when we have to make trade-offs for the 'greater good' and can't address every request from every specific sub-group of players, but we'll always close the loop and share our reasoning – even when it's an outcome some may disagree with. We will exhibit integrity when it comes to our actions. We will finish what we set out to do. If and when we make mistakes, we will always be truthful with our players and rectify that mistake decisively. No matter what. We've always felt this way – but with Halo Infinite being built as a game that will grow and evolve over time, partnering with our community to help inform our priorities and opportunities is more critical than ever. This year is going to be an exciting one for all of us – and launch is only the beginning! We can't wait to share more of what we have been building with the community. Talk to you all soon.
That concludes our interview with the Sandbox Team here at 343! If you have any questions that you'd like to ask the Sandbox Team, be sure to ask us online using #Ask343 and we'll bring some answers to February's Community Update. Before we wrap up this entire Inside Infinite though, we've still got some stories from around the studio and a closing note from Joseph Staten. Keep on reading for more game development goodness!
TALES FROM THE TRENCHES
Each month we'll venture into the 343 Industries trenches to hear from members of the team about what excites them, what they're working on, and get more insights into the behind-the-scenes happenings with Halo Infinite's development. These are their stories...
"This year I'm excited about getting our flighting program together so people can play some Halo! We've started spinning up more internal flighting, getting our builds to where we want them and working on our delivery process. Sometimes we run into some difficult situations along the way, but the way teams pull together to get these flights off the ground is inspiring to me and I feel lucky to be part of this team.
Of course part of the excitement comes from knowing that this is all building towards public flighting later this year, and if people are as excited as I am about that prospect... they should probably opt-in to the Halo Insider program and make sure their profiles and contact information are all up to date." - Sam Hanshaw, Live Producer
"I've been excited to incorporate many of the graphical features we've developed over the last six months at the same time that we are refining the lighting and environment art for the world that we've already built. In earlier iterations, we were just getting the major components of the world to a fully-featured, playable state; but now we are reconsidering how they interact and improving what helps the world to be its most beautiful and intriguing. We are excited to share more soon!" – Josh Marvel, Senior Lighting Artist
"Here's something that excites me as an engineering architect: for Halo Infinite, we rebuilt the engine multi-threading solution to ensure high execution efficiency across all platforms and PCs, instead of running optimally just on Xbox One. We used this new system to transition the renderer to a massively parallel multi-threaded framework to support the increased cost of all our new rendering features and achieve high graphics efficiency on PC CPUs of various size as well as Xbox Series X/S and Xbox One X/S hardware. In practice, this means that we are doing our very best to make sure Halo Infinite runs optimally on any device you may choose to play on!" - Daniele Giannetti, Game Foundation Architect
And now, a few parting words from Halo Infinite's Head of Creative Joseph Staten...
DANCES WITH HUNTERS
Ah, yes. The combat dance. The beating heart of every Halo game.
For grizzled Spartan veterans this should be a familiar scene: imagine a Forerunner interior; a timeless metallic vault with soaring ceilings. It's quiet, empty… except for a pair of Hunters, shields up, shoulder-spikes twitching, blocking your path forward.
What to do? That's easy! I said to myself, the first time I fought Hunters in Halo Infinite. Bait them, get them to charge, then step aside, pivot, and direct as much firepower into their exposed, wormy backsides as you can before they turn-and-turtle.
But when I tried these classic dance steps, the Hunters had something else in mind.
As expected, one of the Hunters charged, exposing its weak spot. By the time I'd pivoted to face it, however, it had already pivoted to face me. That's odd, I thought. Must be a bug. I tried the dance steps again. Same result. Except this time, the second Hunter filled my face with fuel rod projectiles, sending me scrambling for cover.
Crouched behind a Forerunner pillar, shields fried and health deep in the red, I had a quick think: What's different? Hunters turn faster. OK, assume this isn't a bug. What's the game trying to tell me? And what new dance moves have I got?
As another volley of enemy fire rattled my virtual head inside my virtual helmet, I remembered: I have equipment. Specifically, in the case of more reactive Hunters: I have a Grappleshot. Which means I'm faster and more mobile too!
I don't want to spoil your own fun of experimentation with a detailed description of what happened next. But suffice it to say: the Grappleshot didn't "cheese" my encounter with the Hunters, it deepened it—simultaneously made me feel more powerful and the Hunters more intelligent. We all knew the rules had changed. But the Hunters weren't going to let me dance on their graves without a fight.
This is just one example from a single encounter, but for me it encapsulates what's so exciting about the totality of the work that Quinn, Tim, David, Brian, Elan, Kevin, and the entire Sandbox Team have done to deepen and expand the Halo combat toolkit. It's great to feel their respect for the legacy. It's even better to experience how they've improved upon it.