Games
MCC Season 7: Meet the Elites
At long last, the day has finally arrived. After all the testing, after all the designing, and after all the implementation – Season 7 for Halo: The Master Chief Collection, is here.
The latest MCC season, Elite, covers a lot of ground. With a fresh set of Elite customization options to choose from, two new maps for matchmaking with Edge and Waterfall, the return of the Halo 4 Champions Bundle, Firefight being added to the social matchmaking menu and, of course, the Custom Game Browser (CGB) for Halo: Reach, along with quite a few more additions – there's plenty for every Halo fan to sink their teeth into. So, buckle up, make sure MCC is all updated, and prepare to spend any leftover Season Points you might still have around.
MCC SEASON 7: ELITE
MCC Season 7 is the culmination of a great deal of hard work, feedback, and – did I mention hard work? The Pub Team has been bringing together Elite armor customization and maps to MCC from Halo Online, bringing new vehicle skins to Halo: CE, and of course – bringing the Champions Bundle for Halo 4 back to its rightful home.
For those looking to dive in as soon as possible, let Postums give you the full rundown in the latest edition of Seasonal Sitrep:
ELITE CUSTOMIZATION SENSATIONS
With the arrival of MCC Season 7, the Sangheili-centric among you are about to get a heaping helping of new customization options for Halo 3. A litany of armors are returning from their time in Halo Online and arriving here in MCC, providing a fresh coat of paint for those that wish to do battle against the heretics.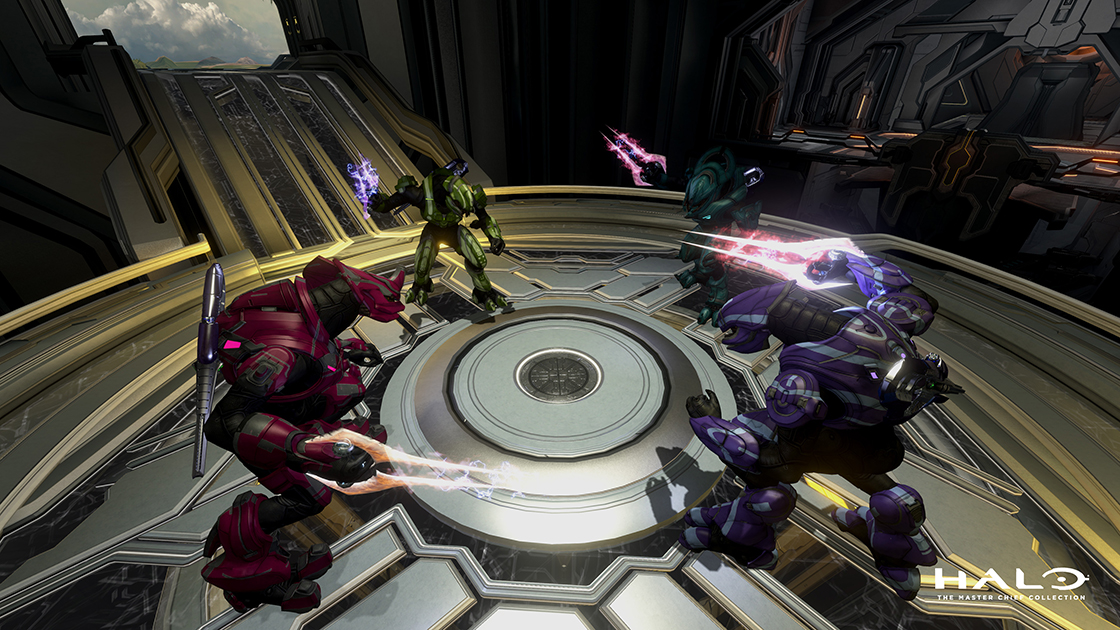 And of course, be sure to update your Energy Sword as well – with seven colors to choose from, you'll have a solid set of tingly new customization sensations.
HALO 4 CHAMPIONS BUNDLE, AND NEW ARMOR EFFECTS
Returning from their initial debut in Halo 4 in August of 2013, the Champions Bundle is making its triumphant return to the forefront and is officially in MCC. With its arrival, you'll have brand-new armor sets to unlock, and brand-new ways to intimidate your foes.
And, if you're the kind that likes to make your presence known on the map, Halo: Reach's armor effects are arriving in Halo 4! So, whether you're interested in lighting your skull up in flames, or you just want to be a roaming storm, you'll have everything you need to dial up your look even that much more.
NEW MAPS FOR MATCHMAKING
If you're a Halo Insider, this won't come as a surprise. (Hint!) But, two new maps from Halo Online are now officially in the wild world of social matchmaking – Waterfall, which arrived back with MCC Season 6 and its compatriot from the annals of Halo Online, Edge are now both officially in the day-to-day rotation. So, dive into the social playlist of your choice, and check it out once you get a chance!
NEW WAYS TO GET TOGETHER
If you've been looking for an easier way to gather up a social crew for Firefight, we've got you covered. Firefight for both Reach and ODST is now an option in social matchmaking – so, you can find your favorite free-flowing foe-flaying game mode front-and-center.
And of course, the Custom Game Browser (CGB) is entering Phase One and will be in MCC for Halo: Reach! Dive in and tweak every setting to your little heart's desire, because we can't wait to see you build all-out frays of your own design. (And if you come up with something cool, be sure to let us know on Twitter!)
WEAPON EXPRESSION
As far as customization options go – we're not letting the Elites have all the fun. If you're looking for a fresh coat of paint to apply to your favorite loadouts in Halo 4, some weapon skins of yester-decade are making their return! Check them all out in the Season Pass, and make sure your weapons are all fitting your aesthetic requirements.
And as long as we're on the topic, there are new vehicle skins coming to Halo: Combat Evolved! Be sure to dive into the Season Pass and give them a look, because there's a lot to dig through. But, rest assured that your presence on the battlefield will be unmistakable.
TIMED CONTENT DURING SEASON 7
As is true with each Season in MCC, we're going to have some timed content available only during Season 7. As usual, you can look forward to some Nameplates focused on events, but of course, there's going to be an Energy Sword, Tech Suit, and Battle Rifle Skin to go after as well for those that want to push themselves that much further.
SPARTAN MK. VII: KEYSTONE
With today's release of Season 7, you can find the Halo Infinite-inspired Mk. VII Keystone helmet up for grabs in the Exchange! Once you unlock it for free, it'll permanently become an option for you to utilize in Halo 4.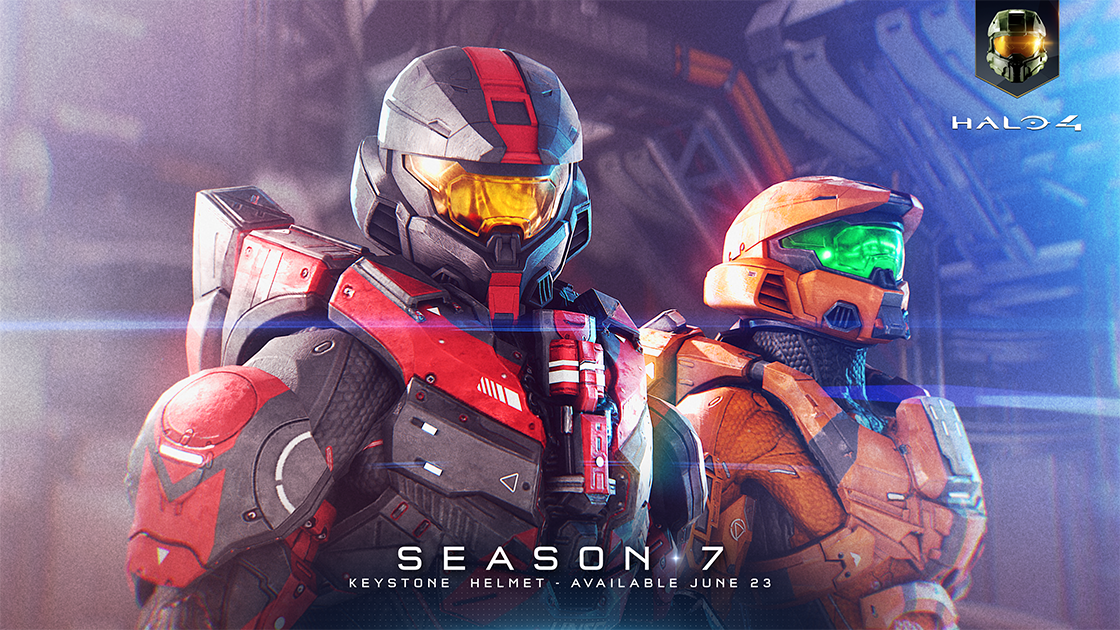 TIMED SEASONAL CHALLENGES
As is always the case, we've got some Season 7-exclusive goodies for those of you that want to step up, and show your prowess over the coming weeks. This time around, you can choose from: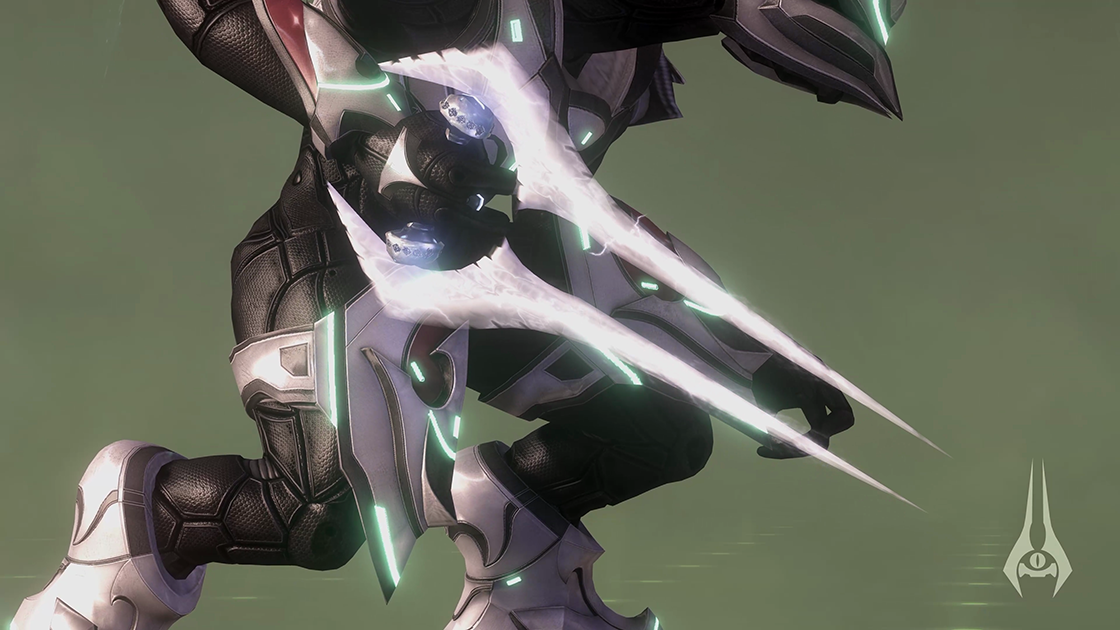 Elite Swordplay : Complete 'Nice Slice' and 'Keep Killer' Challenges:
Nice Slice: Earn 343 points with an Energy Sword where campaign kills on Heroic or harder are worth 1 and Spartan Kills in Multiplayer are worth 10.
Keep Killer: Kill 500 High Ranking Elites in Campaign or Spartan Ops missions on Normal or harder.
Reward (Pictured above on the Halo 3 Elite): Evocoti's Edge Energy Sword Skin (Halo 3)
Nightcrawler: Complete 'Bedtime Stories' and 'Caesar Dressing' Challenges:
Bedtime Stories: Complete 7 Night Missions in campaign on Heroic or Harder
Caesar Dressing: Get 343 assassination kills. In campaign you must be on Heroic or harder.
Reward: Tinted Smoke Tech Suit (Halo 3)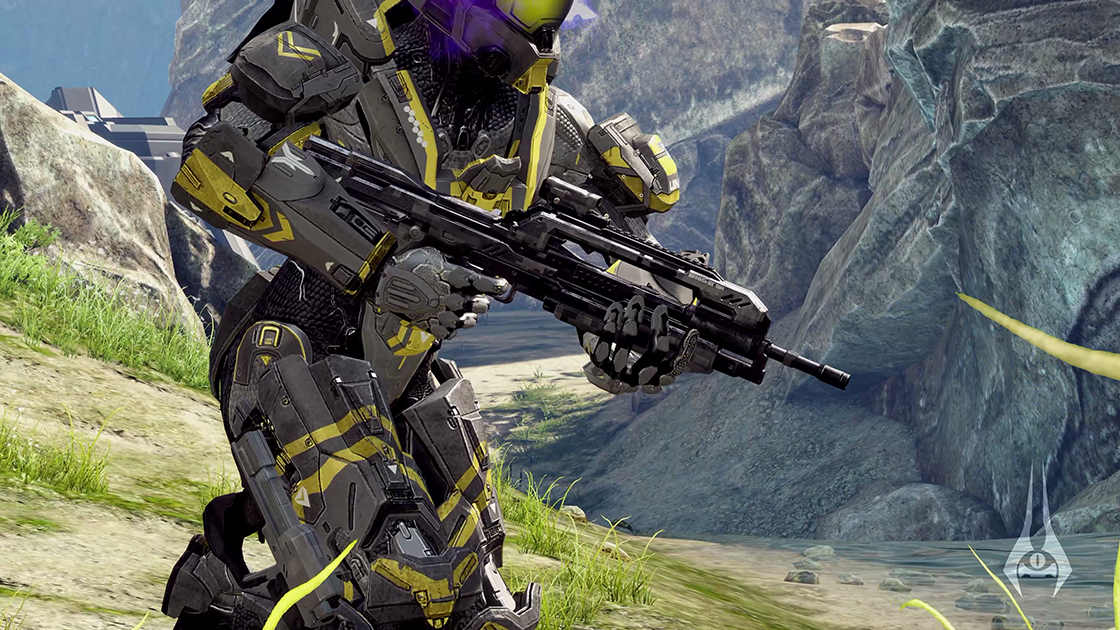 Pixel Perfect: Complete 'Brain Burst' and 'Quattro King' Challenges:
Brain Burst: Earn 500 Headshots in matchmade games.
Quattro King: Win 15 rank matchmade games in Halo 4
Reward (Pictured on the Halo 4 Spartan above): Pixel Battle Rifle Skin (Halo 4)
MCC-WIDE UPDATES
Of course, we couldn't let the Seasonal Challenges have all the fun. We've got brand new static and animated Nameplates for you to choose from this time around, which will give you some handy new ways to intimidate (or, more operatively, distract) your pre- and post-game lobbies.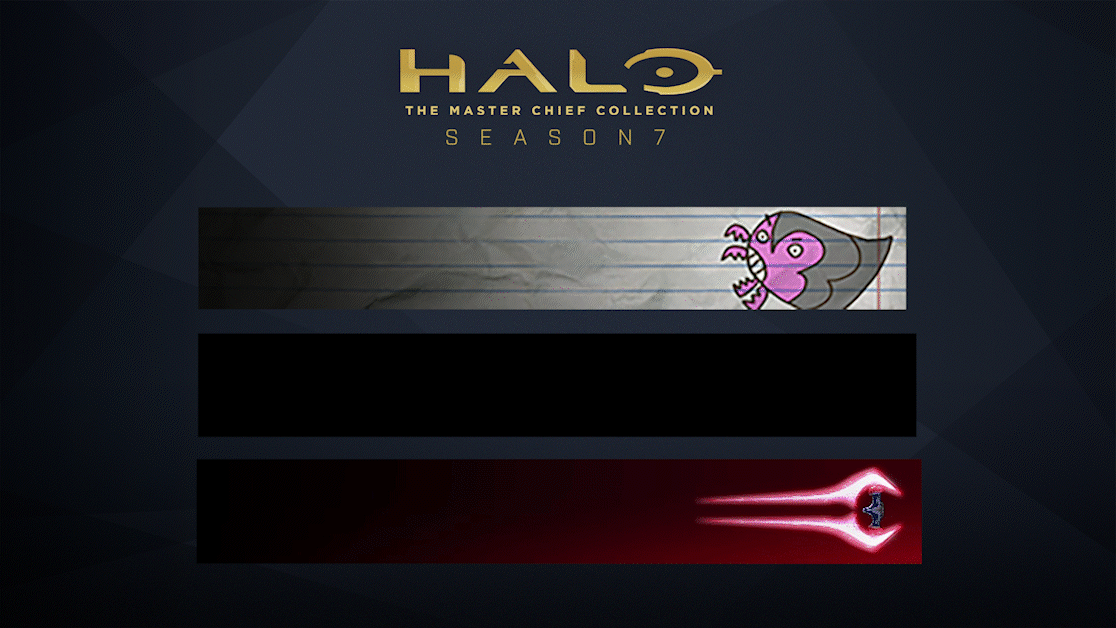 MODDING IN MCC
With this Season, we've released a couple of tools that players will be able to use for modding in Halo: Combat Evolved. These mod tools are available to all PC players, even if you don't own MCC or Combat Evolved, by default through your Steam Tools library. In your Steam library, simply select "Tools" (or, use this handy hyperlink) from the dropdown menu and you'll see the mod tools in your collection by default. If you own MCC through Game Pass or Windows Store, you will be able to access the tools through the creation of a Steam account and utilizing the Steam desktop client, just as an MCC owner on Steam would do.
If you are a long-time modder of Halo, some of the programs will look familiar in Guerilla, Sapien, and Tool. But there is an additional tool called Standalone, that will allow for some iterative testing of mods.
For full details on this, make sure to check your library for the latest tools to mod in MCC!
FIGHTING HERETICS, TOGETHER
We're going to be going live at 2 PM Pacific on Thursday, July 1st – so, make sure your calendar is clear. As per usual, if you match in with us, you'll land the Ice Unicorn Rewards.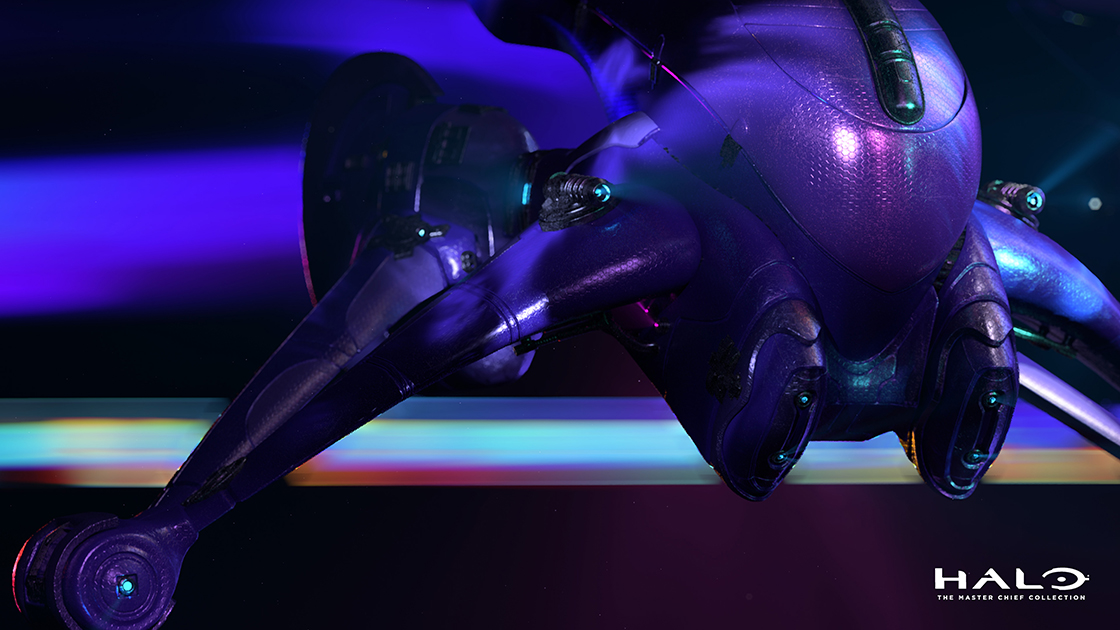 JOIN THE FUN
PC players can pick up Halo: The Master Chief Collection on a few different digital storefronts of their choice:
Xbox Game Pass for PC: Join Xbox Game Pass for PC and get Halo: Combat Evolved Anniversary, Halo 2: Anniversary, Halo 3, Halo 3: ODST, Halo: Reach, and Halo 4 today as a part of Halo: The Master Chief Collection.
Microsoft Store and Steam: The Halo: The Master Chief Collection bundle is available today for $39.99 USD, which includes today's launch of Halo 4 along with the already available Halo: Combat Evolved Anniversary, Halo 2: Anniversary, Halo 3, Halo 3: ODST, and Halo: Reach. Each title can be purchased individually for $9.99 USD with the exception of Halo: 3 ODST which can be purchased for $4.99 USD.
Xbox Store: Purchase Halo: The Master Chief Collection for your Xbox One or Xbox Series X|S on the Microsoft Store as well!
FEEDBACK AND SUPPORT
As always, if you're having any issues or want to provide us with any feedback, our ears are wide open. Below we've got some handy links to get you right as rain, whether you're looking to file a ticket to get some help – or, you just want to provide some feedback on your gameplay experience.
FORUM FEEDBACK
Got something you want us to get a closer eye on? Have some feedback about your gameplay experience? We've got some forums set up and ready to go.
And as a reminder, be sure to use these forums for suggestions and feedback, NOT bugs and issues:
HALO SUPPORT
Want to let us know about your gameplay issues? Something not working how you expect it to? Give the Halo Support Team as a heads-up!
Before you go filing a ticket, please be sure to do yourself a favor and check out the known issue lists:
Halo: The Master Chief Collection Patch Notes
MCC Global Known Issues
MCC Xbox Series X|S enhancements
Halo: Reach Known Issues
Halo: Combat Evolved Known Issues
Halo 2: Anniversary Known Issues
Halo 3 Known Issues
Halo 3: ODST Known Issues
Halo 4 Known Issues
Always be sure to only file one ticket per issue as well, just to ensure that there's the best chance they can isolate the problem and help you out.
THANK YOU
To our passionate community, thank you. We simply wouldn't be here without you, and we couldn't think of more capable soldiers to join us on this Great Journey. To the Halo Insiders, we couldn't be more thankful for your support, dedication, and feedback.
But for now, it's time for you to dive in with all the latest and greatest! Enjoy, and as always, be sure to follow us on Twitter, Instagram, and Facebook for all of the latest updates.