By 343 Industries -
Halo Infinite's very first tech preview is just around the corner. It's a moment we've been building up to for quite some time – and, we're thrilled that so many of you are excited to dive in and check out what we've been hard at work on. Bearing in mind that the upcoming tech preview is truly a work-in-progress test, we want to make sure that you have all the information on hand so that you know when and what you are playing, where to deliver feedback, and everything in between.
And as a reminder, while our plan is to get as many people into the tech preview as we possibly can, not every single Halo Insider will receive an invite. If you don't get in this time around, don't despair! We still need to grow the scale of these tests in time on the road to launch, so your opportunities are far from over.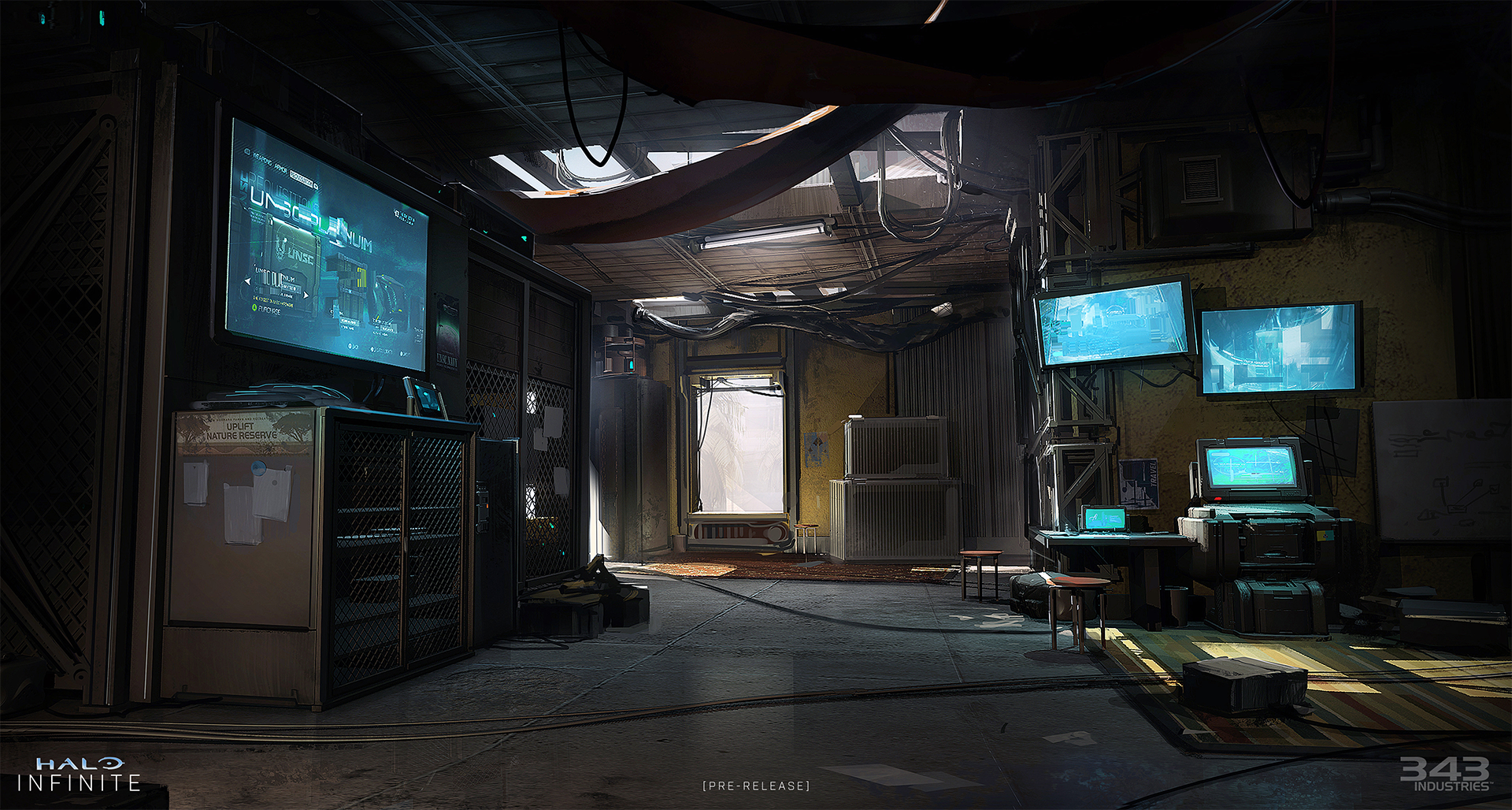 An interior look of Bazaar. [For the full-res image, click here.]
Regardless, if you're on the hunt for the nitty gritty details of this upcoming tech preview you've come to the right place. Just below you can find the following:
Dates and times during which the tech preview will be up and running
A rundown of content you can find in the tech preview
Details around where you can deliver tech preview feedback
Info on how you can reach out to our Support team, if needed
To that end, here's a quick rundown of the top-level details to get you started:
If you're a content creator, streamer, or a player who wants to share gameplay footage of the tech preview, you absolutely can! Go nuts.
Check out the latest Inside Infinite, which provides a deep dive into our flighting process, our goals, approach, and much more: Read our latest Inside Infinite!
Note that while the tech preview is live, you'll always have the ability to matchmake! But, if you're unsure of when to play, please join us during the following scheduled play times:

Thursday, July 29: Tech preview is officially live! Go wild, Spartans.
Friday, July 30 Scheduled Play Times: 12-2 PM PT, 7-9 PM PT
Saturday, July 31 Scheduled Play Times: 12-2 PM PT, 7-9 PM PT
Sunday, August 1 Scheduled Play Times: 12-2 PM PT, 7-9 PM PT
Monday, August 2: Tech preview closes at 10 AM PT

Available Content: Bot Slayer, Weapon Drills, Waypoint vNext
Support and Feedback: Halo Support's Insider site will be available for players to use all weekend. Those that make it into the tech preview will have access to new links that will only be available to invitees – please check your forthcoming email and/or Waypoint message for the appropriate links!
Hungry for the finer details? We've got you covered just below. Or, if you'd prefer to check out our stream from July 28th which covers much of the same content, feel free to get all caught up. The show starts at the 12:00 mark!