Games
Unleash Your Inner Warrior: MCC Season 8, Mythic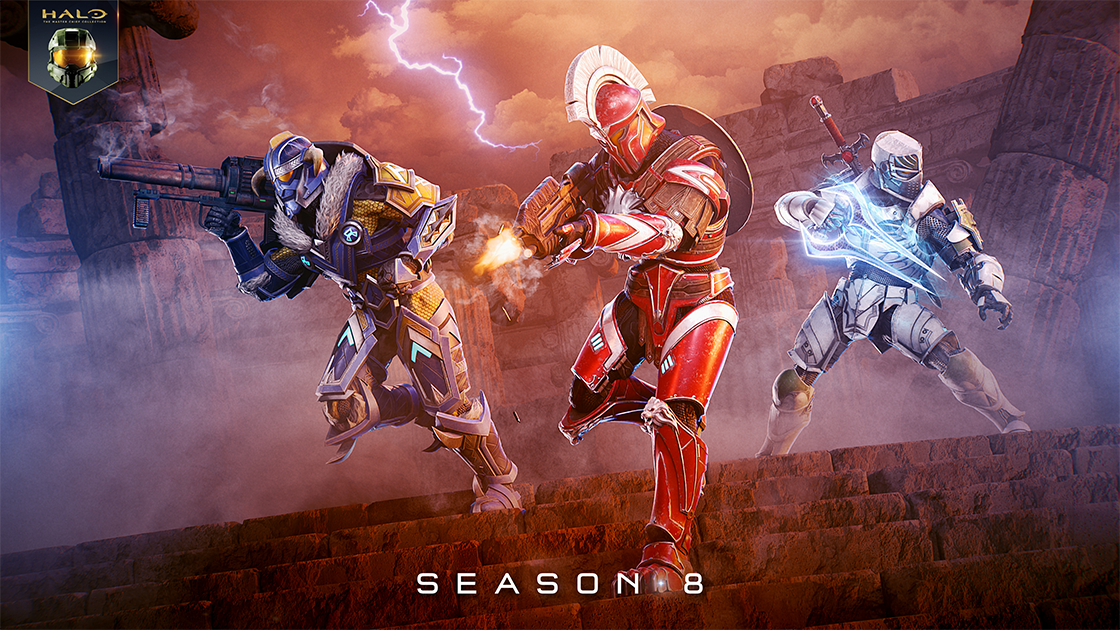 Warriors across the ages, your time has come. Today we're thrilled to welcome the arrival of the latest season for Halo: The Master Chief Collection – Season 8: Mythic!
With Season 8, we've got new content shipping out, custom-tailored for Spartans, no matter their era of battle– and, we can't wait for you to get your hands on it. This time around you can look forward to:
100 new tiers of content for Season 8 (including brand new armor sets, back accessories, vehicle skins, techsuits, and more)
Icebox, a Halo Online map now playable in custom games and matchmaking for Halo 3
In-campaign collectibles for Halo 3
Updated options for Halo 3: ODST Firefight as well as Sentinels as an enemy type
Custom Game Browser (CGB) support for Halo: CE and Halo 3
And more!­
So settle yourselves and listen up, as the scribe is here to tell you all about what's arrived this season. Read on and prepare to unleash your inner warrior.
MCC SEASON 8: MYTHIC
Whether you feel most at home on Installation 04 or Reach, the battlegrounds of ancient Rome or a UNSC frigate – MCC Season 8 brings with it a heap of new content that lets you outfit your Spartan like never before. Featuring uniquely themed armor sets, vehicle skins, weapon skins, back accessories and even more, you're going to have a lot to dive into.
Read on to get a full rundown of what you can expect once you're all updated. Or, check out our latest edition of Seasonal Sitrep, from our very own Postums:
GO REALLY, REALLY MEDIEVAL
As Season 8 rolls out so are some brand-new sets of armor aimed at letting you unleash your inner warrior. Whether you're an ancient Spartan, a Viking of yestercentury, or a highly specialized super soldier from the near future, you've got a few ways to dive in and update your look. This season's brand new armor sets, weapon skins, vehicle skins, and back accessories are just the beginning.
DON YOUR ARMOR
Perfecting your Spartan's look is a task that's always ongoing. And, while you've had your pick of a great many different armor sets from across Halo's history, we're adding in some new flair with sets inspired by ancient warriors from across the ages. And, with the addition of the Belos (for those that want to inspire looks drawn from ancient Rome), Blackguard (for those of you that might feel more at home during the Dark Ages), and Drengr (for the Spartans that prefer to pledge their allegiance to Norse gods), you'll be prepared for any battleground.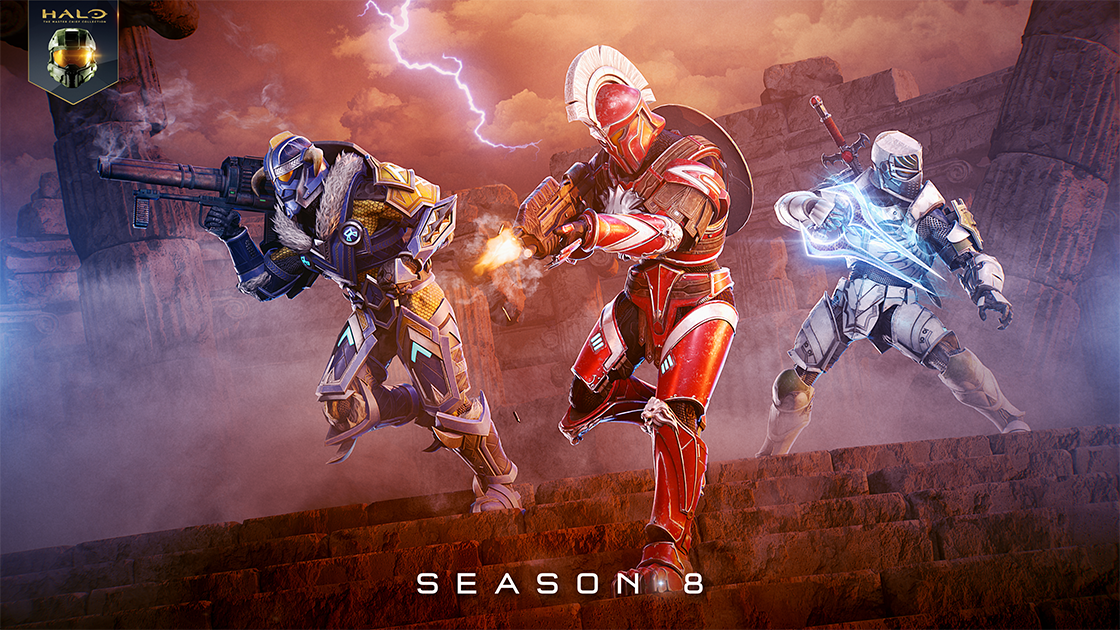 Welcome to Season 8, Mythic, for Halo: The Master Chief Collection. [For the above image in full res, click here.]
FROM THE TECHSUIT UP
An updated set isn't complete without a fresh techsuit to tie the entire look together. Whether you're a super soldier from the UNSC or you're a freshly minted member of the Blackguard, you can unlock Latticeweave, Chainmail, and Dragonscale techsuits.
SWORD, MEET BOARD
Making your presence known on the battlefield is always important. When you're charging into battle, it's best to give your teammates something inspiring to follow. With MCC Season 8 a brand-new batch of Back Accessories have been added into the game, all in the theme of the newly added armors!
WEAPON SKINS
While the MA40 has stood the test of time, the latest weapon skins added to MCC Season 8 take it to a whole new level. By unlocking weapon skins for your Assault Rifle, Sniper, SPNKr, and more - you can give a whole new meaning to "blast from the past."
A Spartan stands ready with new cosmetics, all arriving with MCC Season 8. [For the above image in full res, click here.]
VEHICLE SKINS
Riding your noble steed into battle is a feeling that's irreplaceable, to be sure, but striking fear into the hearts of your opponents is all the sweeter. With thanks to some new vehicle skins for your Warthog, Scorpion, Mongoose, and Hornet in Halo 3, you'll be able to even make Sandtrap's Elephant turn and run in fear. (Might take a while, though.)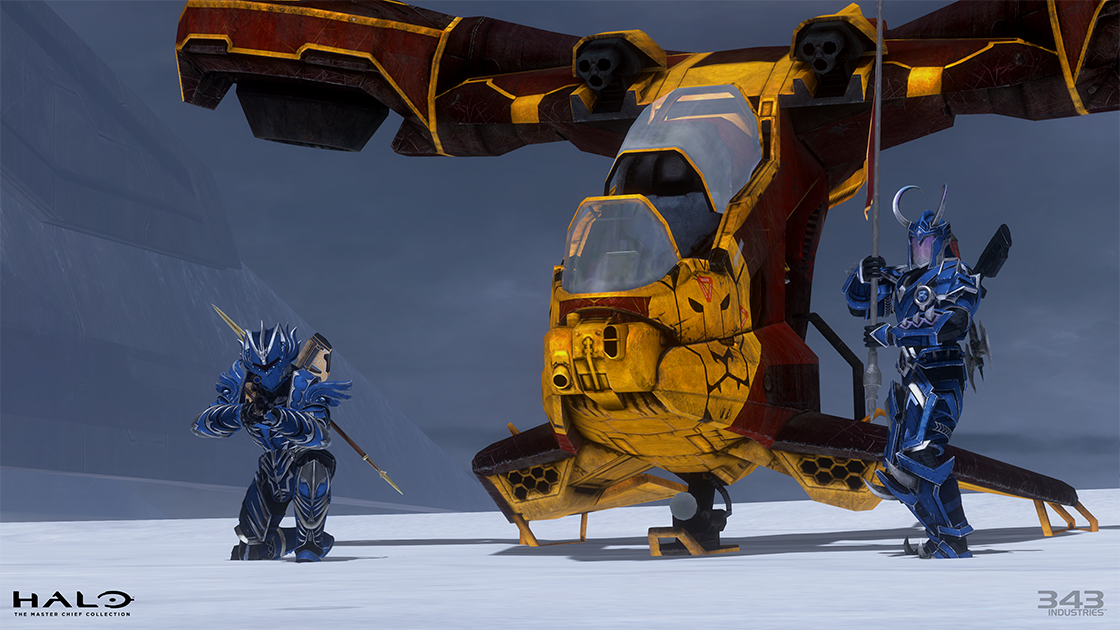 Ride your noble steed, Warthog, or Hornet into battle. [For the above image in full res, click here.]
FROM REACH TO REQUIEM
The role of Noble Six is one a great many of us have taken on. And, when filling a helmet the rest of the crew would have rather left empty – it's important to bring something new to the table. (Aside from the lone wolf stuff.) Next time you make your way down to Sword Base, you can prepare to do so with a freshly updated helmet from the freshly introduced Belos, Blackguard, and Drengr set!
And, if you're looking to dial up the customization even further, you can update your voices and body types in Halo: Reach and Halo 4, to make sure that your look represents you the best it possibly can. So go ahead, turn every knob and flip every dial – your Spartan's customization journey has only just begun.
KICK SOME ICE
A warrior is always ready to prove themselves on any battlefield, and as such, we're doing our part to keep things interesting. Icebox, a map previously available only for Halo Online, is now available for custom games and social matchmaking in Halo 3! (If you've played Halo 2's Turf you'll already be familiar with the basics.)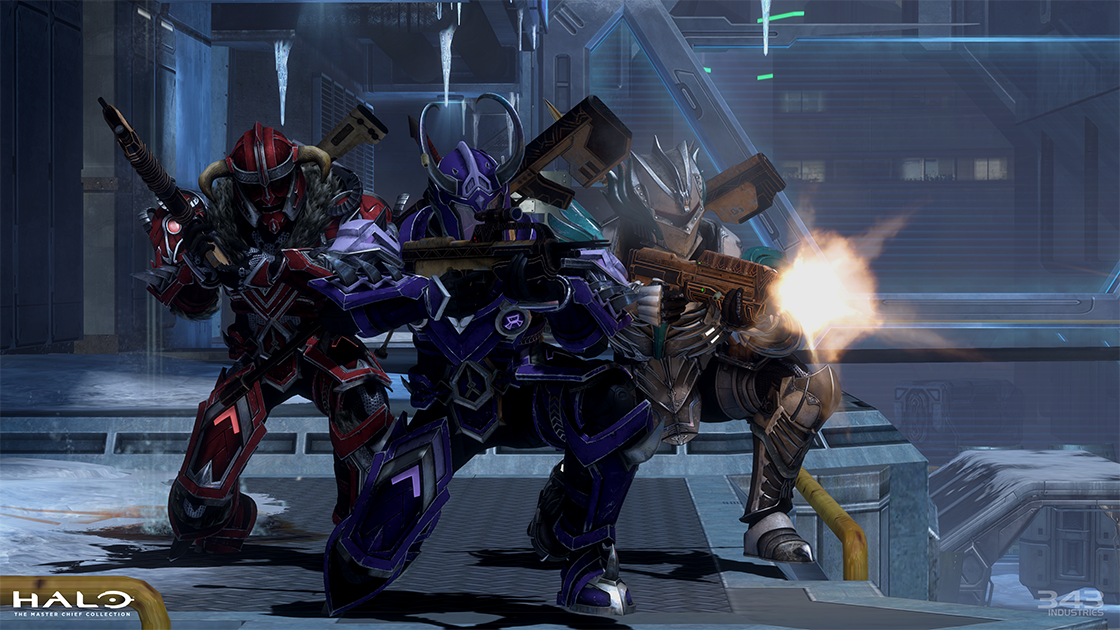 Three Spartans go to battle in Icebox, a new map for Halo 3. [For the above image in full res, click here.]
CAMPAIGN COLLECTIBLES FOR HALO 3
Next time you're making your way through Halo 3's campaign, make sure to double-check your corners. Each week a new set of collectible (read: shootable) golden Moas will be available around different campaign maps. Each week these will refresh – and, they'll be part of the weekly challenge pool, so you're not going to want to miss out. (Don't forget to compare notes with other Spartans to track them all down!)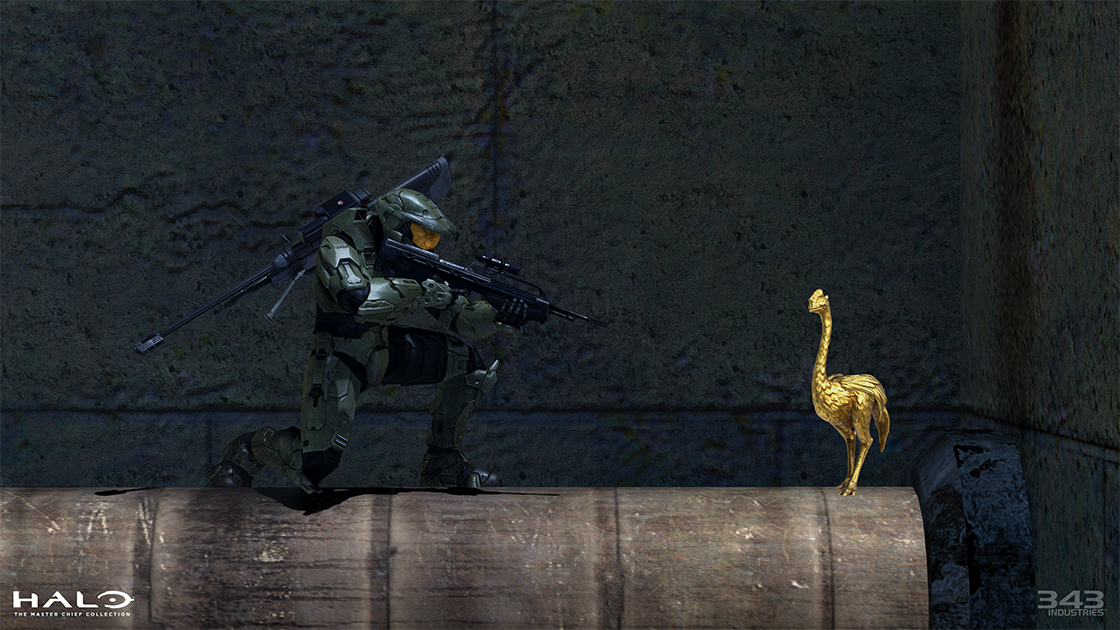 Leave no stone unturned in your weekly searches through Halo 3 for the Golden Moas. [For the above image in full res, click here.]
CUSTOM GAME BROWSER FOR HALO: COMBAT EVOLVED AND HALO 3
Last season we added the Custom Game Browser (CGB) for Halo 3, and we're thrilled to say we've expanded this functionality to Halo: Combat Evolved and Halo 2. So, no matter what kind of game you want to toss together, you've got the ability to tweak and fiddle with each knob at your leisure.
MOD SUPPORT FOR HALO 2: CLASSIC AND HALO 3
Another addition we made last season was the ability for players to utilize mod tools so they can add their own custom content to Halo: Combat Evolved. Watching the community use them has been a joy, and today support for Halo 2 and Halo 3 are being added!

For a fresh set of information on how to use these Mod Tools, be sure to check out our full blog post right over here on Steam.
NEW SEASONAL NAMEPLATES
In Season 8 of MCC we're adding in a whole new litany of Nameplates for you to collect, and for you to further intimidate the pre-game lobby with! Dial up your in-game customization with the addition of new animated and seasonal Nameplates that will be nicely suited for any new look you're sporting – whether you're sporting the Drengr, ODST, or anything in between.
TIMED CONTENT FOR SEASON 8
Like with previous MCC seasons, Season 8 will last for limited time. With that in mind, it's important to remember that there's a set of timed seasonal exclusives for you to get your hands on. Some of these will be available on the Season Pass, others will be available during limited timeframes – so be sure to keep track.
SEASONAL CHALLENGES
Like with previous seasons, during Season 8 of MCC there's going to be some brand-new rewards up for grabs! Mind you, once the season expires so will these – so, do yourself a favor and get started on them just as soon as you can. This time around you can get your hands on the Evalach's Lament Back Accessory, the Scorned Fate Battle Rifle Skin, and the Gilded Lion Warthog Skin.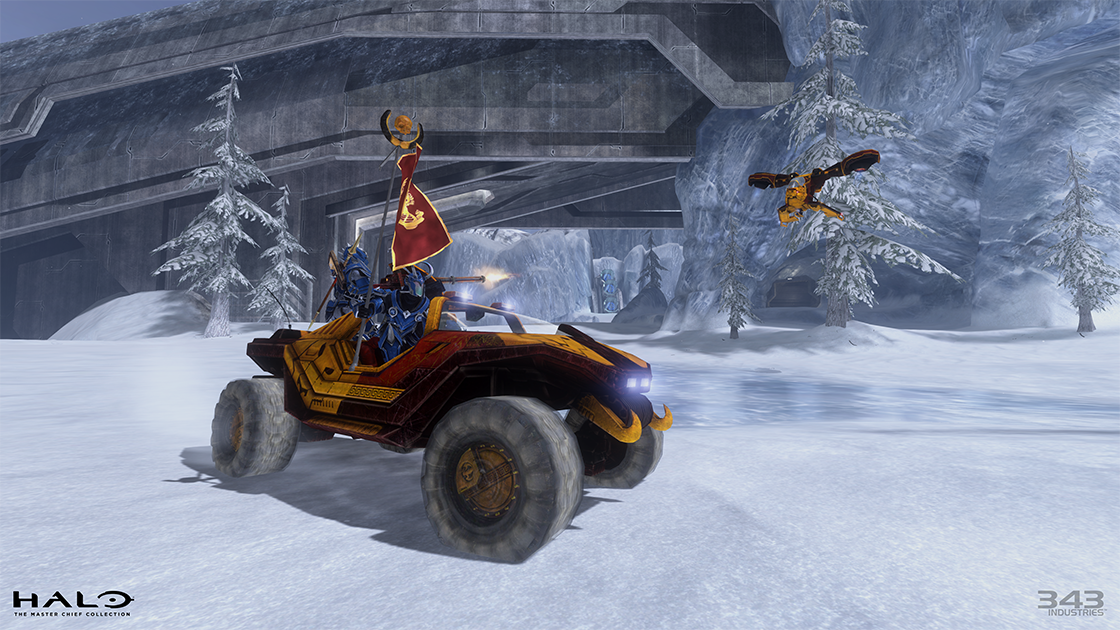 The Gilded Lion Warthog Skin can be yours this season. [For the above image in full res, click here.]
Lamentable: Complete the "Tea Time" and "Legion's Bane" Challenges:
Tea Time: Defeat 5,000 Enemies. Defeating enemy players in matchmaking grants 10x progress.
Legion's Bane: Earn 7,000 points for kills in PvE modes. Earn 1 for Grunts, Jackals, and Drones. 5 for Elites and Brutes. 10 for Hunters and vehicles.
Reward: Evalach's Lament Back Accessory for Halo 3
Veteran Veneer: Complete the "Montage Starter Kit" and "Infamous" Challenges:
Montage Starter Kit: Earn 500 Headshots in matchmade games.
Infamous: Earn 200 multikill or spree category medals in matchmade PvP games.
Reward: Scorned Fate Battle Rifle Skin for Halo 3
The Hogfather: Complete the "Beast Mode" and "Chrononaut" Challenges:
Beast Mode: Earn 117 kills as either the Gunner or Driver of a Warthog while in matchmaking.
Chrononaut: Complete a cross-game campaign playlist.
Reward: Gilded Lion Warthog Skin for Halo 3
MCC-WIDE UPDATES
While adding content into MCC is always something that excites us, making sure that the entire experience is seeing improvements is something we're always focused on as well. With the arrival of MCC Season 8 we're excited to unveil some brand-new features to improve your experience all around MCC.
PERFORMANCE UPDATES
In order to make sure warriors old and new are able to do battle to the best of their ability, we've made some additional performance updates across MCC! Including:
Legacy Halo: CE 4K HUD
Halo 4 Reclaimer cinematic updates
Halo 2 parity fixes
Weapon display offsets
And more!
For more information on these updates, be sure to check out our Patch Notes.
JOIN IN ON THE ACTION
PC players can pick up Halo: The Master Chief Collection on a few different digital storefronts of their choice:
Xbox Game Pass for PC: Join Xbox Game Pass for PC and get Halo: Combat Evolved Anniversary, Halo 2: Anniversary, Halo 3, Halo 3: ODST, Halo: Reach, and Halo 4 today as a part of Halo: The Master Chief Collection.
Microsoft Store and Steam: The Halo: The Master Chief Collection bundle is available today for $39.99 USD, which includes today's launch of Halo 4 along with the already available Halo: Combat Evolved Anniversary, Halo 2: Anniversary, Halo 3, Halo 3: ODST, and Halo: Reach. Each title can be purchased individually for $9.99 USD with the exception of Halo: 3 ODST which can be purchased for $4.99 USD.
Xbox Store: Purchase Halo: The Master Chief Collection for your Xbox One or Xbox Series X|S on the Microsoft Store as well!
FEEDBACK AND SUPPORT
As always, if you're having any issues or want to provide us with any feedback, our ears are wide open. Below we've got some handy links to get you right as rain, whether you're looking to file a ticket to get some help – or, you just want to provide some feedback on your gameplay experience.
FORUM FEEDBACK
Got something you want us to get a closer eye on? Have some feedback about your gameplay experience? We've got some forums set up and ready to go.
And as a reminder, be sure to use these forums for suggestions and feedback, NOT bugs and issues:
HALO SUPPORT
Want to let us know about your gameplay issues? Something not working how you expect it to? Give the Halo Support Team as a heads-up!
Before you go filing a ticket, please be sure to do yourself a favor and check out the known issue lists:
Halo: The Master Chief Collection Patch Notes
MCC Global Known Issues
MCC Xbox Series X|S enhancements
Halo: Reach Known Issues
Halo: Combat Evolved Known Issues
Halo 2: Anniversary Known Issues
Halo 3 Known Issues
Halo 3: ODST Known Issues
Halo 4 Known Issues
Always be sure to only file one ticket per issue as well, just to ensure that there's the best chance they can isolate the problem and help you out.
THANK YOU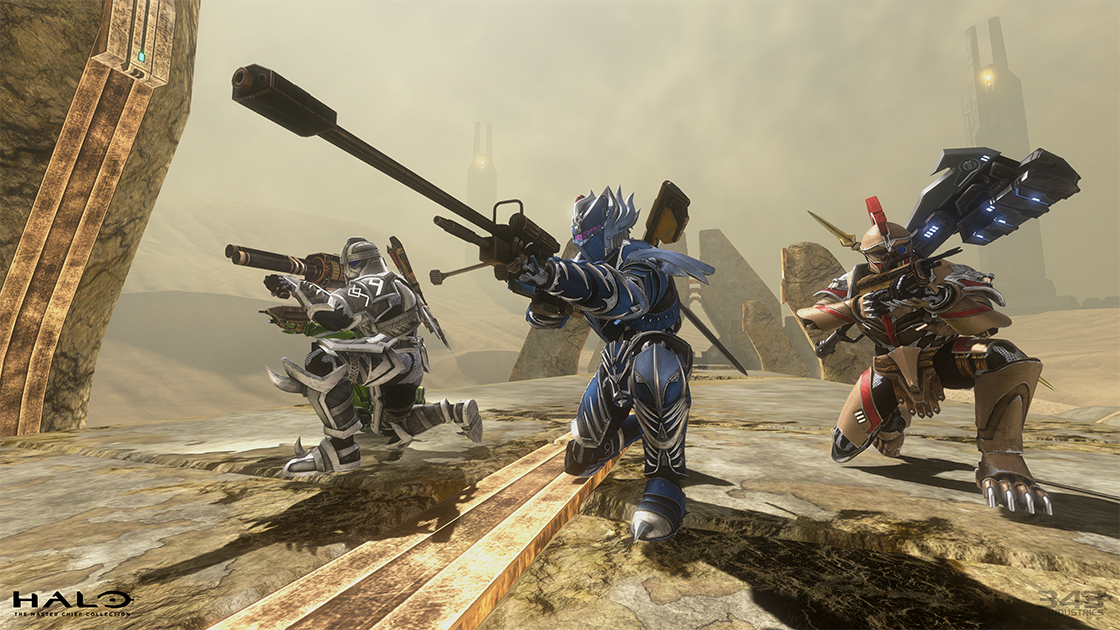 Three Spartans stand ready for action in Halo 3. [For the above image in full res, click here.]
Building MCC to where it is today is something we take great pride in, because we've done it so comprehensively with the help of our community. To the Spartans that have spent their time and effort checking out early builds, joining in on flights, and providing your feedback – thank you.
The arrival of MCC Season 8 marks a transition in how content will be rolling out for MCC - which we explain thoroughly right over here in our latest Development Update. We can't wait to share what's next, and we're forever thankful to everyone that's joined us on the journey through each Season so far.