Games
Waypoint vNext: FAQ
With the arrival of Halo Waypoint vNext, a brand-new digital home for your Spartan is about to be minted. With the planned launch just around the corner on November 1, you're going to have access to a litany of new features including:
Access to Waypoint's news feed, to ensure you're up to date with the latest intel
The ability to personalize your Spartan in Halo Infinite using all the customization options you've unlocked
The chance to check out your service record in Halo Infinite, MCC, and Halo 5
Graphs and stats to keep track of your carnage
The ability to keep track of your Battle Pass progress
Reviewing your current ongoing Challenges in Halo Infinite
A unified experience across mobile apps and web
And much more!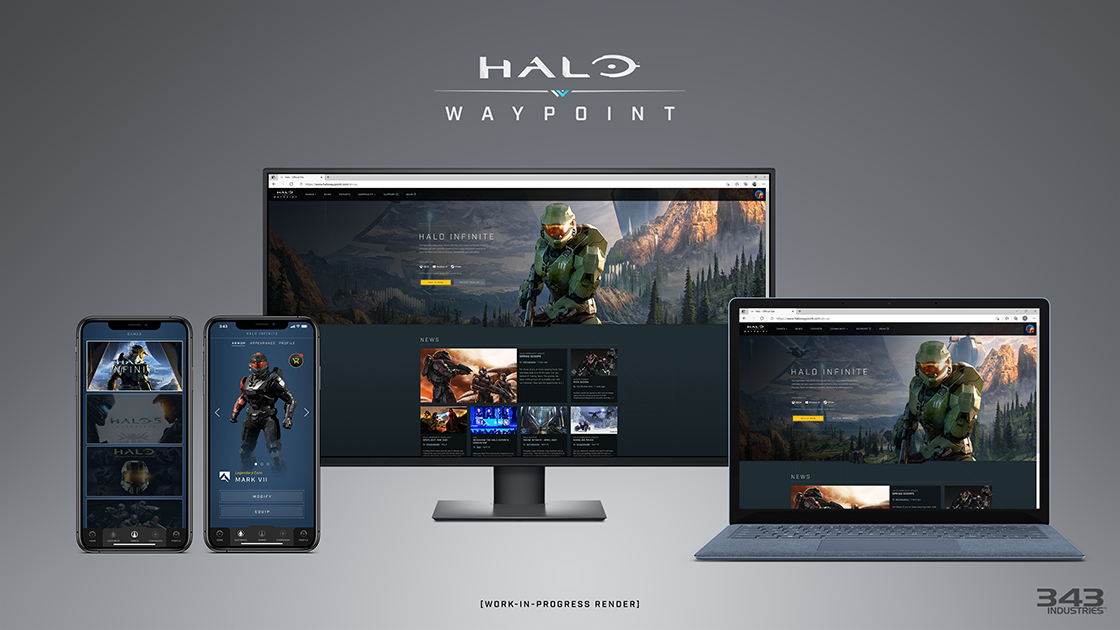 To those of you that joined us in our recent Multiplayer Tech Preview, you may have also jumped in to get an early look at our Android and iOS apps! Notably, these are still in a 'soft launch' state, so expect more features to be added in the future as we get closer to the December 8 launch of Halo Infinite. (So, do pardon some of our dust in the meantime.) And of course, if you want a full rundown from the team that's been hard at work building this new experience from the ground-up, be sure to check out the June 2021 Edition of Inside Infinite.
Today, we're sitting back down with one of the members of the Waypoint Team we chatted with previously, Kevin "KP" Paul. With updates of this size there's always a lot of moving pieces and features to consider. Notably, Halo Waypoint vNext is an ongoing effort that spans across web and mobile – so, there will be iterative updates in the future, but we wanted to ensure that you knew just what to expect when the site launches.
Alright, it's official - Waypoint vNext is arriving on November 1! For the uninitiated, what does that mean?
KP: The Waypoint that you know and love will be getting a complete overhaul, rebuilt from the ground up to support the growing needs of the Halo franchise. At the surface level you'll notice a new look and feel throughout the web, with many returning features and a few new ones sprinkled in. Behind the scenes, this shift makes us better able to focus development efforts across the website, Android, and iOS apps.
Back during the Multiplayer Tech Preview, players had a chance to dive in early to take a look at the Waypoint vNext experience. But, even with that sneak peek, is there anything they should keep an eye out for at launch?
KP: Players who participated in the previews should expect a continued focus on their investments in our games. For Halo Infinite this means further investment in Customization and Progression. Additionally, MCC players can expect more connectivity with seasonal content and their progression. Even at the profile level on Halo Waypoint, we are rolling out Service Awards as way to show off your Halo career highlights.
This time around Halo Waypoint will exist as an app as well. What are some of the coolest features coming with its arrival?
KP: The design team spoke eloquently to this vision and their design intent back in our Inside Infinite article and it is worth a read. At a high level you can expect a lot of shared features between the web and app because we're committed to reaching our players no matter where they are. You can expect the usual conveniences from an app, including (but not limited to) regular updates and push notifications for content that's important to you.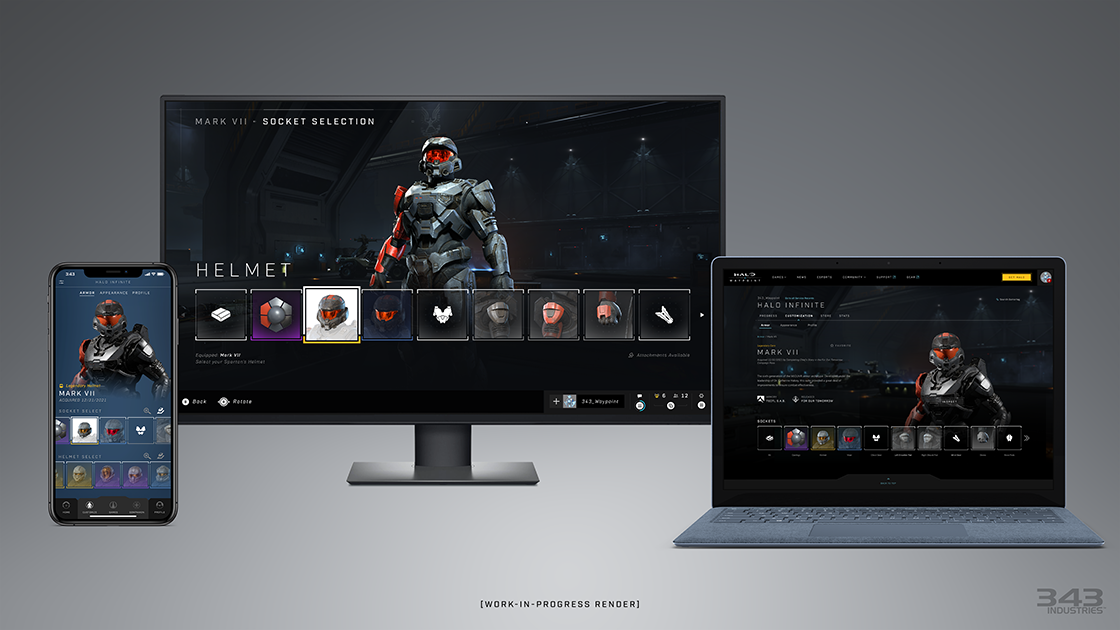 For those that don't know, the Halo Waypoint app is already available on Android and iOS – but, the website still looks the same. How come?
KP: In this case, we released the app earlier than the new website because it was our best chance to reach players diving into the Multiplayer Tech Preview! Ultimately, this does mean that we have some updates still to make throughout the entire experience. We're hard at work preparing for launch, but if you do see any bugs be sure to file a ticket with Halo Support!
With an update of this size there's always a lot to consider. Among all the features that are coming forward to Waypoint vNext, are there any that won't be there at launch?
KP: Whoa, comin' at me like a grappling BXB'er straight outta the Multiplayer Tech Preview! For context, today's current iteration of Waypoint is the result of 8-years of continued investment into a single website, while vNext has only been cooking for a few years and spans web, iOS, and Android.
While we were able to bring forward many of our most used features by players, we haven't been able to rebuild everything. The features that will not join the transition to vNext will be: Halo 5 Spartan Companies, browsing the Halo 5 User-Generated Content (UGC) features, the Halo Wars 2 Service Record, the Universe section, and some older News articles.
For Halo 5, what's happening specifically with Spartan Companies and User Generated Content (UGC)?
KP: Spartan Companies will still appear in Halo 5 but without our interface you will no longer be able to edit your Company info or roster. (So, if you have any planned updates, we recommend you do them now.) Your Company's Service Record and Commendations will not be visible, but they will continue to tick behind the scenes and rewards (including Achilles) will continue to be granted. Your roster will be locked with no way to add, remove, promote, or demote members. Spartan Company forums will no longer be available.
Halo 5 UGC will be unaffected in-game, to be clear, but the Waypoint interface to browse your Halo 5 game variants, map variants, and Forge object groups will no longer be available.
For Halo Wars 2, what will happen with the Service Record?
KP: As we weigh all of the potential website features against every active Halo title, we often have to make difficult trade-offs to prioritize areas that directly benefit the largest audiences in our community. As we focus on robust support for Halo Infinite, this unfortunately means that we won't be able to maintain Halo Wars 2 service records on the new website. The good news is that the Halo Wars 2 public API and third-party services remain unaffected and that data will continue to flow.
But, if you want to archive your Halo Wars 2 Service Record, please do so soon.
Will there be any other notable parts of Waypoint that will change?
KP: The Universe section is something of a relic of a prior age of Waypoint, standing now only as a monument to Grim's sins. Less dramatically, this content was central to previous video efforts and we have not maintained it as stand-alone web content. We also know the community has stepped in to fill this role, in greater detail and with more freedom for intrigue. Check out our friends at Halopedia, for example.
Lastly, only select News articles will be brought forward to vNext as only some will maintain relevance.
Thank you for taking the time to speak with us today, KP!
KP: Not so fast, Andy. I've exited the block quote to explain that we care deeply about these decisions and the users they impact. We will continue to flight regularly and review feedback to better understand what is important to you. With Infinite looming, our focus will be there for the time being, but we may yet revisit some of these features.
Ultimately, with Halo Infinite having such a long future ahead of it, we knew we'd be kicking off a brand-new chapter of Waypoint. So, this is just where this version of Waypoint begins – we won't just be launching this then walking away. There's more to come.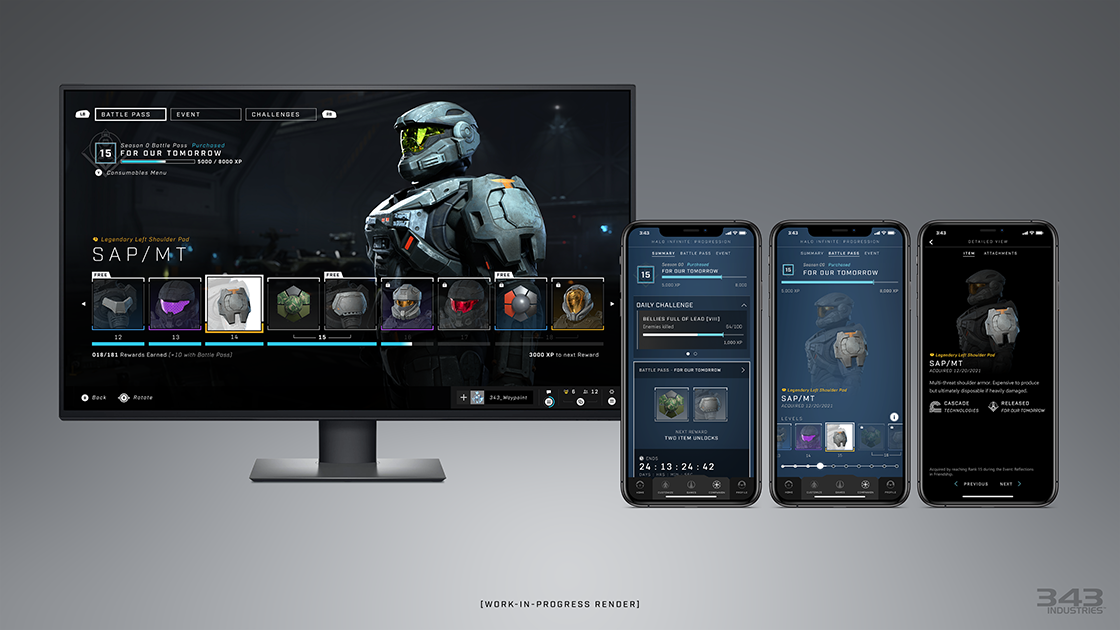 At times like this, I fully endorse the dropping of decorum and hanging out here in the body text. KP, thank you and the Waypoint Team for your continued hard work in building our Spartans' digital homes – and, for taking the time to share this information with us today!
As a reminder, with these updates arriving alongside Waypoint vNext we highly recommend taking the time to tend to your Halo 5 Spartan Companies, review your Halo Wars 2 stats in all their glory, and bookmark even more fan-favorite maps and modes in Halo 5 before November 1.