With the arrival of Halo Waypoint vNext, a brand-new digital home for your Spartan is about to be minted. With the planned launch just around the corner on November 1, you're going to have access to a litany of new features including:
Access to Waypoint's news feed, to ensure you're up to date with the latest intel
The ability to personalize your Spartan in Halo Infinite using all the customization options you've unlocked
The chance to check out your service record in Halo Infinite, MCC, and Halo 5
Graphs and stats to keep track of your carnage
The ability to keep track of your Battle Pass progress
Reviewing your current ongoing Challenges in Halo Infinite
A unified experience across mobile apps and web
And much more!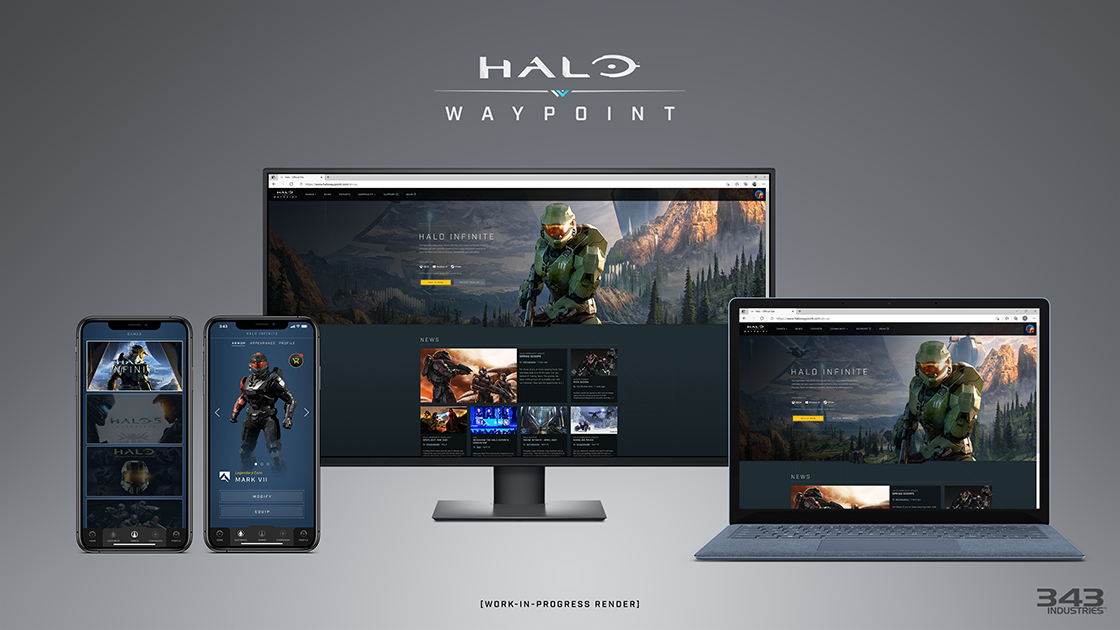 Halo Waypoint includes the mobile App (left) and the website for your computer (center, right) or mobile web browser. [Click here to download the full-size image.]
To those of you that joined us in our recent Multiplayer Tech Preview, you may have also jumped in to get an early look at our Android and iOS apps! Notably, these are still in a 'soft launch' state, so expect more features to be added in the future as we get closer to the December 8 launch of Halo Infinite. (So, do pardon some of our dust in the meantime.) And of course, if you want a full rundown from the team that's been hard at work building this new experience from the ground-up, be sure to check out the June 2021 Edition of Inside Infinite.
Today, we're sitting back down with one of the members of the Waypoint Team we chatted with previously, Kevin "KP" Paul. With updates of this size there's always a lot of moving pieces and features to consider. Notably, Halo Waypoint vNext is an ongoing effort that spans across web and mobile – so, there will be iterative updates in the future, but we wanted to ensure that you knew just what to expect when the site launches.