Spartan Company
---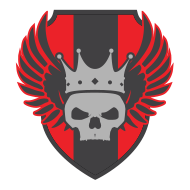 We ain't never scared.
84 Members
Est. 12/5/2015
We ain't never scared
Visit are website @
Skullkrusher Website
*ALERT: Because of all the interest in Spartans wanting to be a SKULLKRUSHER we started a second faction SKULLKRUSHERS II is our second unit that was started on 12/4/16. Now there's room for a hundred more members so Request enlistment and join the movement.
Info: We are a company of mature friends that enjoy playing with others. If you are looking to find a fun group to play with look no further. Achilles is a goal, but not huge concern. Helmets is really really close, armor is 57% done. We have in clan tournaments with prizes. Celebrate members bday with MEMBER days. We have arena players, warzone players and great forgers in the clan.
Requirements:
(exceptions may be made)
-Spartan Rank 50 preferred
- 16+ years old preferred, We want mature players.
-Active players (contact leadership if you will be inactive for over 30 days)
-Rank in at least one Arena playlist each season
-Communicate and play with other members frequently
-Check your messages on waypoint and be a part of the community

Include in your Request to Join:
-Your Spartan Rank
-Your time zone and when do you typically play and for how long
-Why you would like to join the pack and the SKULLKRUSHERS gaming community
Reasons you may want to join:
-We are very established with in the halo community due to top forger and co-leader Straymorais.
-We are a great group that promotes team play
-If you are tired of playing alone there is always a KRUSHER online to join arms and win matches with.
-We are continuing to work on Achilles and will get it eventually!
-Tournaments with prizes every so offten.
- Celebrate members birthdays with member days.
-We create custom games on maps we've forged.
-You get to call SKULLKRUSHER KASTLE ( a map the leaders has forged ) your home.

Leadership:
We have 5 active members of our leadership including the founder each with a top 3 members. We all work together to make the decisions for the company and have different tasks to keep everything smoothly running. Contact us with any issues and message if you see us online and want to play.
--
OCTOPUS BEAK - Leader/Founder
Loves to Play customs and forge maps for the clan.
Forged a home base for the clan - SKULLKRUSHER KASTLE
Creator of WASP WARS game mode and 6 WASP WARS maps.
TOP 3
1. Warpath152 (Captain)
2. GammeyOpossom855
3. MIT TDAT Husky
--
SOLEBULLETS - first member of the SKULLKRUSHERS and future leader of SKULLKRUSHERS 2
TOP 3
1. Spartan 0ps 117
2.
3.
--
STRAYMORAIS - Forger/Creative director and co-leader of the SKULLKRUSHERS
TOP 3
1. IIICLAESSICIII
2. STEDYMCLOVIN
3. LUCIDGAMER117
--
OVERALLTWEAK - Arena Specialist and master at first person shooter games.
TOP 3
1. BLESS
2. LEGIONACORN3779
3. NEMESJS
--
MAXX426 - In charge of all company commendations with Achilles on his mind.
TOP 3
1. A Rude Turtle
2. SAINT GUARDIAN
3. R3DUND4NT
--
VEEBEEMORNINSTR- KRUSHERS First Lady lieutenant. Has all the answers and rules with an iron fist.
TOP 3
1. Ascend Hyperion
2. AWS0ME Altair
3. MySkillIsMagic
Notable Mentions:
Arena
Bobsburgers (ACORN) ONYX in Free For All
Sir Swoop 46% accuracy
Warzone
Gamepossom 1545 bases captured
MasterHulk6877 2521 boss takedowns
All-time Badges:
ONYX 4/100
Daimond 14/100
Platinum 30/100
Gold 26/100
Silver 14/100
bronze 0/100
Was inspired with double exposure photography so I created this (: 🤍 title: Subconscious.
https://www.instagram.com/p/CCCW3XZHX4L/?utm_source=ig_web_copy_link

Feet First
Made your first hot drop into HaloWaypoint.com

Statistician
View your Service Record on the web.

Enlisted
Become a member of an active Spartan Company.