Long time LnL member from Warframe, founder of LnL's Halo division, and a Halo Vet from way back on PC/orignal Xbox.
http://locknloadguild.com/
Spartan Company
---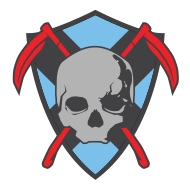 Fear the Reaper!
Leader
12 Members
Est. 11/4/2015
Some brief information on what were about here at Lock N Load.
The top Moon Clan from Warframe has branched out to Halo! We are a mature, competitive community that thrives in PvP. With that said though, we also enjoy to kick back, relax and just have fun gaming. Now we never turn anyone away due to their lack of experience. All that we ask for letting you join our family is that you be a respectful member of the community that we are building. Like everything in life, we also have some simple ground rules that we expect all of our members to follow:
ZERO TOLERANCE POLICY
Due to the lack of promotion options with the site's current system. We will be implementing our own system to use. (
Will change if the site's system gets updated with more options. This may also require a loss of some customization in-game due to uniform policy. It is so members know who is which rank only, and will also change if site's system changes
.)
Ranks
Leader - Members with this rank will oversee the day-to-day operations of the Clan. They also can speak for the Clan as a whole.
Council - Members with this rank are on the Council. They are are voice of the Clan in the Council chambers and have the ability to vote on Clan matters.
Field Sergeant - Members with this rank are highly skilled and have a good amount of experience with PvP. These are the members that are to help other members improve their skill when they request help. Even though Field Sgts are very experienced players, it is expected for them to show patience and understanding when teaching others. (Not everyone learns at the same rate.)
Member - These are the normal members of our community. They are able to participate in all Clan events.
Recruit - These are the newest members to join. As a new member you will be held to the ZERO TOLERANCE POLICY, and are expected to have at least a week's worth of in-Clan activity to be promoted to Member.
Now you may be asking, what about the game itself? What can I expect from the Clan? Well, I'm glad you have been paying attention and have asked.
Campaign - You will be able to find groups to run co-op PvE. Along with other members that may want to find all the skulls and mission intel items.
Multiplayer - This is our home. This is where we live and we will take on all comers. We will be actively playing in the Arena and Warzone playlists.
Wait a second, you forgot about custom games? Ahh, observation is a key to victory.
Custom Game - This is where our Field Sgts will teach those that request it. We will also be playing some kick back games to just relax. This is where we will also hold Clan events that may from time to time include prizes to the winner(s).
I will make this short and simple, and also leave you with a personal favorite saying of mine.
Thank you for taking the time to read what we are about. As always, we hope to see you out on the battlefield Spartans!
Remember: Hit them hard, hit them fast, never let up!
Remember to keep an eye on our companies forums.
www.locknloadguild.com , Lock N Load Halo Division Leader-Warlord Wolfy, or our page on here.
...

Feet First
Made your first hot drop into HaloWaypoint.com

Statistician
View your Service Record on the web.

Enlisted
Become a member of an active Spartan Company.