User has been suspended until due to Discussing modding or hacking
Why are you reading this!?
Nah I'm kidding. Welcome to the awesome page of awesome stuff, AKA my profile page. I've played most Halos and I'm pretty sure all the stats are uploaded here...if not, then someone at 343i messed up! Here, to make it simple I'll list every Halo I've played below.
I also play butt tons of other games too. Like Assassin's Creed, Destiny, Mass Effect, and more. You'll probably find every game I own if you add me on Xbox (gamertag is EmptyVoid95, duh!). If you want to play anything, shoot me a message, I'm super friendly most of the time.
Uhh...how about some favorites? My favorite Halo is Reach, and my favorite character is Sgt Johnson. Pretty standard stuff, actually. I like playing in Forge and I've made a couple pretty good maps, actually! I tend to focus on symmetrical Slayer maps, because balanced competitive multiplayer is my jam. I love PvE things like Campaign, Spartan Ops, and Firefight, probably more than PvP, though. At least AI doesn't teabag you!
Elites are the best. I hope they become playable again in Halo 6! One can dream, right? :)
Catch you guys on the flipside.
Spartan Company
---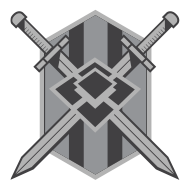 Between two evils.
Leader
82 Members
Est. 10/28/2015
Spartan Fireteam Ulysses is stationed aboard UNSC Infinity for the duration of the Created conflict.
Fireteam Ulysses is one of the first larger scale Spartan Fireteams, combining Spartans with varying specializations and skill sets into one cohesive unit. Fireteam Ulysses is comprised of many Spartan-IVs, but also rehabilitated Spartan-II Candidate washouts, defunct Spartan-III groups, and a select few remaining Spartan-IIs. Some previously established Spartan squads were transferred into this Fireteam, including Wolfpack Squadron, Fireteam WIlco, Fireteam Pincer, and GroupSeven/ECHO, Diamondback Wing, Black Widows, and several smaller Headhunter teams. Most of the Spartan-IVs in this unit are Requiem veterans.
Applicants for this Fireteam must;
1. Be rated for GEN-2 armor. GEN-1 architecture allowed, but firmware must be updated to GEN-2 standards. This includes Spartan-II units still relying on GEN-1 VISR interfaces.
2. Access to level 5 intelligence clearance by Infinity shipboard A.I. Roland.
3. Participate regularly in live-fire War Games simulations. These include, but are not limited to, Arena-class simulations and Warzone-class simulations.
In ancient Greek mythos
, the Sea monsters Scylla and Charybdis guarded a strait, which the Greek King Odysseus, also know in Latin as
Ulysses
, had to sail through. In a way, Scylla and Charybdis exist today as the Promethean threat and the Covenant remnants, with Spartans leading humanity to the future while defeating these two monsters.
((REAL WORLD DESCRIPTION))
This is a casual Spartan Company. Join up to find friends to play with and have a good time in Campaign, Arena, Warzone, Custom Games, Forge, and more. There is no specific stat requirement; anyone can join, the above requirements are for lore purposes only. You may also look to host or join games in other games including previous Halo games. If this is your first time joining a Spartan Company, you'll get a free REQ pack.
My topic on this got locked so yours might as well.

Feet First
Made your first hot drop into HaloWaypoint.com

E3 2012 Contributor
In the top 20% of commenters during E3 2012.

Halo 5: Guardians MP Beta
Halo 5: Guardians MP Beta participant.

Statistician
View your Service Record on the web.

Enlisted
Become a member of an active Spartan Company.

Halo Legendary Crate Subscriber
Awarded to subscribers of the Halo Legendary Crate