The grind is on. I have been at it since Halo 3 introduced me to a crazy world of genocidal aliens, a galactic threat of consumption by a parasitic life form, and an mysterious ancient race of beings that destroyed everything to stop said parasites.
After that I sought out every Halo game and played late into the night. Honing my skills to fight for a good death.

Bare your fangs Spartans.
Spartan Company
---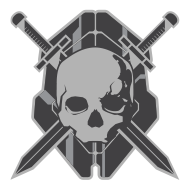 Victoriam et Gloriam
Leader
94 Members
Est. 8/8/2020
--💀--Update--💀--
Effective immediately. Avalon Kros is now acting Company Leader until future notice. Please forward all Company related issues to him anytime.
--🤝--If we work together, we can achieve the Achilles Gear and beyond. --🤝--
--💀--There are only 2 game requirements to remain once accepted. You MUST be online on
HALO 5
AT LEAST ONCE A MONTH
unless you're power or WiFi is out, or life events arise. Notify a Lieutenant if this is the case or message the Company Leader directly. *This game time requirement rule does not apply to the Leader or the Company Lieutenants.* Administration shall check member's most recent played game on the 1st of each month.. Play any game mode in Halo 5 that helps towards achieving Achilles during that month to not be counted absent.
The second requirement is simple, don't be mean to fellow Skull Spartans on any platform.--💀--
--💀-- I am aware that the overall population of Halo 5 players has diminished in the last near five and a half years. I'm calling out to the Spartans who are the true OG Halo fans who play the game because they love Halo and want to achieve more. Lets assemble our forces and our zeal to keep this great community alive. Rally on me everyone. A single Skull Spartan can do great things, but with all of us together, we can do the impossible.
(Think Don't let the flame die out! From spongebob, but halo.)--💀--If possible, please try to join one of my Squadrons, if you can.
—BombadJedi87
—🥉🥈🥇—. We are all different skill levels, from noob to 152. From, "What the heck is a Needler?" To, "How much CSR did I get from that match?"—🥉🥈🥇—
If you speak Spanish, it is recommended that you also speak English!Si habla espanol, se recomienda que hable ingles!
--🤴--Leadership:
Cr33perbl4st
--🤴--
--*Acting Leader:
Avalon Kros
*--
--🎖--Lieutenants:--🎖--
WarhoundElite
Eevee Blue 3
BombadJedi87
Avalon kros
Thanewolfe
SPARTANIV5647
Perfectum88
🥇--💪--🥇Trial of Achilles: Armor: 47 commendations completed, helmet: 4 mastery requirements met🥇--💪--🥇
--💀--
There are now warzone weekends. We strongly encourage our members to properly get to know each other...by striking fear into the hearts of our enemies!--
💀--
--💀--Join our Discord Server(s) if you want to ask questions.--💀--
Skull Spartans Official:
https://discord.gg/ZYs6dcsHDx
Halo:
https://discord.com/invite/uS2wWW7
The FIRST Squadron to complete all of their commendations gets a reward for their hard work!
This is a running list (will be added on and subtracted from as time goes) of all available gamertags and time zones of the Spartans in our company:
Avalon Kros - E.S.T.
Perfectum88 - E.S.T.
M1 Abro - M.W.T.
Lord Ch1cken - E.S.T.
Pompous Hero - E.S.T.
Flux Dream - E.S.T.
MR BOHJangles - E.S.T.
AquaBasilisk805 - P.S.T.
Blad87 - E.S.T.
rockcam - P.S.T.
BombadJedi87 - E.S.T.
--💀--Last updated 01/19/2021--💀--

Feet First
Made your first hot drop into HaloWaypoint.com

Statistician
View your Service Record on the web.

Enlisted
Become a member of an active Spartan Company.