Hello my name is Bl00dy oiL. I've been playing halo since 2011. Halo: Reach was my first halo game and first game in general. Since then I've been dedicated to all things Halo and the FPS genre. I have been closely following halo media and am adamant fan of the all the halo campaigns. I am the Leader of Team First Strike, 10/20/15 est. I Just got into competitive halo at the start of the halo 5 beta. I will usually be on at least 5 days of the week if not 7. I am looking forward to showing off my skills in the halo 5 multiplayer. Always looking for new people to join me, become my friend and share in my love for the game that is halo. To many good years to come hope you will join me in halo 5 journey and every other halo game to follow.
Spartan Company
---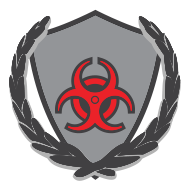 Official Biotic Crisis
65 Members
Est. 2/22/2016
2020 Update:
Halo 6 - Release date is said to be Holiday 2020. If Spartan Companies are back... Mass Extinction will return.
Message Board:"Its been a privilege to lead an outstanding community like this and I shall continue to march on forward with you. I could not have done it without my leadership to guide and the members to build and together we created this incredible spartan company so I personally thank you. Unlocking the Achilles armor is the greatest feeling and each member of Mass Extinction should wear it loud and proud. I promise we will be back up and running as soon as Halo 6 knocks at our doors. Stay classy, slay away, fly free and when you hear the order to return I expect to see each and every one of you back and ready to do it all over again.Till next time,"~RomanEx5 Mass Extinction Official Biotic Crisis Team Achilles Set Unlocked:Achilles Armor Unlocked: June 24th, 2016Achilles Helmet Unlocked: January 7th, 2017
Achilles Helmet Update: 100%
1.
Mastery Requirements Met 62
/62
2.
Commendation Level Completed
155/155
News:
Mass extinction has finally completed all Kill Commendations. Both Achilles piece's is ours to take home and we will wear it proudly. We like to thank everyone that wanted to participate by join us on this journey. We will always remain a gaming community.
About:
Mass Extinction is the perfect fit for any Halo player and we believe we can stretch this gaming community to another level of excellence. Our company uses GroupMe to stay communicated with every player. This squad of players is a mature group and we range all over the world. (Mostly the United States.) Our players run Arena, Warzone, Warzone Assault and Warzone Firefight. We host Custom Game nights with all the players. We have a few Forge players and we also run GameBattles on MLG. We know there is a place for you on our crew, whatever your game play last may be, we hope to play with you soon.
Guidelines (2017): *Subject to change till further notice*-
Mature/18yr +
-SR120+
-Mic is recommended (
Message leadership if experiencing mic difficulties ASAP
)
-Check Waypoint Daily (
Responds to messages and replies on Company Forum posts
)
-Download GroupMe *
It's free*
(
For Mass Extinction Member Chat & Community Chat for connection with players day/night
)
-Join the Xbox Club
-You will be booted if your idle for 15 or more days without notification!
(
Inactive or idle; message leadership ASAP
)
Mass Extinction Leadership:
Leader
: RomanEx5
Co leader
:
Deenorayy
Lieutenant:
PWEI
Lieutenant:
Centurion Slink
Lieutenant:
eSports USA
Lieutenant:
THE FUNK SHOP
I just hope it gets fixed, I know they are working on it .

Feet First
Made your first hot drop into HaloWaypoint.com

Halo 5: Guardians MP Beta
Halo 5: Guardians MP Beta participant.

Statistician
View your Service Record on the web.

Enlisted
Become a member of an active Spartan Company.