Biographical information
Homeworld:
Tricode Village, Mare Erythraeum, Mars
Born:
September 30, 2507
Died:
2526 (aged 18)
Species:
Human
Gender:
Male
Hair color:
Brown
Eye color:
Brown
Political and military information
Affiliation:
UNSC Marine Corps
Rank:
First Lieutenant

"A soldier who did not give up."
— General Daniel Black
Cadmon Lasky was a junior officer of the UNSC Marine Corps trained as an Orbital Drop Shock Trooper. He was the elder son of Colonel Audrey Lasky and the brother of CaptainThomas Lasky, the future commanding officer of the UNSC Infinity. He was assigned to the 10th Shock Troops Battalion.
Cadmon was the favorite pupil of many of his instructors during his career at the Corbulo Academy of Military Science; when Thomas attended the Academy years later, he did not live up to Cadmon's reputation due to his tolerant view of the Insurrectionists. During his stay at Corbulo, Cadmon set a record for morning drills; his record remained the highest when Thomas enrolled in the academy.Cadmon graduated second in his class and it was generally believed he would pursue a career in the Office of Naval Intelligence; to the surprise of his fellow students and instructors, he joined the Marines and applied to become an ODST soon after.
During the Insurrection in either late 2525 or early 2526, Cadmon was stationed on Jericho VII for at least 131 days. While there, he received a large tattoo of the iconic "Death Head" emblem on his back. Later, he was deployed to the jungles of Arcadia, where he earned the nickname "Volcano" among his unit after drinking polluted river water and contracting diarrhea.
By the 496th day of his deployment, Cadmon was stationed on the colony world of Andesia.During a firefight with Insurrectionists lasting for seven hours, Ridge, a longtime family friend and member of Lasky's squad was killed in action. Cadmon was deeply upset by Ridge's death, which prompted him to cut his hair out of respect for Ridge who had stated that he would look tougher with a shaved head.
He enjoyed a close camaraderie with his brother and the two kept regular video correspondence.
Death and legacy
The entirety of his squad was killed by Insurrectionist forces on Andesia. As there were no remains their mother felt Thomas should not leave school to attend his brother's funeral. Cadmon's death initially upset Thomas to the point of helpless despair. However, Thomas eventually came to regard his brother's sacrifice as a source of inspiration rather than grief. Thomas then began to acclimate to his role as a future officer.
Spartan Company
---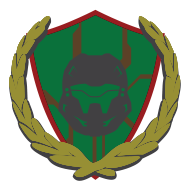 Fun First
88 Members
Est. 1/2/2018
*Attention*
We have completed the Armor.
A group of casual players, grounded in our friendships and branching out to new players.
Many of us have played since Halo: CE and are mature gamers.
We're happy to encourage camaraderie among all Halo players, but in order to enable our members to relate to each other we have an age requirement of 16+. We may accept members below that age, but they must be accompanied by a family member who is 16+ who also joins (such as a parent or older sibling who also plays).
We play both MCC and Halo 5.
Leadership:
Interested in joining a group of fun players, not looking for anything super competitive, but happy to turn it up a notch when required?
Send a personalized request - default ones will be rejected. Please include your age.
Also, please add AshamanND as an Xbox Live friend.
We'll ask you to join our Discord via PM before you join.
If accepted, please browse through our forums, and review our Company Guidelines.
If you can't play at least once a month, simply send
AshamanND
a message, otherwise you may be removed. We're looking for people who actually want to play together, after all!
117 Ways To Kill
has been established to house any overflow and inactive members.
Please note: If you are looking for an Achilles grinding Company - that isn't us. It's not our focus. If you are wanting to achieve the Achilles helmet quickly, you are probably best to find a different Company. However, we plan to get there
eventually
, as a by-product of playing and enjoying the game.
We already have the armor.

Feet First
Made your first hot drop into HaloWaypoint.com

Statistician
View your Service Record on the web.

Enlisted
Become a member of an active Spartan Company.