Spartan: D-673

Home Planet : Outer Colony (classified)
Helmet: Tracker
Armor: Intruder Tresspass
VISR: Mythril


Bio: Signed up for spartan IV training and augmentation in 2554. Specializes in running security check ups on quarantined planets, and forerunner installations with possible Flood contamination.

Battle tactics:Defensive. Guards base using long range weapons until higher req are earned. Depending on who gets middle base will flank opposing teams base.

Current Location: UNFC Infinity



History: Halo 1, Halo 2, Halo 3, Halo 3 ODST, Halo Wars, Halo Reach, Halo 4, Halo 5
Spartan Company
---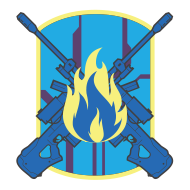 Have fun and come play
66 Members
Est. 1/19/2017
Hey! We're the XP Junkies. It's as simple as that, we LOVE XP and companies are the best way to get extra XP. We're pretty laid back and chalax so join up if you just love to game! We primarily only play Halo 5 but have other games (mostly Halo related). If you are looking for a fun group of crazies to play with, then read on. If you just want a company, just want the helmet, or just want XP, then request to join! We don't care if you've been playing halo for years or are a Christmas Noobie, join up!

Guidelines
-- 21+ years old. We want mature players ONLY
-- Weekly Active Players who want more gamer friends
-- Communicate and play with other members
-- If you have a mic, that's a BONUS!!!
NOTE:
-If you are NOT over 21 years old, do NOT request to join. You will be DENIED!
-30+ days inactive is subject to being kicked
-Customs and Campaign do not count as active
-Staying active on Waypoint and/or discord helps

Include in your Request to Join:
- Why you wanna join the company
- Your age
- Your time zone and when you typically play
- Why you're awesome
NO DEFAULT MESSAGES WILL BE ACCEPTED -- We're here to make friends, not build numbers.

Reasons you may want to join:
- We are awesome
- We just like to game and have fun
- We don't care how good or bad you are

Achilles Status:
Tier 1: 31/31 complete
Tier 2: 31/31 complete (14 November 2017)
Armor: 31/31 completed (11 February 2018)
Tier 4: 31/31 completed (30 March 2019)
Helmet: 21/31 completed (30 June 2019)
Obtaining the helmet is NOT our primary goal. We just like to keep people informed :) :)

Social Media:
We have a Discord Page (please check the forums for the link--once accepted). We use this page for almost all of our communication.

Leadership:

BROCK SAIYIPSON: Face of the company. Obsesses over commendations. Always calls dibs on first strike and gets way too excited during awesome plays. Look out for his ghosts during firefight.

KelleySpartan87: Founder of the company. The Brawling Beauty of Grifball and Gungoose extraordinaire. Halo's best panic, crouch, and puncher so don't come around the corner or you'll hear a scream.

Skippy575: Jack-of-most-trades, terrible with the sniper. Always does the weird easter egg on The Rig that summons the sand monster. Has a strange obsession with the Tactical Magnum in Firefight. Permanent rocker of the Achilles armor.

BubbaSparxxx92: He's loud, he's proud, get used to it. --That's what she said!

RedHeadURDead: Yell for HELP but watch out, she may have been the one who splattered you! Her laugh will intoxicate you though! HAHA!

AwakeCrudeWolf: <----, SGT Slaughter: Tries to keep everyone goal oriented. Key word is TRIES. LOL

LordBaJesus: BTB King. Cool as a cucumber in combat.

Shadow Jester Z: A jester from beyond. This young warrior seeks to prove himself by hunting the most dangerous spartans known. He will laugh at his own self-destruction rather than be defeated.

Gafmaster: He's here, He's there, He's Everywhere! But you'll never find him on Foundry! Don't forget to yell out ISUK! (Ah-sue-key)

We have 9 active members of our leadership. We work together to make decisions for the company and to keep things running smooth and FUN. Contact us with any issues and message us if we're online and want to play.
It's the monitor that runs instalation 07. Read up man might learn something about new halo coming up

Feet First
Made your first hot drop into HaloWaypoint.com

Statistician
View your Service Record on the web.

Enlisted
Become a member of an active Spartan Company.