Halo is my favorite game of all time. Started playing Halo 3 and have not stopped since!
Spartan Company
---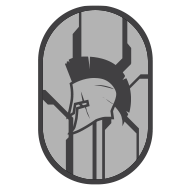 Welcome to the Meat Grinder!
Leader
38 Members
Est. 6/1/2016
-Note: THE ACHILLES GRINDERS HAVE COMPLETED ALL KILL COMMENDATIONS, AND POSSESS THE FULL ACHILLES ARMOR SET. THOSE REQUESTING TO JOIN WILL NOT BE ABLE TO MAKE PROGRESS TOWARD ACHILLES, BUT WE WELCOME FRIENDLY PLAYERS. PLEASE SUBMIT A CUSTOM JOIN REQUEST, SEE BELOW.
GRINDER (N):
1. a person or thing which grinds.
2. a sharpener of tools.
3. (inf.) a gamer who repeats a process or action endlessly in a video game to achieve a long-range goal or reward.

What we are:
a high-achieving Spartan Company that is serious and motivated, determined to play co-operatively to have fun and build our skills. We are a diverse group of Noobs, try-hards, experts, rookies, gamer girls, fathers, sons, warriors and average Mountain-Dew-drinkin,' bowl-o'-Captain-Crunch-eatin' controller monkeys. We do three things very well: set firm expectations for civility and fair play, play cooperatively in Arena and Warzone, and respect each other's varying levels of skill and proficiency as we keep dominating on the battlefield.
What we are not:
tolerant of Leeches (those who play a little bit and wait for others to do the heavy lifting), Ghosts (those who put up a great application to the Company then hide in the shadows and don't play), Haters (toxic players who rage constantly and break others down), Quitters ("That's it! I'm done with this game! 343 sucks!") or Whiners ("Come on, give me another chance...I've got an infected paper cut and it hurts to play!"). Spartan up, no excuses!
What to expect as a Grinder:
You don't have to be an expert; we have a great mix of casual and semi-pro players. There is room here for players who love to play Campaign Co-Op and bag achievements, for players who have their sights set on the HCS League, and for players who just love to get on mic and practice their call-outs or catch up with their buddies. We have that!
How to join The Achilles Grinders:
-You must create a
custom message
and submit a Join Request. We don't need the default one, as it tells us nothing about you as a person and as a Spartan.
-Describe your skill set (what your strengths/interests are).
-Talk a little about your interests (achievement hunting, co-op play, Firefight, training, etc.).
We wanted this
. We got it...hard work and dedication!
Molon labe!
Leadership:
Commander
-CardinalOhio886
Gameplay Lieutenants
-ProfPlum1868
-KeptPopcorn5189
-JJCD
Forums Lieutenants
-WillyMc
-Magnyss
Important Dates:
6/1/16: Founded7/2/16: 100 Members7/20/16: Level 1 Kill Commendations Completed9/20/16: Level 2 Kill Commendations Completed11/9/16: Change of Command; Garruk47 to Magnyss11/23/16: Achilles Body Armor Achieved! #giveTANKSforachilles1/1/17: Fireteams Established
3/5/17: Level 4 Kill Commendations Completed
6/1/17: Year One Anniversary
6/21/17: Achilles Helmet Achieved! All Kill Commendations Complete! #FinishTheFight
8/6/17: Change of Command; Magnyss to CardinalOhio886
6/1/18: Second Anniversary of the company6/21/18: First Anniversary of the Achilles Armor set!6/1/19: Third Anniversary of the company6/21/19: Second Anniversary of the Achilles Armor set!THE ACHILLES GRINDERS' GOLDEN TRIANGLE (2.0):

Be as civil and as friendly as possible in your interactions in game and by text on our Company forums and on our Discord server.
Do not participate in toxic behavior, bullying, harassment, or grudging other players. This will be grounds for instant dismissal. Let's try to build each other up, not see who's best or 'throw darts.'
Be communicative! Participate in the Discord chat and in Forum threads, or make your own. Don't be discouraged if you don't get instant responses, just raise your voice.
Other Clubs and Groups-Our Xbox Group is titled the Achilles Grinders-Our discord servers can be found using this link"The Road to Achilles" Archives:Week in Review 52 - Achilles Helmet Unlocked!Week in Review 51 - The Final PushWeek in Review 50Week in Review 49Week in Review 48
Achilles Grinders Hall of ChampionsAchilles Grinders Time Zones & Play Times"Welcome to the Meat Grinder!"

Feet First
Made your first hot drop into HaloWaypoint.com

Statistician
View your Service Record on the web.

Enlisted
Become a member of an active Spartan Company.