Spartan Company
---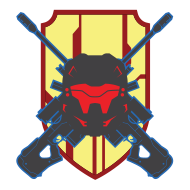 Kati and the Unicorn was taken
Lieutenant
32 Members
Est. 5/8/2017
"Whatever, I'm getting cheese fries"
Let's do the company bio thing.
Undivided is a faction of the Spartan Dads Network. Here, we're focused on competitive play - specifically in BtB.
But before we get into that, Here's a message from
Sk1nn3r24,
The founder of Spartan Dads:
"Mission Statement (hasn't changed since 10/29/2015): Let's face it... there comes a point in life where, sadly, you just aren't going to be able to keep up with the young-ins anymore... all of us in this company may have been, at one point in time, dominate at Halo, and / or video games in general. But those were the glory days. Now we're just senile old men with poor reflexes, careers, families, and (I think we can all agree), the best thing there is in life... kiddos.Look, I'm not saying that we won't win some games. We may even wind up being one of the best Spartan companies in existence (though I sort of doubt it, as we just don't have the time to invest into video games anymore). But ultimately, we're just here to have a good time, and share in fun experiences / Halo 5 memories with others who are at the same place in life that we are. We've officially become casual gamers, and in our opinion, those are the best kind. Winning is fun, but that's not what matters most to us anymore... having a good time and relieving ourselves of daily life stresses by shooting bad guys is. And that's exactly what we'll do.Here's hoping to network and get to know some of you in the months to come, and we look forward to gaming with you all and adding to our company."
Thanks for that Sk1nn3r24. If one were to search "Spartan Dads," they would probably find several different groups. I'm sure all of them are fine people, but not all of them are affiliated with us. Listed below are our sister companies:
- Spartan Dads:
If WP allowed us to have more than 100 members, we'd all be here. We're all members of this company in spirit.
- Spartan Dads Osiris:
Need the Achilles helmet? They're almost there...
- Spartan Dads 4:
Also, nearing that Achilles helmet!
Requirements for Undivided:18+ years old
. As a faction of Spartan Dads gaming, you could probably guess that most of our membership is older and has families. Our average age is about 30.
Team Oriented player.
Our reflexes may not be what they once were, but we value tactics and sticking to the plan. You might be a lock down sniper, but if you're supposed to be the hog driver for that map...then drive the hog. Not sticking to one's role is probably the easiest way to trigger us.
Mic usage is required
. We require quick callouts and teamwork - can't do that if we can't hear you
Participation in our BAND.
We use the App
BAND
to schedule our events and discuss strategy. The app is available on iPhone or Android. You can also access it via the web (It's a great way to chat with friends about Halo while you're supposed to be working)
How to apply:
You've made it this far and still want to consider applying? Sounds great! Here is how our application process works
Step 1. Sign up for BAND and send
Ruined Empire.
Either a XBL message or Waypoint message with your Band Screen name. I will invite you to our BtB BAND. BtB BAND is open to all members of Spartan Dads and guests. This is where DiD posts open signups for BtB nights
Step 2. Signup for at least 2 events. We run events every Tuesday and Friday with some impromptu events on Sunday and Thursday. This will allow you to see how we play and whether we're the type of group you're interested in running with.
Step 3. After we've gotten a chance to know you, our leadership council will vote new members in.
Step 4. After the vote, if you've been accepted, please leave your current company (assuming you are in one) and accept the invite on WP. We will then send you an invite to the DiD BAND and the main Spartan Dads BAND so you can participate in strategy discussion and cat pictures.
That's it. Sounds complicated, but the whole process should take a week. If you have any questions, Send me a message
Ok, ever shoot a banshee with a magnum? How about a guass warthog? You need range in btb.

Feet First
Made your first hot drop into HaloWaypoint.com

Halo 5: Guardians MP Beta
Halo 5: Guardians MP Beta participant.

Statistician
View your Service Record on the web.

Enlisted
Become a member of an active Spartan Company.