Halo: The Master Chief Collection
---
Spartan Company
---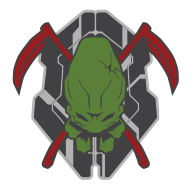 Stompin Nubbs Since CE
51 Members
Est. 11/12/2015
(Open Recruiting)
Men, we led those dumb bugs out to the middle of nowhere to keep 'em from gettin' their filthy claws on
Earth
. But, we stumbled onto
somethin'
they're so hot for, that they're scramblin' over each other to get it. Well, I don't care if it's God's own anti-son-of-a--Yoink- machine, or a giant hula hoop, we're not gonna let 'em have it! What we will let 'em have is a belly full of lead, and a pool of their own blood to drown in! Am I right, Marines?
All you greenhorns who wanted to see Covenant up close... this is your lucky day.
We are the Nubbstompers.
If you are in the mood for competition, we have Onyx caliber players that are always looking to team. Hop on in the forums and start up a conversation and organize some teams. With WZ, Arena, and the campaign, there is plenty Halo to get into. This is a game and we understand real life stuff happens! We just ask that you jerk off mic.
Primary requirements
Act like your goose is cooked
Be active on Halo 5 (discretionary), currently looking for WZ focused players (not FF)
Prefer older peeps (no kiddos 12-16)
Must appreciate fine art
Mics are needed to communicate
Friendly or not
Can only use one hand while playing
Speak/comprehend English
Not cry while wacthing Infinity War
No shirts, no shoes, don't care
The waether outside is weather
Be the most popular tourist attraction
Here are a few things that you can look forward to here with us:
Help completing the Achilles set: 100% complete (62/62)
You can pet my pig Mr.Chris Pea Bacon
Co-op completions (Normal to Legendary)
Warzone teams
Barbeque night
A high five and the biggest hug you have ever seen
Req pack if this is your first Spartan Company and company packs from unlocks.
Custom games
Active players
Forgers
MMC players
Always looking for leaders to run games
Leadership
Leader: XAnnoyedOrphanX
Lieutenant: Loco0rphan
Lieutenant: xxDEATHREBORNxx
Lieutenant: APEX XCV
Lieutenant: lowkeymatty
Lieutenant: Oz of Bounce
Lieutenant: Khlani
If you have any other questions, comments or wish to get an invite just message us.
If your still wanting to join and we are full then try joining our sub company
stumpnubbers
Yeets. Yeets for everyone.

Feet First
Made your first hot drop into HaloWaypoint.com

Statistician
View your Service Record on the web.

Enlisted
Become a member of an active Spartan Company.