Spartan Company
---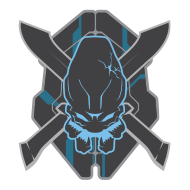 Keep on baggin', boys
75 Members
Est. 2/3/2016
* TO ALL NEW POTENTIAL MEMBERS: Please redirect your Join Requests to our sister company; Heresy Ascended *
The Heretic Uprising is a retired Halo company in Halo 5, but some of us are still active in our new sister-company, see above. Messages sent to Doc HarmoNic may not be opened for months at a time as our leader is also retired and in-waiting for Halo 6, please instead send your messages to Golden Ranger.
Or, if you're a returning Heretic who's interested in starting over fresh and working towards some commies with the boys then feel free to join that Company instead.
_________________________________________
Achilles Armor Progress: Acquired on 5/20/2016Achilles Helmet Progress: Acquired on 6/18/2017Tier Commendations:
29/30 (96.7%)
Tier Commendations:
103/120 (86%)
THU
was a community of hard working men and women who've bonded together with the mindset and goal to achieve Achilles. Utilizing their combined skills they have surpassed their goals and now proudly sport the exclusive set, solidifying themselves as one of the top companies in Halo 5.
Letter from you Leader;
"We did it, the grind is over. This past year and a half has been a whirlwind of opportunity for not only myself but for others to branch out of their comfort zones and share a common goal with people from around the globe. We have members from nearly every time zone from California to Sweden and even some fellow heretics from Australia. We've grown from nervously partying up to talking nearly everyday through GroupMe or Xbox Live, it's been the freedom of this company that's kept so many involved. We never required an SR level, we never farmed, we never forced people to change their gamertags or appearance, and we never made fun of anyone of lower skill than ours. We got Achilles the honest way, which is why THU means so much to the men and women in this community. Thank you to all the members who made this what it is today, you are the true Uprisers. Current members are welcome to stay and grind out the final Company tiers, but our goal has been met and your service has been fulfilled. Enjoy your rewards, wear the helmet proudly, and see you all in Halo 6!"
Keep Baggin' Boys,Doc HarmoNic, (aka Monty)Original Company Creator

Feet First
Made your first hot drop into HaloWaypoint.com

Enlisted
Become a member of an active Spartan Company.