Spartan Company
---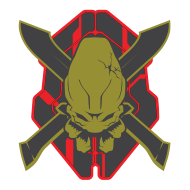 CLOSED TO REQUESTS TILL 95%.
74 Members
Est. 3/25/2018
Requirements:First off, sorry for the inconveniences if you were previously looking at this yesterday or the other day. However we have decided to close it until it hits 95%. TNOA (The Noobs of Achilles), will be kicking off a little while longer but inevitably closing and starting back up at 95% too. If you're reading this late March I'm sorry, you probably won't get in.
Join and maintain an account on our Discord Server. (You must check in within 24 hours. Failure to do so will have you discharged from the company.)
You must not be absent from Halo 5 for more than ten (10) days. (Arena/Warzone or any gametype that contributes to Achilles progress is preferred).
You must not be absent from the Discord Server for more than two (2) days.
Achilles Helmet 71%
Achilles Armor 100.000% Completed January 13, 2019 at 1:44 a.m. CST

Discord:
Operation Gamma (OG) has a Discord server, that all members MUST join. Discord content for Members and members of allied companies will increase and allow more permissions as you rank up in the server. Please visit the link below.
Operation Gamma official Discord server
Xbox Club:Operation Gamma (OG)
has an
Xbox club
that all members can
optionally
join. This is a space where you can share game captures and find lobby-up with members of OG and its allied companies. Visit the link below if you're interested.
The Alliance Xbox Club
Alliances:
Operation Gamma (OG) is willing to ally with most any company. Alliance rules are straightforward, you help us grind, we help you grind, and you will be welcomed as if you are a member of WDNA, while still retaining your autonomy. Allied members will also have allowances on our Discord according to their role in their company. Allied companies will be listed below.
Who Doesn't Need Achilles
The Noobs of Achilles
Team Head Hunters
Kirks Covenant

Ranks:
Ranks are obtained and increased through chatting and participation in our Discord Server. Each message sent will earn you XP. With enough XP you will rank up. Each rank is earned at different level milestones. Please see below for rankings.
Level 005- Champion
Level 010- Hero
Level 020- Legend
Level 030- Mythic
Level 040- Osiris
Level 050- Noble
Level 060- Orion
Level 070- Achilles
Level 080- Reclaimer
Level 090- Forerunner
Level 100- Precursor

Feet First
Made your first hot drop into HaloWaypoint.com