I'm an assassin for hire and will do every thing to take down my target.
We will break your rules if I deem it necessary. I try to stay in the guidelines but if your guidelines are strict and don't give me enough room to advance I will make a hole for me to pass through. Me and my assassins are professionals. We do not take orders from you, you just give us the hit. We WILL be paid before any action is performed, our payment is 1 gold pack for each assassin I assign to the job. It may take a couple days to accomplish our task but it will be completed.

People may say they know you, but they really just know the outside of you. People will try to stop you, just go through them. We are a brotherhood and don't like to disrespect each other. we may fall but we will be back at the top. I've lied to people many times. but that does not mean im not truthful. i've lied, yes but for a cause. a white lie if you will. others my think im a monster, a lier, untruthful. but what i really am is just a man in darkness. i don't like the light. its to open. i prefer the dark. i've tried to fix what i have broken. but i failed. i've destroyed friendships, brotherhoods, packs, teams, legions, and groups. i cant trust people. so i never do. i have people that trust me. i give them reason but it is all a lie. my life is a lie. people do not know me as they say they do. no one cared who i was until they got ruined by me.
"Oh, you think darkness is your ally. But you merely adopted the dark; I was born in it, moulded by it. I didn't see the light until I was already a man, by then it was nothing to me but BLINDING!" -Bane
Do not let people stop you. people has tried to stop me and failed, some have succeeded, but none has killed me. We lie, trick, manipulate, destroy, and kill. We do not wish to give a painful death, but pain is what drives us. We are assassins, yes but we are loyall. just keep in mind, do you really know the people you trust.
**Be sure to use no mercy**
Spartan Company
---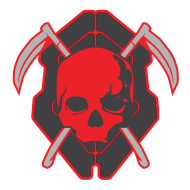 you'll never know what hit you
Leader
3 Members
Est. 11/18/2019
We are assassin's for hire and will do every thing to take down my target.
We will break your rules if I deem it necessary. I try to stay in the guidelines but if your guidelines are strict and don't give me enough room to advance I will make a hole for me to pass through. Me and my assassins are professionals. We do not take orders from you, you just give us the hit. We
WILL
be paid before any action is performed, our payment is 1 gold pack for each assassin I assign to the job. It may take a couple days to accomplish our task but it will be completed.
**Be sure to use no mercy**
If you wish to be a assassin, listen and do your best . If your not that good we will help you and teach you the way of the shadows.
The Clan video:
The One Eyed Assassins joining intro
ask me any question at
Grosskills06

Feet First
Made your first hot drop into HaloWaypoint.com

Statistician
View your Service Record on the web.

Enlisted
Become a member of an active Spartan Company.