-GREETINGS,FROM THE THRONE-
Been down since November 15/2001 recently joined the community should've been done long ago. Really enjoy playing halo MCC,GUARDIANS like a lot of the mini games,knot afraid to get competitive.

-FAVORITE GAMETYPES-
1.FFA=SNIPS 2.TEAM=SNIPS 3.FFA=SHOOTY,SNIPS 4.TEAM=SHOTTY,SNIPS 5.FFA=SWAT 6.TEAM=SWAT
7.CTF 8.KOTH 9.GRIFFBALL 10.PAINTBALL PRO and some RACING GAMETYPES but my most favorite GAMETYPE of all is a good game of OLD SCHOOL DODGEBALL with the right maps enjoy playing RACING,PAINTBALL,DODGEBALL,AVALANCHE on H5 really like old school HC,H2,HR with FFA,TEAM SNIPS, MEGA SUMO.
Spartan Company
---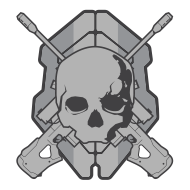 Leader
1 Member
Est. 5/14/2020
- The NATAS VO S'NOS Empire -
Is the militaristic totalitarian governing body on the extremely harsh and isolated military installation hovering directly over the unnamed planet ruling over the NATAS VO S'NOS people claimed home system.

- NATAS VO S'NOS Military -
The NATAS VO S'NOS peoples' lives of very extreme hardship naturally make them extremely hardened soldiers. Every single NATAS VO S'NOS child mandatory serves anywhere between 16,18or22 year's or more in the NATAS VO S'NOS military some children live there whole lives stuck,trapped in the military system. Some Squadrons have very little or no food reserves station in habitats that support little to no life little insects and small snakes. Forcing the NATAS VO S'NOS military personal to resort to fending for theirselves and even worse their have been many cases of cannibalism to survive both in the military and Civilian centers as well. More than most of NATAS VO S'NOS fiscal and natural resources go towards the military, leaving very little for domestic development. Forcing the NATAS VO S'NOS to live in giant megalithic slums,ghettos where crime is the highest where gang's control almost everything except for what the military wants. Putting hardened career criminals and the criminally insane right on top of the civilians. NATAS VO S'NOS military's primary tactics primarily relate to the implementation of vicious, rapidly sweeping surgical strikes reliant on the element of surprise, focusing almost completely on offensive based strategies. The military is above all the most prized element of the NATAS VO S'NOS Empire.

Ideology and Society
The NATAS VO S'NOS Empire's nationalistic ideals emphasize the superiority of the NATAS VO S'NOS,a very strong military, and total commitment to the NATAS VO S'NOS government. Their ideals are symbolized by the NATAS VO S'NOS Triad,which emphasizes duty, obedience,loyalty and the ultimate sacrifice for the
NATAS VO S'NOS Empire.



Feet First
Made your first hot drop into HaloWaypoint.com

Statistician
View your Service Record on the web.

Enlisted
Become a member of an active Spartan Company.