I am Sierra 118. A Spartan Commando Team lead. My fireteam was Fireteam 99. We fought in the multiplayer matches of Halo Reach.
I have killed a few 343 developers in game.
Most of my Service Record is missing, i played on 360.
And Sadly my skills in game are not what they used to be.
But thats because i took a break from Halo for Fallout.
And only recently i have started using Halowaypoint.com.
I am a Spartan II.
And i will remain loyal to the UNSC.
Spartan Company
---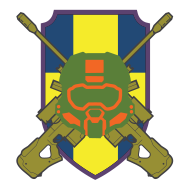 Sic Transit Gloria Mundi
Leader
2 Members
Est. 10/11/2020
Spartan Company Stats;
Leader; Sierra-118, Spartan II
Status: Recruiting.
Bio: [CLASSIFIED}
Fireteam 99 Stats;
Status: Unknown See; https://www.halopedia.org/Spartan
??? ; Here are the fates of those who dissapeared[SPARTAN-IIs]
Bio:UNKNOWN
Members;
Devin-S118 [SPARTAN II] Team Lead/Demo/Driver/Heavy Weapons/Brawler/Sword Master (Active. Last seen on Meridian)
Xavier-S119 [SPARTAN II] Sniper (Formerly, currently retired.)
Rose-F616 [SPARTAN IV] Pilot/Support (Formerly, Last Seen on Luna)
Daniel-S121 [SPARTAN II] Heavy Support/Medic/Driver (Formerly, Deceased. Cause of Death, Explosion.)
Robert-S123 [SPARTAN II] Sniper/Pilot (Formerly, Deceased. Cause of Death; Flood Infection.)
Relations;
Fireteam Omega
Fireteam Majestic
Blue Team
Red Team
Fireteam Kodiak
Fireteam Apollo
Comments:
LOL THE ENTIRE TEAM'S STATS ON HALOPEDIA ARE: Status Unknown

Feet First
Made your first hot drop into HaloWaypoint.com

Statistician
View your Service Record on the web.