Spartan Company
---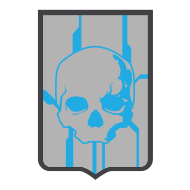 Rampancy IS Normal For Us.
77 Members
Est. 10/27/2015
We are the followers of Forerunner AI Mendicant Bias. He was the most advanced Forerunner AI at the time of his creation, and was charged with organizing Forerunner defence against the Flood before his defection to the Precursor, who ultimately caused him to become rampant, and turn against his creators. He used five of the original twelve Halos to attack the Forerunner capital. He was known for his instrumental destructive tactics; as well as overwhelming his opponents with sheer numbers. These tactics are seen in our combat. Our willingness to sacrifice our lives for the overall objective. Our destructive, clinical removal of our opposition. We go wild for bloodshed. Be it blood from our enemies, or ourselves." What has taken you millennia to create, I erase in seconds."- Rampant Mendicant BiasUPDATE FROM: MENDICANT BIAS 09.07.2016As you are well aware My Minions; Our company has had its name changed. I have authorized this temporary title. We are in the final days from getting the Achilles Helmet; and I wanted to make claim to it sooner to best other companies of its glory. In order to do this I have recruited a Mighty Warrior to guide you My Minions for the following 30 days. He will teach you new methods and bring out your strengths in the Arena to complete the last Four Tasks. He is not just a Man, but a MACHO MAN! He has superior fighting skills for close range combat and knows how to become "The Cream of The Crop" in the ring. Listen to his wise words. I need you to become Savages in the Arena. Strike First and Fast. Counter the Enemies first shots by Reversing them. Aim for The Head! I need you to quench your bloodlust by using SWAT Methods. Go Forth and follow the Macho Man to further Glory. Become More than Men My Minions. BECOME LEGEND!(Oh, Yeah!)-Mendicant BiasUPDATE: 9/15/16WE DID IT! WE HAVE UNLOCKED THE ACHILLES HELMET!!! Congratulations to everyone who grinded and poured hours into helping us acheive this feat. It's been a long road to get to this point. My thanks to all the fireteams who linked up to help the group complete the last commendations we needed. Teamwork makes the dream work. We are the 7th Spartan Company to Unlock the helmet.UPDATE: 12/22/18We are looking for new members; who are trying to grind Warzone Firefight to reach level 152.
If you are looking for a Spartan Company whose Halo playing style is similar to ours, don't hesitate!*UPDATE: Our company has already unlocked the Achilles Armor Set. No, you cannot unlock it just for joining us. It only is available to Spartans who were in active companies at time of unlock.
We are a group that likes to play objective game types.
We are looking for not only players with Offensive or Defensive playing styles. But, also those who are Freelance. Those who roam the battlefield in search of easy prey. Those who lay down cover-fire for our suicide runners.
Good natured, fun loving folks who thirst for combat.
Who like Halo lore and the Halo Extended Universe.
We also have a wonderful Life Insurance Policy for those who carry a Negative K/D Ratio.
Sgt. Johnson trained our Replicant Marines. Yeah, they're that good.
We are sponsored by "Sweet William Cigars", The favorite brand smoked by Sgt. Johnson.
Our theme song is: "Everybody Have Fun Tonight" By Wang Chung
All of our drivers are insured by Allstate. Don't worry, you're in good hands
*WE ALSO HAVE A STRONG GROUP THAT PLAYS "MASTER CHEIF COLLECTION
OUR LEADERSHIP:
A G0D Among Man: "Supreme Overlord/DJ"
FullaSin: "Keeping it real"
Rigbone009: "Minion Manager/2nd in Command"
iVitrioL: "Vice Regent/3rd in Command"
Jeffery P Long: "Proxy Governer/4th in Command/Infection Leader"
Ol Dirty Pete: "Human Resouces(H.R.)/Moral Compass"
VOldemOrtLives: "Official Scapegoat/#BLAMEVOLT"
FS Custums: "Our Sacrifice to The Halo Gods" :)
ODSTs aren't even under the Army for Aya's sake. Can't believe people still get that wrong....

Feet First
Made your first hot drop into HaloWaypoint.com

Statistician
View your Service Record on the web.

Enlisted
Become a member of an active Spartan Company.