Spartan Company
---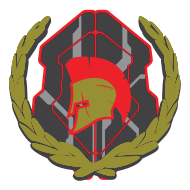 Aut inveniam viam aut faciam
100 Members
Est. 7/7/2020
**3% until Achilles Helmet Unlock. Only 3 Commendations Left!!****CURRENTLY GOING FOR Achilles Armour.****Messaging leaders begging to join will be blocked and Declined immediately.** **Low rank requests will be rejected**ACHILLES ARMOUR SET PROGRESS:
Armour - Completed on
12/27/2020
Helmet-
97%
WEEKLY GOAL TARGET
Swat and Infection
Headshot kills 0/500
We're an active spartan company the Mantle of Ares. A community of Completionists that focus on HALO as a whole. Focusing on Achievement progress and the completion of ALL Halo games. We are wanting to create a friendly and safe community, where toxic behaviour will not be tolerated. Our future is in Infinite. Stay active. Read our Waypoint messages. Focus on Kill Commendations. Follow Company Guidelines listed below.COMMUNITY GUIDELINES**Activity & progression checks every Weekend. Fail to meet activity quota of 20+ games a week will get you removed.**
**!!NO CUSTOM GAMES. NO FIREFIGHT. NO FIESTA!!**
**Read the community guidelines below and make sure you understand them, to avoid issues or confusion. Halowaypoint game history will be checked for activity reasons. If the company is full or people have broken Company rules, spaces will be made for more active determined players to join.**IF YOU ARE IN A COMPANY WITH PEOPLE THEN WHY NOT COMMUNICATE?? If we find that you are lacking an understanding of what is needed for the Achilles or simply don't read the leadership messages on waypoint then you will be removed. Stay informed OR face removal. THERE IS NO FREE RIDE TO THIS ARMOUR. YOU DO YOUR PART OR LEAVE.Community Guideline rules
(Refer to this)
:
Mandatory interaction with the Company or Leadership. This includes Xbox Club, Discord, Xbox Group Messages or Waypoint messages. Failure to do so will result in removal.
Meet Personal Weekly Commendation Targets. (Via. Waypoint Messages from Leadership)
BE ACTIVE 20+ games a week (Minimum). Inform the leaders if life stops you from playing. 7 days of inactivity gets you removed.
Priorities Company Commendations.
Play from the playlists listed below.
NO custom games, Fiesta OR Firefight. (No commendation progress happens)
No alternative or +1 accounts.
Respect each other.
Don't try to conspire against the company.
No racism or discrimination in any way.
Join our discord server. (Optional)
Join our Xbox club named Mantle of Ares. (Optional)
YOU MUST BE FULLY ENGAGED IN THE FOLLOWING GAME MODE/PLAYLISTS:
ALL WARZONE PvP MODES; Loadout kills. Headshot kills.
ALL CASUAL ARENA GAME MODES;
Loadout kills. Headshots.
Slayer; Loadout kills. Headshots.
Infection; Loadout kills. Headshots. Close call.
BTB; Headshots. Loadout kills.
ALL COMPETITIVE GAME MODES;
Loadout kills.
Swat; Loadout kills. Headshots.
2v2; Loadout kills. Headshots.
Breakout; Loadout kills. Headshots.
LEADERSHIP:
-
Prototype GQ
-
Xatty
-
RunningPeach523
-
XCerealHunterX
-
Manney B Fresco
(Spanish Speaking)
-
KYYGUYY4377
-
Mmm WaterM3lon
(Spanish Speaking)
-
JagoSev
-
DUBVCHILLEN
HALO 5 MONUMENT OF ACHIEVED 152's
:
-
Prototype GQ
-
Xatty
-
RunningPeach523
-
Manney B Fresco
-
XCerealHunterX
-
ManWolf6675
-
Mmm WaterM3lon
Discord & Xbox Club
Discord links will be provided once joined. The Xbox Club -Mantle of Ares- can be found on Xbox Live.

Feet First
Made your first hot drop into HaloWaypoint.com

Statistician
View your Service Record on the web.

Enlisted
Become a member of an active Spartan Company.