Naval Command
1st Battalion Marines
E6 - Staff Sergeant
Radio Telephone Operator

navalcommand.enjin.com
Spartan Company
---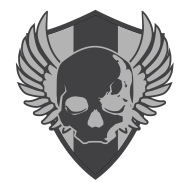 Feet first into hell!
27 Members
Est. 5/8/2019
"The Orbital Drop Shock Troopers (ODST) are a special operations capable organization of the UNSC Marine Corps that specialize in orbital-dropped shock infantry and special warfare tactics."
(LORE)
The Orbital Drop Shock Troopers are one of many Special Operations Forces in the UNSC Defense Force. The ODSTs are under the exclusive operational authority of the Naval Special Warfare Command/Naval Special Weapons. Their methods of operation allow them to conduct missions against targets that more conventional forces cannot approach undetected. ODSTs are recruited from all three services (UNSC Marine Corps, Army, and Navy) and from the Special Operations Groups of every nation of the Unified Earth Government and are a strictly all volunteer fighting force. Potential ODSTs are selected because of their performance in their chosen MOS; every ODST candidate is a veteran from another Special Operations outfit and therefore has already gone through at least two layers of screening and months of intense training — not counting the years of training received before volunteering for the ODSTs. There are no age or gender restrictions — as long as the candidate meets the physical and mental requirements they are guaranteed the opportunity to try out for the ODSTs. Once in the ODSTs, a candidate's training continues - its entrance requirements serve as a third layer of screening upon two more, where applicants would have theoretically failed to pass. Candidates would, therefore, already have extensive experience in conducting the types of high-risk missions that the Orbital Drop Shock Troopers typically perform.
(CLAN INFORMATION)
The missions statement and objective for the ODST's here is as follows. The ODST's are an advanced unit detached from the traditional Marines within
Naval Command
. The ODST's operate in high risk and high reward missions fighting to secure the future for
Naval Command
and its colonies against any and all threats. We participate in raids, 4v4's, 8v8's and more in service to
Naval Command
. Though the first branch most personnel will be admitted into will be the
1st Battalion Marines
, you will need to submit an application since all the other branches within
Naval Command
are done class based. You'll have to join the Naval Command Discord first, for an invite to the discord please message any of the following contacts on discord: HQWK#0037, Griffin#2962, Mick#4875, Murphy#0331. Now you can request
NCMC Applicant
and complete the process to join the
1st Battalion Marines
and possibly join the ODST's in the future.
Naval Command Branches:
1st Battalion, 7th Regiment Marines
(SPARTAN COMPANY -
1st Marine Battalion
)
105th Shock Troops Division
(SPARTAN COMPANY - 105th Shock Division)
Naval Command Spartan Operations
[Includes SPARTAN-II's, SPARTAN-III's, SPARTAN-IV's] (SPARTAN COMPANY -
Spartan Operations
)
The current command of the
Naval Command ODST's
are as follows:
Commanding Officer:
Maximus Murphy
Executive Officer:
Gage D Yevgenny
Operations Officer:
Jai F Locklear
Head Drill Instructor:
Mickey M Crespo

Platoon Sergeant:
WolfPack523Any question regarding enlisting within the ODST's that reside within Naval Command or anything else in regards to Naval Command, please message any of the LT's or Company Owner.

Feet First
Made your first hot drop into HaloWaypoint.com

Statistician
View your Service Record on the web.

Enlisted
Become a member of an active Spartan Company.