User has been suspended until due to Creating spam, off-topic, or duplicate posts
I want a Star Wars—Halo crossover.
Spartan Company
---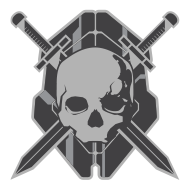 Collecting Skulls Since 2557.
Lieutenant
93 Members
Est. 8/8/2020
—💯—100% of Gamers are allowed to join nobody will be kicked/replaced unless a player isn't being a good sport.—💯—
—💀—(aka inappropriate language, abuse, harassment, etc.)—💀—
—🤝—If we work together, we maybe can get the Achilles Gear before 2897!—🤝—
—🎮—Lets Do This gamers!—🎮—
—💀—There are only 2 game requirements to remain once accepted. You MUST be online at least once a week unless you're power or WiFi is out, or life events arise. (This game time requirement rule does not apply to the Leader or the Company Lieutenants.) The log-in week runs from Monday to Sunday. Play any game mode that helps towards achieving Achilles before that following Monday to not be counted absent.
The second requirement is simple, don't be mean to fellow Skull Spartans on any platform.
If possible, please try to join one of my Squadrons, if you can.
—
MinecraftMan087
—🥉🥈🥇—. We are all different skill levels, from noob to 152 I-didn't-know-I-was-playing-reach. —🥉🥈🥇—
If you speak Spanish, it is recommended that you also speak English!Si habla espanol, se recomienda que hable ingles!
—🤴— Leadership:
Cr33perbl4st
—🤴—
—🎖—Lieutenants:—🎖—
WarhoundElite
Festivhunter
Thebutcher6641
Cfblockbuilder
Badger353434
Minecraftman087
Avalon kros
Thanewolfe
SPARTANIV5647
N0BLE705
🥇—💪—🥇Trial of Achilles: Armor: 27 commendations completed, helmet: 2 mastery requirements met🥇—💪—🥇
—💀—
There are now warzone weekends. We strongly encourage our members to properly get to know each other...by striking fear into the hearts of our enemies!
—💀—
—💀—Join our Discord Server(s) if you want to ask questions.—💀—
https://discord.com/invite/uS2wWW7
https://discord.com/invite/Wc58Rdt
The FIRST Squadron to complete all of their commendations gets a reward for their hard work!
—💀—Last updated 11/15/2020—💀—
Which do you think is the absolute dumbest moment in all of halo? Personally for me it's when

Feet First
Made your first hot drop into HaloWaypoint.com

Statistician
View your Service Record on the web.

Enlisted
Become a member of an active Spartan Company.