The only thing missing from Halo 5 is large deep pools of water where tadpoles can hide and grow and hopefully one day transform into a Toad....or maybe its a Frog
Everytime i try the sneak and peek the other teams already peeking.
I guess you could compare me to Mickey Mouse with delusions of grandeur but thats enough about me how about you pick up a book called. "Fearless" about a Navy Seal thats much more interesting than i am.
Spartan Company
---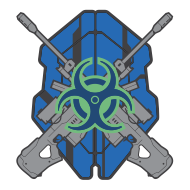 They'll never take our women!!
Lieutenant
70 Members
Est. 11/4/2015
Armor percentage:100% 30may2017Helmet percentage:14%
Thank you to all the loyal players in the group for pushing for the armor set. We can switch gears and get ranked in this season.
Bloo plague
and we can destroy stuff alot. Our main goal to spread like the pathogens we are, infecting halo community with our dangerous and fun players. There is no cure for the epidemic called
Bloo plague
. The
Bloo plague
leaves no survivors.
Bloo plague
causes itchy eye balls, random nervous system failure, tea bagging, and spontaneous combustion. Ever heard the phrase "If I was green, I would die," ...they're talking about a BLUE green!!!
Bloo plague
...
Hello community.
bloo plague is currently a group of wide range players. we have players deticated to playing areana games and we have players who only play warzone. most of our players are casual halo players, so we do not force any play times or colors/emblems. However, we do have a clan team in the works and will be setting up battles and other fun events. These activities are on volunteer basis. you can find information in the company forums. I will also be displaying missions for players to complete in the company forums.
Requirements to stay in Bloo plague:
DO not harass other players
Keep good sportsmenship
Do not quit in mid game.
know spanish or english. (You don't need to know both)
Play halo 5 once in a while. I usually don't cut anyone loose unless the have 3+ months inactive.
Have fun and meet new players.
Yo sé algo Español. No puedo hablar fluentmente, pero me gustaría tenerte en mí equipo. Hay otro gente en este groupo que hable Español. Yo podría usar la practica. Ellos les gustarìa tener un equipo grande. Grascias por tu tiempo y bienviedos.
Thank you for your time of reading this post. I will do my best to keep updates posted on waypoint. We hope to see your out there on our side. If not, I hope you bring your A game.
Bluerosevirus
-leader/clan overseer
New leadership roles avaliable.
dumboaxee45
- Español rep.
Bloo plague
- the group you are interested in joining
For members:
Squad roasters are out of date, clan rosters are posted and we have team openings.
Please refer to MISSIONS forum to see current goals.
Please try to get ranked in areana, or we lose potintial players because we seem inactive.
In order to hold a lieutenant slot in the company, you must hold a platinum rank in arena.
Please message Bluerosevirus if you have a YouTube channel or twitch. We would like to share these with the group.
Message Bluerosevirus for clan details and try outs. Minimum ranking in gold in arena.
Please keep track of our commendations we need. Try to focus as much as you can.
A summer tounement is in the works. The winner will be rewarded gold packs. I need roughly 16 players.
Thanks um how about i just call you freak.

Feet First
Made your first hot drop into HaloWaypoint.com

Statistician
View your Service Record on the web.

Enlisted
Become a member of an active Spartan Company.