If you need a Spartan Company, come check out "Masters of Unicorns" and send in a request. If we think you fit well with us, we will accept you. If we don't accept you, it's simply because you may not be active enough for while we push for the Achilles helmet. Once you're more active, feel free to apply again. We love meeting new players and helping them grind the achievements.
Spartan Company
---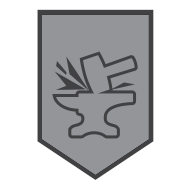 Inside Job.
Leader
77 Members
Est. 10/27/2015
WE ARE CASUALLY ACTIVE (as of August 2020)Achilles Armor Set:
Achieve
Level 3
in all Kill Commendations
COMPLETED ON 7/1/2017 11:20PM EST
Achilles Helmet:
Achieve
Level 5
in all Kill Commendations
83%LEADS:
Mr Shishka - Add to friends list upon acceptanceMr Achronos - Add to friends list upon acceptanceMr Shinatama - Add to friends list upon acceptance
MONITORS:
AchillesMonitor
Important Members:
Mr stoshy
Mr flawlesscow
Mr Pwnatonium
Mr ferrex
Mr Olanmills
Mr KAPTURE
JOIN TO HELP US EARN THE ACHILLES ARMOR SETRequirements:
Discord - Create an account after you've been accepted to the spartan company. Then go to our forums and follow the steps to join the channel.
Minimum Highest Arena Rank: Gold 3
Pay attention to (and assist in) "Company Goals". They are mentioned during our weekly update on Discord.
RULES:
Players must help progress towards the kill commendations for the spartan company
Players must add all of the leads to their friends list
Players must also join "Masters of Unicorns" Xbox Clan
Players must also remember to check HaloWaypoint every time they log in to check for messages to the company
Players must also check HaloWaypoint in order to keep track of our progression toward each kill commendation
We understand people can't play 24/7 (please post to the company forums to let us know if you'll be gone for an extended period of time) so exceptions can be made.
Small progress is better than no progress, so help us out.
HOW WE ROLL:
1 Week - Activity is Monitored2 Weeks - Kicked (no warnings given)
GOAL:
The goal of our spartan company is to get the Achilles armor set. In order to unlock that armor, we must complete all 5 levels for each kill commendation for the spartan Company. All are welcome until we reach 100; then we will monitor everyone's activity at a MUCH stricter rate.
ABOUT WEEKLY CHECKS:
[IMPORTANT]
Weekly
checks will be done to see who is actively helping and who isn't. Those who do not help us progress towards the armor for 1 week will be moved from the
safe list
to the
monitor list
. If they still do not help us progress by the end of the second week, they will be removed from the company. We want this company to be fun and connect players together to make great friends, but we also would like to earn the full Achilles Armor set, so remember to always help while having a blast! Please invite your friends and most of all have fun! Thanks!
If your join request is rejected, it is because you are not active enough. We look to see that you have played most of the previous two weeks. Those who request to join with little or no playtime in the
past two weeks
will be rejected and
not accepted in future applications
. This is to keep people from playing for the majority of the two weeks from applying and then quitting again. We are an active company who wishes to acquire the Achilles armor and helmet, and without strict rules like these, we wouldn't be able to obtain it.
After we unlock the entire Achilles armor set, we will fill the spartan company and continue to play together. We intend to be a gaming community, not just Achilles grinders. :)
-
From the Masters of Unicorns Team

That worked! Thanks for letting me know.

Feet First
Made your first hot drop into HaloWaypoint.com

Statistician
View your Service Record on the web.

Enlisted
Become a member of an active Spartan Company.