User has been suspended until due to Creating multiple or alternate accounts
Hey! My name's Tre. I joined the Halo community during the Halo 3 days, and have barely stopped playing since. My personal favorite Halo campaign is either Halo 3 or Halo 4, but Halo 5 has my favorite multiplayer of them all. I like to play Halo with other people, and I lead the Spartan Company nexus of Who Doesnt Need Achilles, links can be found in the spoiler. You can also contact me at my secondary account, Cerberzok. Besides Halo, I enjoy Star Wars, Legos, and American Football, specifically the Chicago Bears.

If you play Halo 4 (not MCC), here's some codes to give you an XP boost.

This is information for
Who Doesnt Need Achilles
Spartan Company
---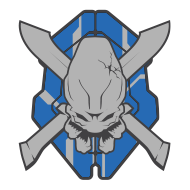 We Sure Dont
Leader
47 Members
Est. 4/3/2017
YOU CANNOT RECEIVE THE ACHILLES FROM THIS COMPANY
We have already completed commendations, if you want the armor please apply elsewhere (ie. companies listed below)
Achilles Helmet 1
00% Completed December 14, 2019, at 1:00 p.m. CST
Achilles Armor 100% Completed March 20, 2018 at 7:42 p.m. CST
Discord:Who Doesnt Need Achilles (WDNA)
has a
Discord server
that anyone can join. Access for Members and members of allied companies will increase and allow more permissions as you rank up in the server. Please visit the link below.
The Alliance Discord serverXbox Club:Who Doesnt Need Achilles (WDNA)
has an
Xbox club
that all members can join. This is a space where you can share game captures and lobby-up with members of WDNA and its allied companies. Visit the link below if you're interested.
The Alliance Xbox ClubAlliances:Who Doesnt Need Achilles (WDNA)
is willing to ally with most any company.
Alliance rules
are straightforward, you help us grind, we help you grind, and you will be welcomed as if you are a member of
WDNA
, while still retaining your autonomy.
Allied members
will also have allowances on our Discord according to their role in their company.
Allied companies
will be listed below.
Operation GammaThe Noobs of AchillesTeam Head HuntersKirks CovenantNoble SpiceTeam Head Hunters IIRanks:
Ranks are obtained and increased through chatting and participation in our
Discord
Server
. Each message sent will earn you XP. With enough XP you will rank up. Each rank is earned at different level milestones. Please see below for rankings.
Level 005- BronzeLevel 010- SilverLevel 015- GoldLevel 020- PlatinumLevel 025- DiamondLevel 030- OnyxLevel 035- ChampionLevel 040- HeroLevel 045- LegendLevel 050- MythicLevel 055- OsirisLevel 060- NobleLevel 065- OrionLevel 070- HayabusaLevel 075- AchillesLevel 080- VidmasterLevel 085- ForerunnerLevel 090- PrecursorLevel 095- ReclaimerLevel 100- Inheritor
i think if John's story ever ends, it HAS to be Halo 7. If it ain't 7, it ain't worthy.

Feet First
Made your first hot drop into HaloWaypoint.com

Statistician
View your Service Record on the web.

Enlisted
Become a member of an active Spartan Company.