Name: Luke
Service #: G102
Unit: Gladius Company (Leader); S-III, augmented to S-IV
Primary Military Specialization: Reconnaissance, Commander.
Enlistment Date: February 19, 2539
Location: Unknown
Gender: Male
Birthplace: Reach
Birth Date: December 16, 2523
Performance: Excels in completing his mission, highly recommend for impossible operations. Highly lethal, doesn't leave an adversary alive unless they surrender or the subject is ordered to.
Comments: G102 is not easily angered, but when he is, it is highly suggested to not be the enemy. Recommended to keep him with his men. He does all the gun work, such as recommending loadouts for the OP, maintenance, and attachment work. Has friends in several black markets, and can move over large distances without detection.
NOTES: G102 was recorded beating a high ranking elite to death with his bare hands in front of the Elite's inferiors because he had mortally wounded one of his squad mates. He then proceeded to rip off the Elite's energy dagger, and take its sword. G102 performed first aid on his squad mate, and carried him five clicks through enemy territory to a pelican. G102 arrived at the pelican losing blood at a dangerous rate, and denied medical assistance so he could man the guns of the pelican.
Spartan's choice of equipment; Let it be noted that the subject always has his Magnum, energy sword, energy dagger (which he obtained from the field), and kukri.

Primary load out weapons (load out varies on op).

M395B Designated Marksman Rifle; sound dampener, extended magazine, sentinel sight, laser targeter.
BR85N Service Rifle; sound dampener, extended magazine, longshot sight.
M6C/SOCOM/Tactical
MA5D Individual Combat Weapon System; sound dampener, extended magazine, recon sight.
M20/Personal Defense Weapon; sound dampener, extended magazine, projection sight.

Additional weaponry

Asymmetric Recoilless Carbine-920; modified to charge faster, hold charge, APHE projectile, longer zoom projection.

Melee weapons

Type-1 Energy Weapon/Sword; modified to swing faster, help the user to move faster, with a longer lunge range. Colored blueish purple
Energy Dagger; placed on right wrist, slightly longer, colored blueish purple.
Kukri; kept on right shoulder.

Grenades

M9 High-Explosive Dual-Purpose grenade x3
Type-1 Antipersonnel grenade x2
Z-400 Pursuit Disruption Grid Generator x1

Armor mods

Patrol case
Advanced motion sensors
Advanced thrusters

Armor abilities

Z-90 Photonic Coalescence Emitter/Aegis
Active camo
Some of your Spartans previous engagements: Fall of Reach, Requiem campaign, several raids on rogue Spartan bases.
Current Operation: unknown
Notable Relations: His company, referred to by him as his family.
Service Commendations: n/a
UNSC Tenure/Years of active duty: 19 years and counting.
Letters of recommendation from previous commanders:
Spartan Company
---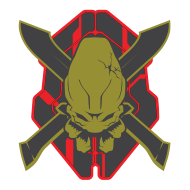 CLOSED TO REQUESTS TILL 95%.
74 Members
Est. 3/25/2018
Requirements:First off, sorry for the inconveniences if you were previously looking at this yesterday or the other day. However we have decided to close it until it hits 95%. TNOA (The Noobs of Achilles), will be kicking off a little while longer but inevitably closing and starting back up at 95% too. If you're reading this in March I'm sorry, you probably won't get in.
Join and maintain an account on our Discord Server. (You must check in within 24 hours. Failure to do so will have you discharged from the company.)
You must not be absent from Halo 5 for more than ten (10) days. (Arena/Warzone or any gametype that contributes to Achilles progress is preferred).
You must not be absent from the Discord Server for more than two (2) days.
Achilles Helmet 71%
Achilles Armor 100.000% Completed January 13, 2019 at 1:44 a.m. CST

Discord:
Operation Gamma (OG) has a Discord server, that all members MUST join. Discord content for Members and members of allied companies will increase and allow more permissions as you rank up in the server. Please visit the link below.
Operation Gamma official Discord server
Xbox Club:Operation Gamma (OG)
has an
Xbox club
that all members can
optionally
join. This is a space where you can share game captures and find lobby-up with members of OG and its allied companies. Visit the link below if you're interested.
The Alliance Xbox Club
Alliances:
Operation Gamma (OG) is willing to ally with most any company. Alliance rules are straightforward, you help us grind, we help you grind, and you will be welcomed as if you are a member of WDNA, while still retaining your autonomy. Allied members will also have allowances on our Discord according to their role in their company. Allied companies will be listed below.
Who Doesn't Need Achilles
The Noobs of Achilles
Team Head Hunters
Kirks Covenant

Ranks:
Ranks are obtained and increased through chatting and participation in our Discord Server. Each message sent will earn you XP. With enough XP you will rank up. Each rank is earned at different level milestones. Please see below for rankings.
Level 005- Champion
Level 010- Hero
Level 020- Legend
Level 030- Mythic
Level 040- Osiris
Level 050- Noble
Level 060- Orion
Level 070- Achilles
Level 080- Reclaimer
Level 090- Forerunner
Level 100- Precursor
This post has been edited by a moderator. Please do not post spam.
*Original post. Click at your own discretion.

Feet First
Made your first hot drop into HaloWaypoint.com

Statistician
View your Service Record on the web.

Enlisted
Become a member of an active Spartan Company.