Ten-Hut!
I always say 'Ten-Hut!' at the start of my posts to remind you that we are still in a military here, no matter how many pizza skins you equip on your Assault Rifle!
It still says UNSC on your weapon!
Oh, and check out my Terminus Firefight Strategy Guide!

But your here to learn everything about me aren't ya?
Well okay then, I'll tell you everything I can remember of my past and present:

I've been playing Halo since I was 7 (Cool huh? Bunje reference)
My full name is: Juan Roberto Palooggoo.
I'm a man, I real man! (PS. Real Men don't have to bragg about being real men in order to be real men)
I'm part of the Anti YapYap Movement.
I've always been a big fan of the RTS spin off games.
I like Marines way more than Spartans.
I love acting like a Sergeant on the Forums.
When I play Halo it's usually against AIs, I don't care for fighting people much.
I try to follow the rules of the forums as best I can & I try not to be a Snub or a Jack-Weed in my comments.
I believe Grunts are under valued individuals.
Sgt Palooggoo- Uh, I mean Sgt Johnson is my favorite Halo character. (Rest his soul)
I believe the only good bug is a dead bug.
I have great ideas, but sadly I don't work for 343.
I know the Best Elite design was the Halo 3 Elite. (The H2 Anniversary design was close but the face and head where way off)
I'm from 🍁 (Weird huh?)
And I'm not a Real Sergeant in Real life! Or am I affiliated with the armed forces at all!
Anyways Marines, that's all I can remember of my past & present.
So!
I'm ordering you all to jogg around the track 5 times! Get to it!
Now what our motto?

"Helljumper
, Helljumper, where you been?
Feet first into hell and back again!
When I die please bury me deep!
Place an
MA5
down by my feet!
Don't cry for me, don't shed no tear!
Just pack my box with PT gear!
Cuz one early morning 'bout zero-five!
The ground will rumble, there'll be lightning in the sky!
Don't you worry, don't come undone
It's just my ghost on a PT run!"
Ah, love that PT run part at the end... 😏
Spartan Company
---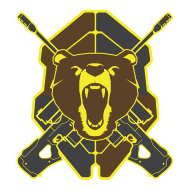 Hooora!
Leader
7 Members
Est. 6/9/2017
This is maybe the largest and most un-active Spartan Company ever...
Cool, maybe I'll have to check out HW2 again.

Feet First
Made your first hot drop into HaloWaypoint.com

Statistician
View your Service Record on the web.

Enlisted
Become a member of an active Spartan Company.