Ex soldado SCDO. Siempre mostró respeto a los Spartan originales e interés hacia los Sangheili. Pese a su poco tiempo como SCDO tomo la decisión de en listarse en el proyecto Spartan III que fue creado en secreto por la ONI, y dado a su experiencia en el campo lo aceptaron en el programa. Se en listo, no para matar o ser mejor, si no para tener los recursos necesarios para defender a la humanidad, pues sabia que los Spartan serian el futuro de la guerra. Después de terminar la guerra Humano-Covenant se en listo en el programa Spartan IV para recibir las mejoras necesarias, tanto en su sistema como en armamento.

Armaduras usadas a lo largo de su servicio:
- Traje de SCDO ligero. (Guerra insurreccionista - Primer contacto con el Covenant).
- Mark V adaptada al sistema Spartan III con variantes de SCDO. (Batalla por Reach - Rescate de Reach, Hierofante Implacable y llegada a la Tierra).
-Mark VI con Variantes de Casco Mark V, hombreras Scout y pechera de C.Q.B. (Batalla por Mombasa - Fin de la Guerra)
-Especialista Tracker Gen2 con variantes de casco Mark V, hombreras SCDO y extremidades FOTUS. (Los nuevos Spartan e Infinity - Batalla en Requiem)

Sus armas favoritas del repertorio del UNSC son el Rifle de Asalto, Sub-fusil y Escopeta. El armamento Covenant preferido son el Rifle de plasma y Espada de energía; respecto a la nueva tecnología Forerunner el Rifle de luz y la escopeta de dispercion (Scatter Shot) son sus armas de confianza.
Actualmente al entrenar en los Juegos de Guerra de la Infinity, prefiere el trabajo en equipo y las simulaciones de enfrentamiento contra el Flood,al cual no tuvo la oportunidad de encarar directamente y que dicen esta extinto, pero el prefiere prevenir.
Spartan Company
---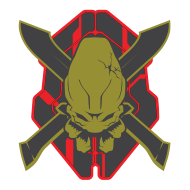 We Tried Shooting Our Way Out
95 Members
Est. 3/25/2018
Requirements:
Join and maintain an account on our Discord Server. (You must check in within 24 hours. Failure to do so will have you discharged from the company.)
You must not be absent from Halo 5 for more than ten (10) days. (Arena/Warzone or any gametype that contributes to Achilles progress is preferred).
You must not be absent from the Discord Server for more than two (2) days.
Achilles Helmet 71%
Achilles Armor 100.000% Completed January 13, 2019 at 1:44 a.m. CST

Discord:
Operation Gamma (OG) has a Discord server, that all members MUST join. Discord content for Members and members of allied companies will increase and allow more permissions as you rank up in the server. Please visit the link below.
Operation Gamma official Discord server
Xbox Club:Operation Gamma (OG)
has an
Xbox club
that all members can
optionally
join. This is a space where you can share game captures and find lobby-up with members of OG and its allied companies. Visit the link below if you're interested.
The Alliance Xbox Club
Alliances:
Operation Gamma (OG) is willing to ally with most any company. Alliance rules are straightforward, you help us grind, we help you grind, and you will be welcomed as if you are a member of WDNA, while still retaining your autonomy. Allied members will also have allowances on our Discord according to their role in their company. Allied companies will be listed below.
Who Doesn't Need Achilles
The Noobs of Achilles
Team Head Hunters
Kirks Covenant

Ranks:
Ranks are obtained and increased through chatting and participation in our Discord Server. Each message sent will earn you XP. With enough XP you will rank up. Each rank is earned at different level milestones. Please see below for rankings.
Level 005- Champion
Level 010- Hero
Level 020- Legend
Level 030- Mythic
Level 040- Osiris
Level 050- Noble
Level 060- Orion
Level 070- Achilles
Level 080- Reclaimer
Level 090- Forerunner
Level 100- Precursor
This post has been edited by a moderator. Please do not post spam
*Original post. Click at your own discretion.

Feet First
Made your first hot drop into HaloWaypoint.com

Statistician
View your Service Record on the web.

Enlisted
Become a member of an active Spartan Company.