Spartan Company
---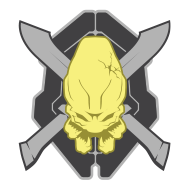 ONYX
92 Members
Est. 11/2/2016
DISCORD LINK
*DON'T JOIN TO LEAVE* *MAKE SURE YOU'RE NOT IN ANOTHER SPARTAN COMPANY BEFORE REQUESTING OR YOU WILL BE IGNORED*IF ANY SPOTS ARE OPEN, WE WILL ACCEPT ONLY THE BEST SPARTANAchilles armor set progress:Armor: 100% Completed (Wednesday, May 12, 2021 5:49 pm pdt)Helmet: 30% (10/31)
Take a look at our kill commendations
*NO FREE RIDES!!*
THIS COMPANY IS A
GIFT
, IS FOR THOSE WHO REALLY WANT, AND HAVE SPEND
HOURS AND HOURS
PLAYING WITH MR. RED FACTOR. THESE ARE THE WAYS YOU CAN
JOIN TO THE COMPANY
:
BEING INVITED DIRECTLY IN HALO WAYPOINT
BEING IN MY FRIEND LIST
OR FINDING THIS COMPANY BETWEEN THE OTHER COMMUNITY COMPANIES. IF THAT´S THE CASE YOU WILL HAVE TO BE LEVEL SR. 140 OR HIGHER
DO NOT SEND THE DEFAULT JOIN REQUEST MESSAGE
WE GET A TON OF JOIN REQUEST EACH DAY, SO PLEASE BE DESCRIPTIVE ABOUT YOURSELF IN YOUR JOIN REQUEST MESSAGEDO NOT SEND THE DEFAULT REQUEST MESSAGE OR YOU WILL BE IGNORED
FOR THOSE WHO ARE IN THE COMPANY, I HAVE TO ASK YOU TO ALWAYS APPEAR ONLINE SO I CAN INVITE YOU TO PLAY, BECAUSE THAT´S THE REASON IM CREATING THIS COMPANY. IF YOU DON´T KNOW HOW, PLEASE JUST ASK ME. IF WE GET TO 100 MEMBERS I WILL CREATE OTHER COMPANY FOR YOU GUYS.
LET YOUR NAMES BE HEARD BETWEEN THE GIANTS.
IF YOU HAVE ANY QUESTION I OR MY ADMINS WILL ANSWER IT JUST IN TIME.
PLEASE, PLEASE, PLEASE, PLAY AS MUCH AS YOU CAN!
If you have any questions please message
A D O N Y X III
or
Doriyamo
* NO SE UNE PARA SALIR * * ASEGÚRESE DE NO ESTAR EN OTRA EMPRESA SPARTAN ANTES DE SOLICITAR O SERÁ IGNORADO *SI CUALQUIER LUGAR ESTÁ ABIERTO, ACEPTAREMOS SOLO EL MEJOR SPARTANProgreso del conjunto de armadura de Aquiles:Armadura: 100% (31/31)Casco: 29% (7/31)
Eche un vistazo a nuestros elogios por matar
* ¡¡NO HAY VIAJES GRATIS !! *
ESTA COMPAÑÍA ES UN
REGALO.
IS PARA ESAS PERSONAS QUE REALMENTE QUIEREN, Y HAN USADO HORAS Y HORAS DE SU TIEMPO PARA JUGAR CON EL SEÑOR RED FACTOR. ESTAS SON LAS FORMAS EN LAS QUE PUEDES ENTRAR A LA COMPANY:
SER INVITADO DIRECTAMENTE IN HALO WAYPOINT
ESTAR EN MI LISTA DE AMIGOS
O ENCONTRAR ESTA COMPAÑÍA DE ENTRE LAS DEMÁS COMPAÑÍAS DE LA COMUNIDAD, PERO SI ESE LLEGA A SER EL CASO TENDRÁN QUE SER NIVELES SR. 140 O MAS GRANDES.
PARA LOS QUE YA ESTÁN DENTRO DE LA COMPANY ME VEO EN LA NECESIDAD DE PEDIRLES QUE APAREZCAN SIEMPRE EN LINEA PARA QUE ASI PUEDA INVITARLOS, YA QUE ESA ES LA PRINCIPAL RAZÓN DE PORQUÉ ESTOY CREANDO ESTA COMPANY. SI NO SABES COMO APARECER EN LINEA POR FAVOR SOLO PREGÚNTAMELO. SI LLEGAMOS A LOS 100 INTEGRANTES Y TODAVÍA AY GENTE ESPERANDO ENTRAR CREARÉ OTRA COMPANY POR USTEDES CHICOS.
HAGAMOS QUE NUESTROS NOMBRES SEAN ESCUCHADOS ENTRE LOS GRANDES.
SI TIENEN ALGUNA DUDA, LA CONTESTARÉ CON GUSTO.
UNA VEZ QUE ESTÉS EN LA COMPAÑÍA NUNCA TE SACAREMOS DE ELLA. SOLO POR FAVOR JUEGUEN MUCHO.Si tiene alguna pregunta, envíe un mensaje Doriyamo
* NE REJOIGNEZ PAS POUR QUITTER * * ASSUREZ-VOUS QUE VOUS N'ÊTES PAS DANS UNE AUTRE ENTREPRISE SPARTAN AVANT DE DEMANDER OU VOUS SEREZ IGNORÉ *SI DES SPOTS SONT OUVERTS, NOUS ACCEPTERONS UNIQUEMENT LE MEILLEUR SPARTANProgression de l'ensemble de l'armure d'Achille:Armure: 100% (31/31)Casque: 30% (10/31)
Jetez un œil à nos commandations de mise à mort
*PAS DE MANÈGES GRATUITS!!*
CETTE ENTREPRISE EST UN CADEAU, EST POUR CEUX QUI VOULENT VRAIMENT ET ONT PASSÉ DES HEURES ET DES HEURES À JOUER AVEC MR. FACTEUR ROUGE. VOICI LES FAÇONS QUE VOUS POUVEZ ADHÉRER À L'ENTREPRISE:
ÊTRE INVITÉ DIRECTEMENT À HALO WAYPOINT
ÊTRE DANS MA LISTE D'AMIS
OU TROUVER CETTE ENTREPRISE ENTRE LES AUTRES ENTREPRISES DE LA COMMUNAUTÉ. SI C´EST LE CAS, VOUS DEVEZ ÊTRE AU NIVEAU SR. 140 OU PLUS
NE PAS ENVOYER LE MESSAGE DE DEMANDE D'INSCRIPTION PAR DÉFAUT
NOUS RECEVONS UNE TONNE DE DEMANDES D'INSCRIPTION CHAQUE JOUR, VEUILLEZ ÊTRE DESCRIPTIF DE VOUS-MÊME DANS VOTRE MESSAGE DE DEMANDE D'INSCRIPTION
N'ENVOYEZ PAS LE MESSAGE DE DEMANDE PAR DÉFAUT OU VOUS SEREZ IGNORÉ
Got the achievements but not the helioskill armor :( any help?

Feet First
Made your first hot drop into HaloWaypoint.com

Halo 5: Guardians MP Beta
Halo 5: Guardians MP Beta participant.

Statistician
View your Service Record on the web.

Enlisted
Become a member of an active Spartan Company.