Some Bi Furr-Fag Kekistani Fighter that is a Fan of the Classic Halo Games (There is some good stuff in 343's Halo Games, but not enogh[in my opinion {shockingly} to have it prefer over the Classic]).

Make Halo Modding Great Again!

Project Lead of Halo CDLC team. A Comunity releasing Content Packs of Gamemodes/Maps/Missions/Prefabs.

Favorite Halo Games By Catagory;
Campaign:
Story: Halo 4
Mission Layout/Style: 3-way Tie between Halo CE/2/3
Battle Chatter of Ai: Classic Trilogy
Enemy Ai Combat: I think best would be a Wombo Combo of CE (With H2's Hunters) and Halo 4 with the Prometheans (But keep the way to kill the Knights from Halo 5), but if I were to pick from the series, CE.

Multiplayer:
Arena: Halo 2
Social: Tie between Reach and 4
Armor Customization: Spartan: Reach Elite: H3 (Get it on the same level as Reach Son!)
Modes: Tie Between Reach and 4
Forge: Halo 5
Weapon SandBox: Tie CE,2,4,Reach
Community Creations: 3. Reach, 5
Modding Comunity: Tie Reach and 4
Artstyle: Tie between H2A Campaign Artstyle and Halo Reach.

I like the Idea of Warzone, but I think having it tied to a Virtual Slot Machine ended up ruining it (Because it made All Bosses Bullet Sponges and not Fun at All to fight, and "Little Jimmy" can kill the Ai to "Earn" higher powered Weapons to 1 shot Spartans/Vehicles or the Prophets Bane -_-).

Gab.ai Backup in case Twitter Purges Me: https://gab.ai/ShadowScoundrel
Discord Server: https://discord.gg/h5mMugG
Halo CDLC DIscord Server: https://discord.gg/e5VM6Jc
Spartan Company
---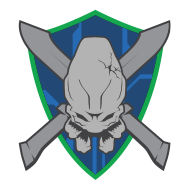 Welcome To The Gamer Gang!
5 Members
Est. 3/1/2019
Will owning Reach Digitaly be brought over to MCC?

Feet First
Made your first hot drop into HaloWaypoint.com

Statistician
View your Service Record on the web.

Enlisted
Become a member of an active Spartan Company.

Headhunter
Awarded to Spartans who match with 343 during Flight 2.0.