User has been suspended until due to Posting about moderation decisions
Spartan Company
---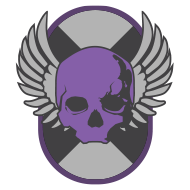 Blood of our foes sustain us.
Leader
13 Members
Est. 10/15/2016
Guardians of the Nexus - visit us here
Somewhere in the game you'll come across someone who is better than you. It is inevitable. But in Halo skill can be beaten by strategy and teamwork. The ant is much smaller than the spider. but with proper teamwork and strategy the spider falls prey.
The Abaddon Contingent is the first Battalion of the
Guardians of the Nexus
. We strive to play as a team. We value loyalty above all else. We work together towards a greater victory. But most importantly, We NEVER BACK DOWN.
Upon joining our ranks either here or in a separate battalion there are several guidelines one must always follow. These are, but not limited to...
1) Be prepared to play. Don't join a game and mess around.
2) Stay active. Don't join the Contingent or another branch of GoN then develope a sudden addiction to playing CoD.
3) Show initiative. While not crucial to staying in the Clan, if nobody knows who you are then you cant expect an invite to a game. Socialize with your team, get to know them, add some of them to your friends list.
By doing these thing you will find that your skill as a halo player will improve, you will learn to manuever the map better, you can make new friends, and you will end up better than you arrived.
Friendly introductions aside, Foxhound and the GoN is a clan created to become better and climb the ranks to becoming a popular and well know clan. Strive to be the best and over time good things will happen. The clan will hold a military style ranking system which can be seen in the clan forums. by participating more you will climb ranks and get more perks. some of these perks include...
*Being fireteam leeader (applies to custom games)
*Getting first ups for small fireteam playlists - if there are 9 people trying to play BTB those with higher ranks get first game. those with lower rank must wait until second game, unless members of the current fireteam wish to volunteer their spot or start a new fireteam.
*More say in the decision making processes in the clan
DON"T FORGET! we are a clan/community that bases their play through teamwork and communication. we will hold trainings and other educational custom game frequently to teach map control, callouts, and other strategies to both new and veteran members.
beside the ranks there are several rules that MUST be followed at all times. they are not hard, simple common respect stuff.
NO racial slurring
NO Hate speech
TRASH talking is fine but know when to say enough is enough
NO teamkilling, accidents happen but dont do it on purpose. thats just rude and agrivating.
STAY respectful to your team AND the enemy. No mater how much hate mail you recieve DO NOT FEED INTO IT! if you must have some retaliation report the message.
Failure to follow these rule can result in termination.
More rules may be added in the future.
No one is an exception, the rules are there for everybody not just a few.
While we don't require you to change your gamertag, we do require a few uniform rules.
1.
Have the same emblem.
It's a starter emblem so everyone will have it. the emblem is called
Runes
. and the colors are
Persian
,
Orchid
,
Pepper
In that order.
2) Change
your service tag
(only applies to hard to say or understand tags) we use callouts a lot, and your service tag can be used to identify enemy locations. (more on this later.
3) Change
your armour colors.
You may have any armour you desire but the color must be
Pepper
, and
Aubergine
in that order.
Do not make nonconstructive posts or discuss forum moderation.

Feet First
Made your first hot drop into HaloWaypoint.com

Statistician
View your Service Record on the web.

Enlisted
Become a member of an active Spartan Company.