Spartan Company
---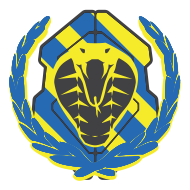 БОРИТЕ СЕ НА ЧАСТ НАШЕ МРТВЕ
5 Members
Est. 12/15/2020
We are currently recruiting all members of all ranks so if you aren't part of a Spartan Company, you like pie, and killing Covies and/or Banished, Join UNSC Fireteam Serpent today! Also, just because, Emlékezz Reachre! The motto is in Serbian, in honor of the language spoken in the small Arcadian village where Charm was born. Also we have this
Discord Server
that most of you will hate, but we have a weekly chapter story thing and some cool stuff. We have not a lot of members so join if you like Halo, Wings of Fire, or The Under Presents
WARNING, WE HAVE ONE REQUIREMENT TO JOIN THIS COMPANY
Our one requirement is that you fill out this form completely upon your request to join UNSC Fireteam Serpent. In your join request to xxSPRIFTxx, say that you have completed the form. Another thing is reading these. It's not required but it will help you understand this Fireteam and its past.
WARNING This is purely fictional and NON-CANON, I just like making up stories!
[[EDITED BY ONI]]
Fireteam Serpent is a special forces group formed around
[[CLASSIFIED]]
for
[[CLASSIFIED]]
of the most elite
[[CLASSIFIED]]
. All of our current members fought in the
[[CLASSIFIED]]
. Led by SPARTAN II, Charm-639, Fireteam Serpent currently consists of five SPARTANS; Charm-639, Legen-224, Ben-B931,Stellate-726, and Yvon-0Y27. Specializing in covert Ops, Fireteam Serpent has completed missions everywhere from
[[CLASSIFIED]]
to
[[CLASSIFIED]]
. Fireteam Serpent also
[[CLASSIFIED]]
, a
[[CLASSIFIED]]
formed in
[[CLASSIFIED]].
Serpent is currently scattered, 639 was stationed on Reach, they objected fiercely but eventually gave in, not before killing the person who suggested stationing them on Reach. 224, and 0Y27, are both onboard the UNSC
[[CLASSIFIED]]
, participating in high intensity War Games. 726 is at Area 51 on Earth, which has been converted into a UNSC base. B931 is currently somewhere on
[[CLASSIFIED]]
, his Pelican was shot down and his body was not at the crash site, suggesting that he may be alive somewhere on the
[[CLASSIFIED]]
.....
Former members:Mitchell-517 -
Confirmed KIA due to augmentation failures.
Savannah-910 -
Confirmed KIA during the
[[CLASSIFIED]]
(P.S. try not to speak to Charm about Savannah, for it may end in your disembowelment.)
Shan-001
- Discharged for unlawful entry and false information.
Canonical information gathered from The Official Halo Wiki
Member Index
xxSPRIFTxx
Biceps1579
RitterBx
Yiryi Sa
StellateConch89
i thought that one of the worst villain's was the warden but the flood sucked too

Feet First
Made your first hot drop into HaloWaypoint.com

Statistician
View your Service Record on the web.

Enlisted
Become a member of an active Spartan Company.