Spartan Company
---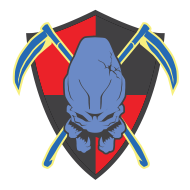 We're all out of bubblegum.
79 Members
Est. 11/7/2015
We came here to kick BLAM! and chew bubblegum.
WE UNLOCKED THE ACHILLES ARMOR ON JUNE 16TH, 2016. NEW MEMBERS WILL NOT RECEIVE IT.
Looking to join us?
We will only accept new recruits if spaces open up in our roster.
If we are at 100 members, requests to join will be left in our inbox and accepted as spaces open up.
We will no longer accept players with less than 100 matches in Halo 5 or an all-time top CSR below Silver. Anyone not meeting this will have their request rejected immediately.
Any requests from players who are already enlisted in a different spartan company will be rejected. We can not override your status in a different company, if you want to be in ours please leave your former when you send in your request.
If you request to join, please be patient as we don't always get to our messages right away. One of our leaders will check the applications at least once every 24 hours.
Rules
Any bigotry, personal attacks or harassment will not be tolerated and is grounds for immediate dismissal and ban from the company. There's nothing wrong with trash talk or having a foul mouth but we will not tolerate racism, sexism, homophobia, ect. If you are having an issue with one of our members, please message our leadership.
Griefing will not be tolerated. We all know it's easier to splatter a teammate than an enemy in Halo 5, nobody's getting booted for accidentally backing their Ghost over someone, but if you're repeatedly killing the other members of your team in matchmaking, we're not going to want you to be part of our team.
Unexcused inactivity of 60 days will result in dismissal without notice. If you think you may be inactive for 60 days or more, please let the leaders know and we will make note. We've seen injuries, extended trips and school prevent players from playing in a 60 day period. We're not going to penalize anyone for having life come up. If you appear to have just lost interest in Halo and stop playing, you're fair game to get cut.
If it appears a player is barely playing in order to get around the 30 day rule, the leaders may decide to remove them. With only 100 possible spots in the roster, it only hurts us to keep someone if they're only playing one or two matches a week. If I can look at the first page of your game history and it's still showing matches from 3 weeks ago, you're not going to last long.
We will not spawn trap or farm other players. We are not going to reduce ourselves to such cheap tactics to obtain our Achilles armor. We're going to get there and we are going to do it legitimately. Additionally, we're not going to stall winning objective games just to get extra kills.
Leadership
TopherXPwns
is the founder and leader of the company and handles most of the requests as well as roster cuts.
ON HIATUS
rustarocket
is acting leader
and
TheProcess84
also help with handling messages and requests.
Vakama905
controls our community sessions.
SideSwyped
,
WreckItRayy
and
HugeCandy Dude
are founding members of the company but are not active on Waypoint. Messages to them will go unread.
All of us are in contact with each other over various means. Any planning, problems or other matters of note are typically shared between us all.
About The Warzone Wrecking Crew
We started as a crew of 4 long term Halo veterans and teammates of over a decade.
We currently have Spartans from all across the US, Canada, the UK, Australia.
We are extremely low pressure. We don't ask you to maintain an amazing K/D or win %, nor a minimum level. We just want people who love Halo and are going to remain dedicated to playing and actively contributing to the company.
We encourage our members to be active and social in our private forum here on Waypoint as well as in our private discord chat server.
We are lone wolves, we are team players, we play arena, we play Warzone, we are young, we are old, we are new recruits and we are veterans from day one.
We are the Warzone Wrecking Crew.
Oops, yea sorry. I really am not enthused about the shotgun starts. Mostly is the full shields though.

Feet First
Made your first hot drop into HaloWaypoint.com

Halo 5: Guardians MP Beta
Halo 5: Guardians MP Beta participant.

Statistician
View your Service Record on the web.

Enlisted
Become a member of an active Spartan Company.