Veteran Halo player, going on four years. Still a bit weak on lore, but getting better.
Spartan Company
---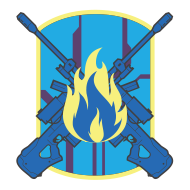 Have fun and come play
100 Members
Est. 1/19/2017
Hey! We're the XP Junkies. It's as simple as that, we LOVE XP and companies are the best way to get extra XP. We're pretty laid back and chalax so join up if you just love to game! We primarily only play Halo 5 but have other games (mostly Halo related). If you are looking for a fun group of crazies to play with, then read on and request to join. If you just want a company, just want the armor and/or helmet, or just want XP, join up! We don't care if you've been playing halo for years or are a Christmas Noobie, join up!

Guidelines
- 18+ years old. We want mature players ONLY (exception Da Dank Memes)
- Active players looking to play with other people -- Please play weekly (30+ days inactive will be kicked)
- Communicate, play with other members, and check your messages on waypoint
- If you have a mic, that's a BONUS!!!

Include in your Request to Join:
- Why you wanna join the company
- Your age
- Your time zone and when you typically play
- Why you're awesome
NO DEFAULT MESSAGES WILL BE ACCEPTED

Reasons you may want to join:
- We are awesome
- We just like to game and have fun
- We don't care how good or bad you are

Achilles Status:
Tier 1: 31/31 complete
Tier 2: 31/31 complete (14 November 2017)
Armor: 27/31 completed
Tier 4: 14/31 completed
Helmet: 5/31 completed
Obtaining the helmet and armor are NOT our primary goals. We just like to keep people informed :) :)

Social Media:
We have a Discord Page (please check the forums for the link--once accepted)

Leadership:

BROCK SAIYIPSON: Face of the company. Obsesses over commendations. Always calls dibs on first strike and gets way too excited during awesome plays. Look out for his ghosts during firefight.

KelleySpartan87: Founder of the company. The Brawling Beauty of Grifball and Gungoose extraordinaire. Halo's best panic, crouch, and puncher so don't come around the corner or you'll hear a scream.

Skippy575: Skippy is just...Skippy is wise. He is also on Harvest fighting down the insurrection.

BubbaSparxxx92: He's loud, he's proud, get used to it. <--That's what she said!

RedHeadURDead: Yell for HELP but watch out, she may have been the one who splattered you! Her laugh will intoxicate you though! HAHA!

AwakeCrudeWolf: <----, SGT Slaughter: Tries to keep everyone goal oriented. Key word is TRIES. LOL

LordBaJesus: BTB King. Cool as a cucumber in combat.

We have 7 active members of our leadership. We work together to make decisions for the company and to keep things running smooth and FUN. Contact us with any issues and message us if we're online and want to play.
Split-screen and the Reach armor system. I cannot stress these enough.

Feet First
Made your first hot drop into HaloWaypoint.com

Statistician
View your Service Record on the web.

Enlisted
Become a member of an active Spartan Company.