Esports
Designing The Halo Esports Ecosystem – August
Hey everyone! First, thanks to everyone who participated and slayed out those Bots in the Halo Infinite Tech Preview! It was great to see so much positive feedback about the game from the competitive community, and we're also appreciative for the constructive feedback you all had too. We can't wait for you to play more!
Welcome back to another installment in our blog series, Designing the Halo Esports Ecosystem. The goal of this blog series is to detail how we are working to develop a healthy and sustainable ecosystem for Halo esports. If you're interested in our philosophical approach to esports as a fan, player, team, tournament organizer, or sponsor, then this blog series is for you! If you're hoping to learn specifics about format and roadmap, stay tuned, more info will be released as we get closer to the launch of Halo Infinite.
If you're new to the series, thanks for joining us! You can catch up with the first six installments here:
Alright Tashi, what are we talking about today?
We've got another big one today as we're finally revealing the partnered Teams that will be joining HCS at launch.
LAUNCH PARTNERS
Halo Infinite marks the next era in the franchise, and with it comes the next era for the Halo Championship Series. Behind the scenes, we've been hard at work for the last few years building out the ecosystem with Teams being a huge component of that. After getting tons of feedback on the Partnership Program, opening up applications, selecting the Teams, building the in-game content, and signing contracts – we are finally ready to reveal the Teams that will be partnered with us for the launch of HCS for Halo Infinite. We are so proud to have such an incredible lineup of Teams ready to jump into Halo, and we can't wait to get work.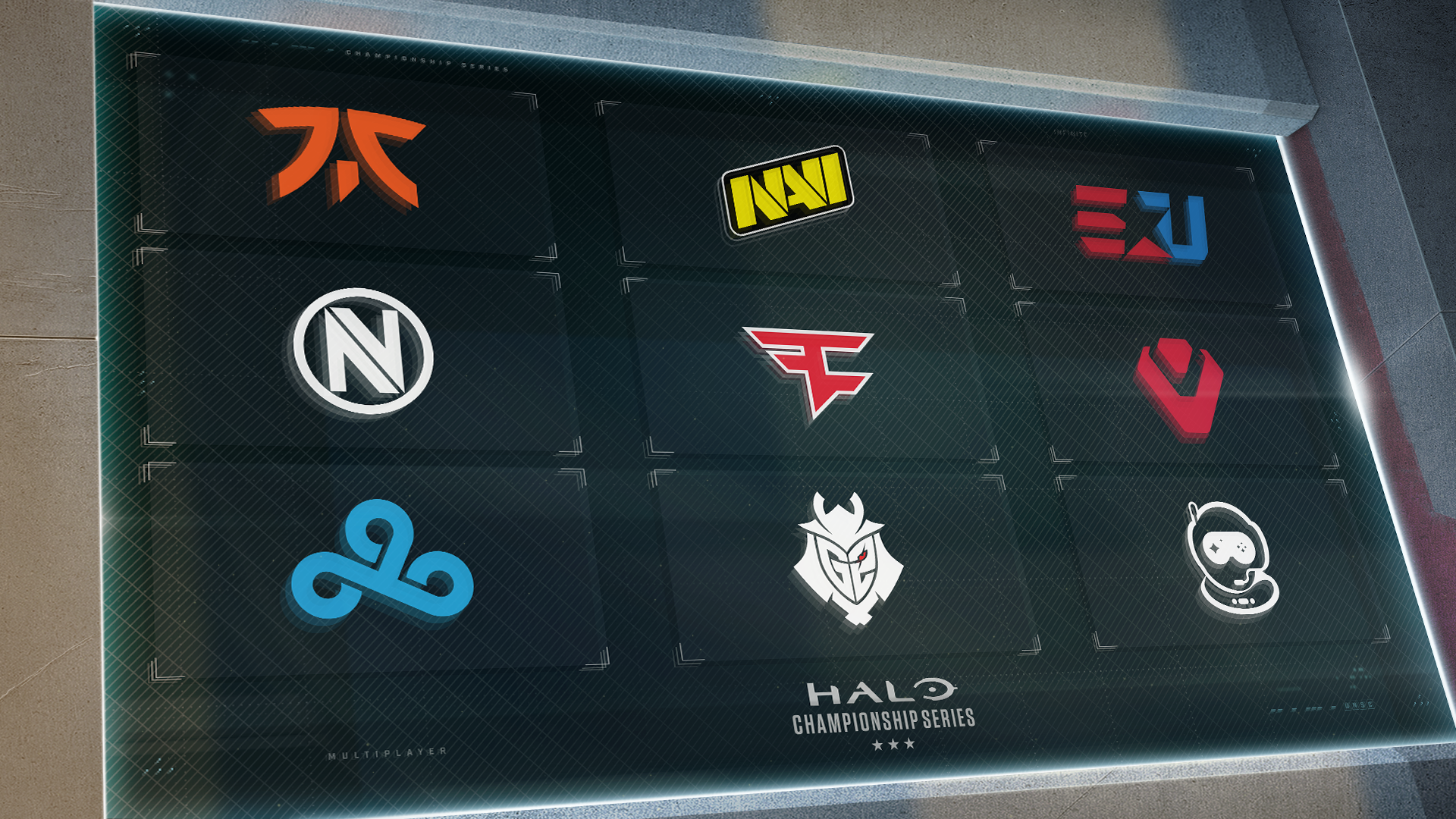 We want to thank each of these Teams for believing in Halo and its community. Here's what gets us so excited about working with each of these Teams!
CLOUD9

Their resume in esports speaks for itself! They are one of the few Teams that have been around for a long time and have managed to stay at the top throughout it all. Cloud9 are long time believers in Halo as they had a team at the very beginning of HCS with Halo 2: Anniversary.
Penguin
Eco
Stellur
Renegade
EUNITED

This organization is filled with Halo fans who are passionate about the scene and very knowledgeable as well. Their dedication to fan engagement and content is something we really admire and think they will be a force to reckon with in Halo Infinite.
FAZE CLAN

Over a decade of excellence, culture defying and defining, FaZe Clan simply don't miss. This team knows how to win, they know how to entertain, and we can't wait to see what they do in Halo Infinite. Actually, we're just hoping they can help us find out where Kampy is. Just kidding!
FNATIC

Another stalwart in esports and a very familiar face for Halo veterans, Fnatic once took the MLG Pro Circuit by storm and are back to reconnect with part of their roots with Halo Infinite. Their excellence in the industry is boundless.
G2 ESPORTS

Founded in 2015, G2 have built a reputation of competitive excellence and pure entertainment that will no doubt have a big impact on the Halo scene as well. G2 have a strong vision for esports and we can't wait to see how they dazzle us in the arena.
NAVI

This legendary organization has been a dominant force in esports across multiple titles over the years and now have the Halo scene in their crosshairs. Despite this being their first foray into Halo, we wouldn't take them lightly.
SENTINELS

Fielding Halo's current reigning dynasty, Sentinels have been supporting the Halo scene for nearly 2 years now and we were very happy to welcome them into the Partnership Program as they take on their next adventure in Halo Infinite. With their unique brand and knack for talking smack, we think they'll be turning some heads this holiday.
Snakebite
Royal2
Frosty
Lethul
SPACESTATION GAMING

This Team knows how to win and they also know how to have fun at the same time. With a proven track record in esports that continues to grow, SSG are looking to spice up the Halo scene. Like they said in their announcement, they're the underdogs but I wouldn't sleep on this team!
TEAM ENVY

Having won multiple Halo championships in Halo 5, Envy is back and have been fielding one of the scene's top rosters for the last year. The organization has grown significantly since their Halo 5 days and we're thankful that they're bringing their prestige and power back for Halo Infinite.
Halo community – please do me a favor and give these Teams a warm welcome. They are invested in seeing this scene grow, supporting you all, and taking Halo esports to new heights. Show some love by replying to the latest tweets from @HCS.
And in the spirit of transparency, we also wanted to note that Microsoft is a sponsored partner of Cloud9 which includes some technical support of their teams, but this does not include the Halo Infinite team. These partnerships are completely separate, and it was critical to all parties that we maintained fair play.
We're sure there are a bunch of questions, so we did our best to preemptively answer those below.
Q&A
Question: What do these Teams get for being partnered with HCS?
Answer: These Teams are investing significant funding into the Halo ecosystem and we want to ensure that the Halo ecosystem can give back financially to them. They're going to be paying players, coach, manager salaries, creating entertaining content for fans to watch, and they'll even have the opportunity of setting up booths at our events to spend time with the community. None of the investment funding is going to us, it's all going to the community! Part of why these Teams were selected was because they wanted to be a part of the Halo community for the long haul. Let's welcome them and their fans with open arms, and support them as much as we can. In return for their investment, the partnership with Teams starts with in-game content where they will receive a significant share of the revenue. Each partnered team will have multiple bundles released within Halo Infinite, which the prior bundle being placed into the vault as the next one releases. Additionally, Teams will be given a wealth of content and opportunities to film content at events so that they can entertain their fans and bring in new ones. We're also hard at work at more opportunities for partnered Teams including sponsorship support, merchandise collaborations, and more. Our goal is to provide as many opportunities as possible to our partnered Teams.
Question: Will partnered Teams have any competitive advantage over other Teams?
Answer: No. None of these partnered Teams will receive any HCS Points, any advanced placement at events, or auto qualification to any Official HCS events that impact the roadmap that the entire other scene will compete in. This was super important to us. We're an open ecosystem and we will have plenty of open events where anyone can compete and win. You might find however that these partnered Teams get selected for Invitationals, show matches, and things along those lines where entertainment is the real goal and those won't have an impact on the main HCS league or competitive standings.
Question: Will there be more Teams added to the Partnership Program after launch? If so, when will that happen?
Answer: The short answer is yes! The long answer is that it's really important to us that these 9 initial Teams have a great experience, and we are hitting our goals as we go along BEFORE we end up bringing on more Teams. We want to avoid a situation where we scale up too fast, and we are unable to support and manage them properly. We are in this for the long haul and so are our partners. We want to slowly add in more Teams as we go along.

Question: I'm a Team that's interested in joining the Partnership Program at some point in the future – what can I be doing to set myself up for success?
Answer: Great question! While these are the 9 partnered Teams for launch, it's important to keep in mind that we are an open ecosystem and we welcome all Teams around the world to jump in and participate if they choose to. In fact, we have already been talking to quite a few Teams that are looking to jump in despite not being in the Partnership Program which we are very thankful for. When we review applications for the Partnership Program, we're looking for Teams that have a proven track record of supporting rosters in other games or even Halo, and they really sink their teeth into those games to engage with the community and support their players. Additionally, we look at the social media and content strategy. It's important to us that partnered Teams are pushing the story of the league and scene forward, and are committed to entertaining their fans while drawing in new ones. If a team is also invested in signing Halo content creators, that signals to us that they're serious about the Halo scene and supporting it. Finally, it's important to us that Teams are not just in it to make a quick buck off of selling in-game content but are investing appropriately into Halo to support the community, and are looking to do so for years.
Question: Tashi, what about Teams supporting Australia & Zealand, as well as Latin America?
Answer: Over time, it is important to us that we also add Teams from those other regions into the Partnership Program to extend the support there. For launch, we made the decision to stick to North America and Europe for partnered Teams as those regions are more established and developed in Halo (as well as the reasons in the prior answer above), and we feel will provide more potential success and opportunities for Teams to invest significantly. In the first year for Halo Infinite esports in ANZ/LATAM, we believe we need to first establish a strong foundation for players to commit to competing in Halo and really investing their time. The scenes need to grow deeper with more players competing and performing at a high level globally. This is part of why it was so critical for us to commit to having the full year roadmap available for players to see at launch, and why our regional approach has been bolstered which we will share more about later.
Question: We want to support these partnered Teams, what we can do?!
Answer: There are many ways that you can support the partnered Teams now and in the future! When Halo Infinite is released, purchasing their in-game content will really go a long way as they'll receive a significant portion of the revenue and is a key part of the program. On social media, you can be active by liking, sharing, and responding to their posts. They participate in games other Halo, but let's make their Halo fans the most hardcore and passionate! Additionally, you can support the players that they field by watching their streams, supporting on social media as well, etc.
CONCLUSION
We are truly humbled by all the love that Halo Infinite has been shown so far by the players, fans, and partners. Thank you, a million times. Our next adventure in Halo is just around the corner, and we will have more exciting news to share including tournament/event information, competitive settings, and much more. Let's keep the positivity rolling!
Feel free to drop me a line on Twitter.