Esports
Top 25 Greatest Players of All Time
Updated 9/29: Full results below.
Halo: Combat Evolved launched on the original Xbox in 2001 and once players were finished fighting against the Flood and the Covenant, they quickly turned their crosshairs against each other for pure competitive bliss. What started as rivalry in the household quickly escalated to the neighborhood, local schools and in what seemed like a blink of an eye, Halo esports became a global phenomenon with the level of competition and stakes increasing year after year.
We see Halo Infinite as a continuation of Halo esports' long lineage, and thus wanted to take a moment to recognize and celebrate the incredible players that paved the way and those that are still dominating today. This is where the Halo Top 25 Greatest Players of All Time list comes in.

JUDGING
A panel of judges outside of the HCS team and across all Halo generations were selected and tasked with creating their own individual Top 25 lists.
From there, we assigned a point value to each placing for each one of their lists. The 25th player on each of their lists received 1 point, and the 1st player on each of their lists received 25 points. We then tallied up the points for each of the players to create the final and official Top 25 list. The player with the highest total point value was named the Greatest Halo Player of All Time. The player with the 25th highest point value was named the 25th Greatest Halo Player of All Time.
In the case of the two players having the same exact point total, the tie was broken based on which of the tied players received the single highest ranking from one of the judges. For example, imagine two players were tied for 17th. Player A's highest ranking on one of the judge's lists was 12th. Player B's highest ranking on one of the judge's lists was 13th. Therefore, Player A received 17th on the list, Player B received 18th on the list.
The judges were given the following criteria and guidelines:
Focus on greatness in competition. External greatness around sponsorships, popularity, kindness, etc should NOT be a factor.
While 4v4 is the main competition and focus, consideration for other accolades including MVPs, individual tournament wins, and more can also be made.
Where possible, you should take statistics into consideration as well as including things like Kills, Assists, average placement, winning streaks, event wins, and more.
Other intangible considerations around reputation in the game, leadership, play-making abilities, eye test, and more can also be made.
SCHEDULE
The players will be announced on the HCS Twitter account starting on Monday 9/6 at 10am PT, and for the first week we'll be revealing three players a day which will then leave us with the Top 10. Along with the announcement, we'll be celebrating the player's success and sharing memories from their career. We encourage everyone to join the conversation online and share your favorite memories as well!
In Week 2 starting on Monday 9/13, we'll be releasing a video each day starting with #10 and ending with #6. Each of these videos will be soley dedicated to the player, and you'll hear from Halo legends across the ages as they talk about what makes each of these players so great.
In Week 3, starting on Monday 9/20, we'll again be releasing a video dedicated to each player. On Thursday 9/23, we'll open up a community poll so you can weigh in on who you think is the Greatest Player of All Time. Finally on the last day, we will reveal both #2 and #1 players on the list, and again each with their dedicated video and time in the spotlight.
Update 9/29: The full list has now been revealed! Congratulations to all players who made the 2021 list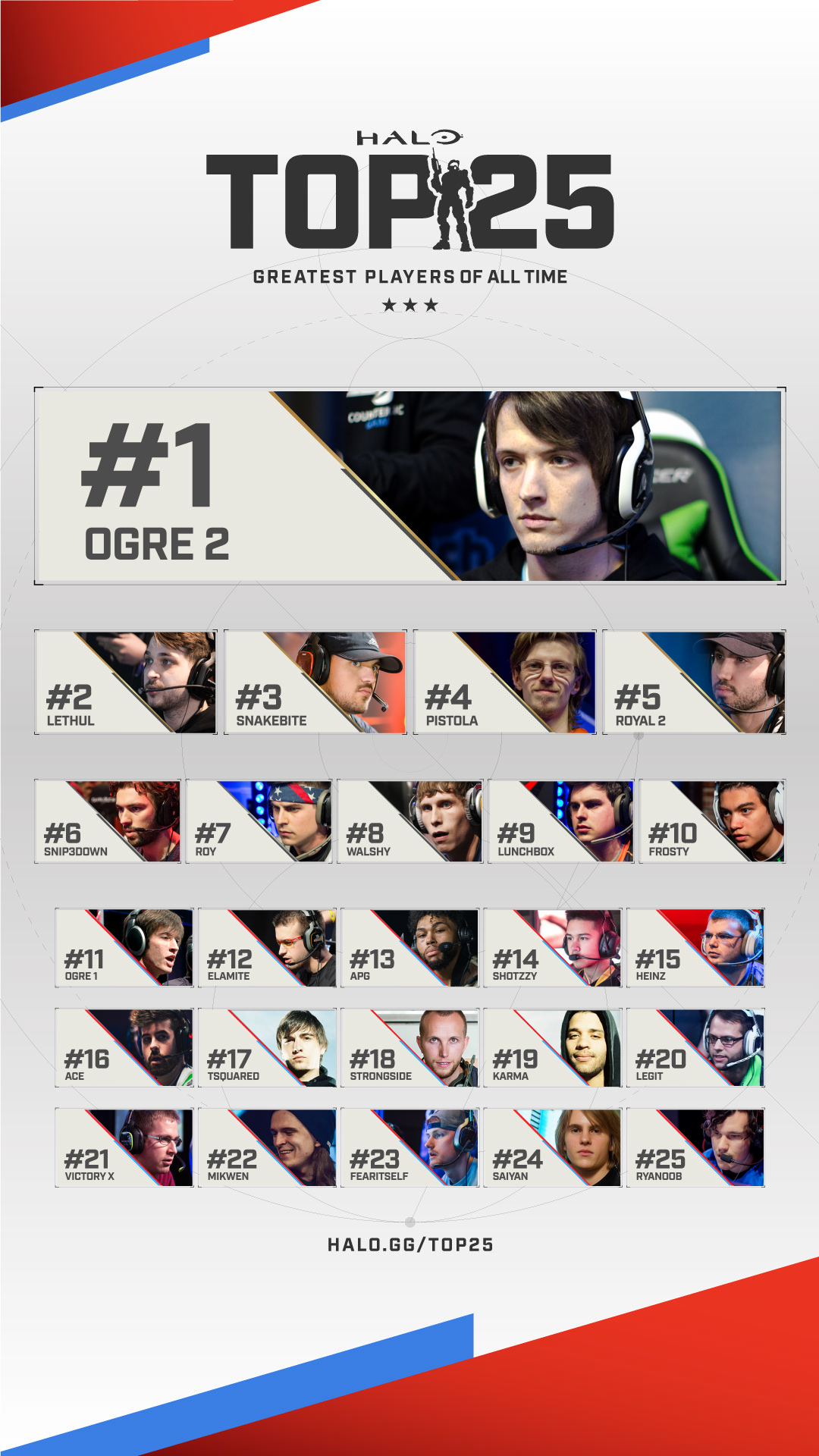 FOLLOW ALONG.

Determining the greatest Halo player of all time was no easy task and we took the process and gravity of the list very seriously. We know that each of you will have your own opinion on each of the players on the list and we encourage you all to share your thoughts with us on Twitter using the hashtag #HaloTop25. Do you think a player should have been higher on the list? Maybe there's someone who didn't make the cut who you thought for sure should have made it. Join the conversation!
We'll be revealing the players one by one on the Official Halo Esports Twitter account, and to coincide with the Top 25 list, we've also launched the Official Halo Esports YouTube channel. We are very excited that Halo Esports will now have it's own official home on YouTube. To start, the channel will feature videos from this campaign, and has some historical footage to peruse as well. All of the video content we'll create going forward (including full tournament VODs) will also be made available on the channel and accessible for fans to enjoy.
Make sure you follow and subscribe so you're up to date with all the latest news and video content.
THE FINAL POINTS
Without revealing the names, we wanted to reveal the list and associated points so fans can see just how closely contested the list was. Halo pros both retired and current on this list are truly the Greatest Players of All Time.
Update 9/29: Names added in below.
219 Points - Ogre 2
216 Points - Lethul
192 Points - Snakebite
186 Points - Pistola
174 Points - Royal 2
171 Points - Snip3down
158 Points - Roy
157 Points - Walshy
149 Points - Lunchbox
142 Points - Frosty
129 Points - Ogre 1
85 Points - Elamite
83 Points - aPG
82 Points - Shotzzy
78 Points - Heinz
72 Points - ACE
68 Points - Tsquared
64 Points - Strongside
51 Points - Karma
41 Points - Legit
39 Points - Victory X
39 Points - Mikwen
35 Points - Fearitself
33 Points - Saiyan (Ryan Danford)
28 Points - Ryanoob
CONCLUSION
At the core of it all this list is meant to recognize and celebrate the incredible achievements of these players over the course of their careers and Halo's history. For those that are retired we say thank you on behalf of the entire Halo community for dazzling and inspiring us. For those that are still competing, thank you for the memories so far, and best of luck in Halo Infinite. And for all players that made this list of 2021, congratulations!