Community
Shadows of the Former

ISSUE 107
So uh, hey there! I feel like it's been a little bit, no? If you're new to these features, Canon Fodder is a long-standing look into lore-related elements of the Halo universe. Our last issue took a deep dive into the narrative elements of last summer's Outpost Discovery tour.
While today's return will be brief, it will hopefully still bring a smile to your lore-loving face—especially if you're a fan of good books and intriguing storylines. Let's get started!
HOMECOMING
Our prime piece of real estate today is to announce the next adventure in Halo's deep and enriching extended universe – Halo: Shadows of Reach. Penned by Troy Denning, Shadows takes place after the events of Halo 5: Guardians. For a bit more information, let's take a gander at the official description:
October 2559. It has been a year since the renegade artificial intelligence Cortana issued a galaxy-wide ultimatum, subjecting many worlds to martial law under the indomitable grip of her Forerunner weapons. Outside her view, the members of Blue Team—John-117, the Master Chief; Fred-104; Kelly-087; and Linda-058—are assigned from the UNSC Infinity to make a covert insertion onto the ravaged planet Reach.
Their former home and training ground—and the site of humanity's most cataclysmic military defeat near the end of the Covenant War—Reach still hides myriad secrets after all these years. Blue Team's mission is to penetrate the rubble-filled depths of CASTLE Base and recover top-secret assets locked away in Dr. Catherine Halsey's abandoned laboratory—assets which may prove to be humanity's last hope against Cortana.
But Reach has been invaded by a powerful and ruthless alien faction, who have their own reasons for being there. Establishing themselves as a vicious occupying force on the devastated planet, this enemy will soon transform Blue Team's simple retrieval operation into a full-blown crisis. And with the fate of the galaxy hanging in the balance, mission failure is not an option….
Of course, a return to Reach wouldn't be complete without a ridiculously cool cover to adorn the adventure, and once more, talented artist Chris McGrath has delivered the goods. It's honestly one of my absolute favorite Halo book covers, I must say. Make sure you click for the full wrap!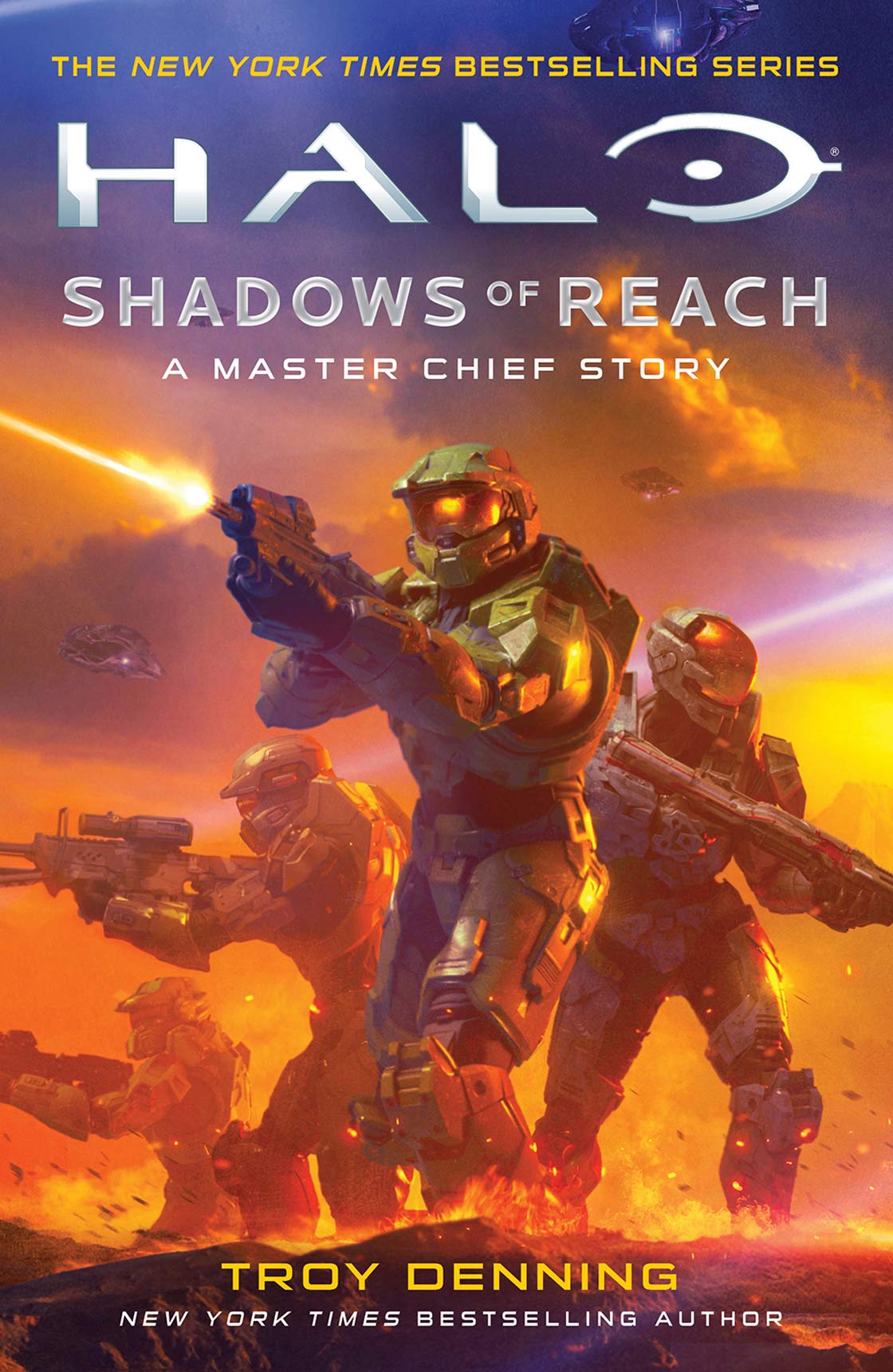 Halo: Shadows of Reach is published by our friends at Simon & Schuster and Gallery Books, and is slated to drop later this year on September 22, helping you pass the time while you eagerly await the arrival of that little Halo game we're all looking forward to this holiday season.
ARCHIVISTS ANONYMOUS
Of course, there's plenty of Halo to play in the meantime as well, more and more so if you're playing on PC, as the Master Chief Collection continues to roll out on both the Microsoft Store and Steam. Along side this rollout, you may have noticed some new video pieces accompanying each title. First up, and highlighting some gorgeous artwork by our friend at partner Toros Köse, two lore-laced video pieces showcased the MCC background menu changes for Halo: Reach and Halo: Combat Evolved Anniversary respectively.
Next up is something that might be of particular interest to regular readers of this feature. That would be a new video series titled ONI Archive, which represent on the surface, a way to help introduce new fans to key events and elements of the universe via the loosely canonical framework of an ONI Section 2 propaganda initiative. For deeper-diving fans of course, there's an additional bit behind the curtain that we hope you'll find interesting…
Here's the first video, released in conjunction with Halo: Reach.
And hot off the presses, a Halo: Combat Evolved Anniversary-related drop that released just today!
It's been awesome to see keen-eyed/eared fans already starting to pick up little details. Stay vigilant, folks...
BRINGING THE ARMOR TO LIFE
Another recent video that might be of interest is an inside look into how we partnered with the folks from EVAkura Armor to create a real-life version of Master Chief's GEN2 Mk.VI armor as seen in Halo 5: Guardians. Featuring Franchise family members Corrinne Robinson and Kenneth Peters to add in some fiction flavor, the video showcases what it takes to use creative modern-day techniques to recreate a set of 26th century power armor for us to use at events, promotions, and other memory-making moments.
COMMUNITY CALLOUTS
We understand that sometimes there are dryer periods when it comes to the Halo information you might crave the most (like where is my Halo pinball machine already?!). That being said, there are always a host of incredible community outlets discussing and dissecting the Halo story and universe. Here are a couple of recent ones that come to mind:
Brendan "Lor" Lowry always does a bang-up job taking a deeper look at a variety of Halo topics on his blog, but I noticed one recently that had originally slipped past my motion tracker – one that I really enjoyed reading, especially with the recent addition of Noble Team's efforts to the MCC. Make sure you check out his analysis of the Halo: Reach level "Exodus." So good!
The awesome folks at Podcast Evolved released a great episode where they interview the long-time voice of Halo audio books, Scott Brick. Make sure you give it a listen!
We highlight a lot of great Halo fiction-focused YouTube channels around here, but here's another one. Installation 00 always has cool videos coming out that take a closer look at different elements of the universe. One of their most recent videos is an audio reading of an excerpt from Halsey's Journal, read by another very talented community member, Kat Peterson (@CxeeFoxx). The result is a really awesome enhancement of an already rad experience – give it a watch!
And with that, I must sneak off back to my other duties. Trust me, you'll hear more about those eventually.
Thanks for joining us for another edition and hope to see you soon! Well, soonish.
Until next time… Live well, play Halo, and wash your hands.