Halo: The Master Chief Collection
Celebrating 20 Years of Halo in The Master Chief Collection
Nearly 20 years ago, we met the Master Chief for the very first time in Halo: Combat Evolved. With Cortana at his back, the Master Chief stepped foot onto the mysterious Installation 04 and ignited a fandom that would span generations. Since then, Halo: The Master Chief Collection has become our living legacy; celebrating the original Halo titles that have led us to this moment as we prepare to welcome the next generation of the franchise with Halo Infinite.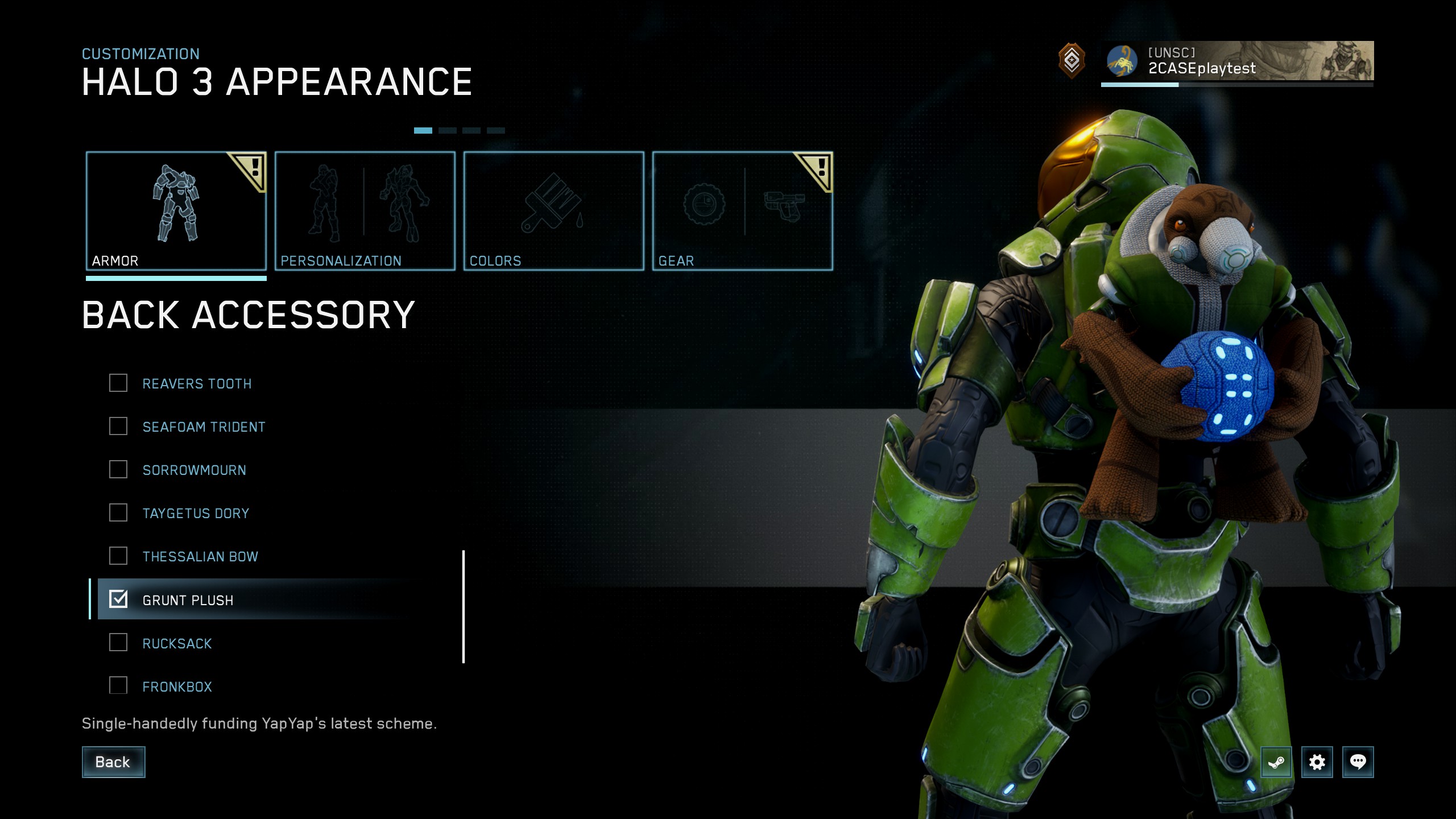 If you were watching our latest MCC Dev & Flighting Update, you might recognize the Grunt Plush!  [To download this image at full res, please click here.]
As such, today we're thrilled to announce some brand-new content coming to MCC to help celebrate 20 years of Halo! With today's update there's a fresh bevy of Halo-themed content for you to adorn your Spartans with, including:
The "Orion" Armor Set for Halo 2: Anniversary, first seen in the original 1999 Halo reveal
Weapon skins featuring an OG Xbox color scheme
Back Accessories suited for any Spartan's loadout
A batch of brand-new Nameplates! Here's just a few examples:




So, whether you want to duke it out with the Duke, or you want to bring your very own Grunt Plush into battle, there's plenty waiting for you.
Halo 20th Anniversary content in MCC
Across MCC there will be a litany of new content to check out, including a brand-new armor set for Halo 2: Anniversary, another set along with some cool new pieces for Halo 3 featuring some of your favorite Xbox gear of yesteryear, a new Utility Item for Halo: Reach, along with nameplates and a few other pieces of flair that will help any Halo fan round out their kit. There will even be some nameplates you can earn by completing new weekly challenges.
Over the course of November, December, and into January we'll be releasing Halo 20th Anniversary-themed content right in MCC's Exchange for you to purchase with Season Points. Granted, we know the holiday season brings with it lots of travel, so we're doing what we can to keep you covered:
First things first, please check out our full schedule below of exactly what's releasing, and when.
And, if you miss any of these dates, we've got you covered. Everything below will return to the Exchange at a future date! You can rest easy knowing these aren't one and done.
So, without further ado, here's a rundown of what's to come: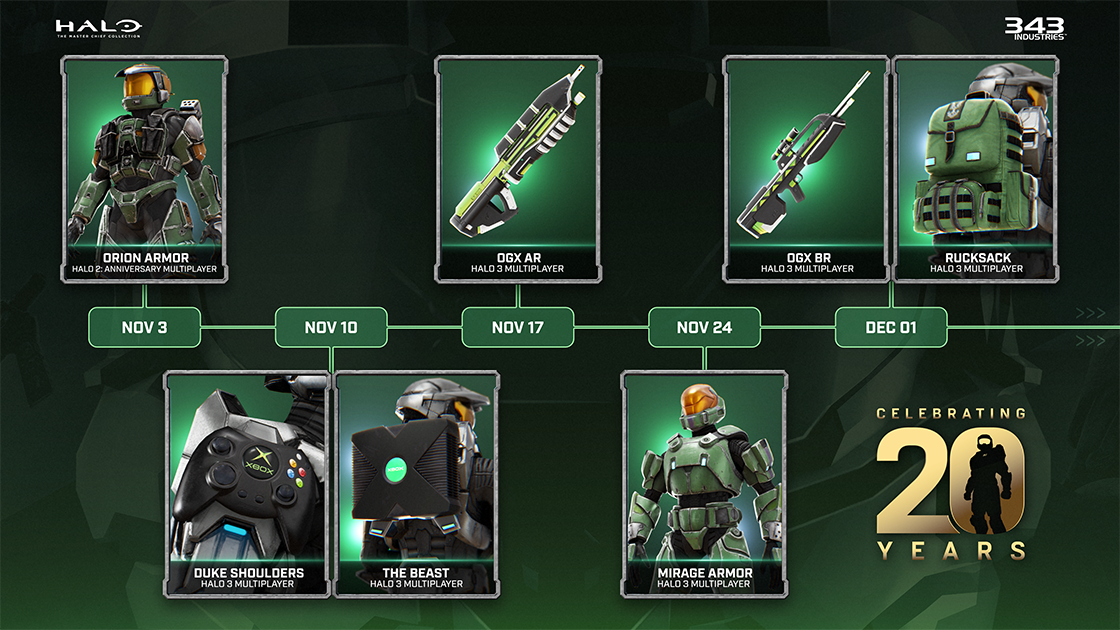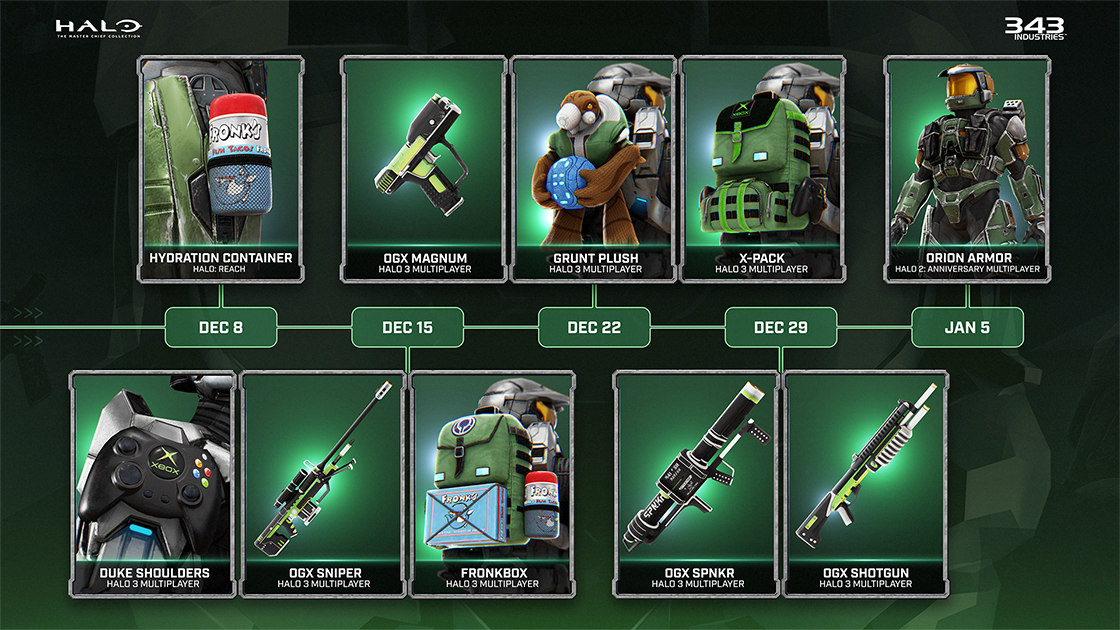 And, for those of you that would prefer to copy and paste, here's a written rundown of what'll be available in the Exchange (and when), just for you:
November 3, 2021: "Orion" Armor Set (Helmet, Chest, Shoulders, Arms, Legs) for Halo 2: Anniversary
November 10, 2021: The Beast Back Accessory and Duke Shoulders for Halo 3
November 17, 2021: OG Xbox Assault Rifle Skin for Halo 3
November 24, 2021: Semi-Powered Infiltration "Mirage" Armor (Helmet, Chest, Shoulders, Arms, Legs) for Halo 3
December 1, 2021: OG Xbox Battle Rifle Skin and Rucksack Back Accessory for Halo 3
December 8, 2021: Hydration Container Utility Item for Halo: Reach
December 15, 2021: Fronkbox Back Accessory, Duke Shoulders, and OG Xbox Sniper Rifle skin for Halo 3
December 22, 2021: Grunt Plush and X-Pack Back Accessories and the OG Xbox Magnum Skin for Halo 3
December 29, 2021: OG Xbox Shotgun and SPNKr Skin for Halo 3
January 5, 2022: The first return of the "Orion" armor set for Halo 2: Anniversary
So go forth, mark your calendars and pack your Series S for your next travel date, because your chance to dial up your Spartan's look is going to level up even that much more. With huge thanks to throwbacks all the way back to the original 1999 reveal, to the Duke, to your very own Grunt Plush Back Accessory – there's going to be a lot more opportunities to show just how versatile your style is.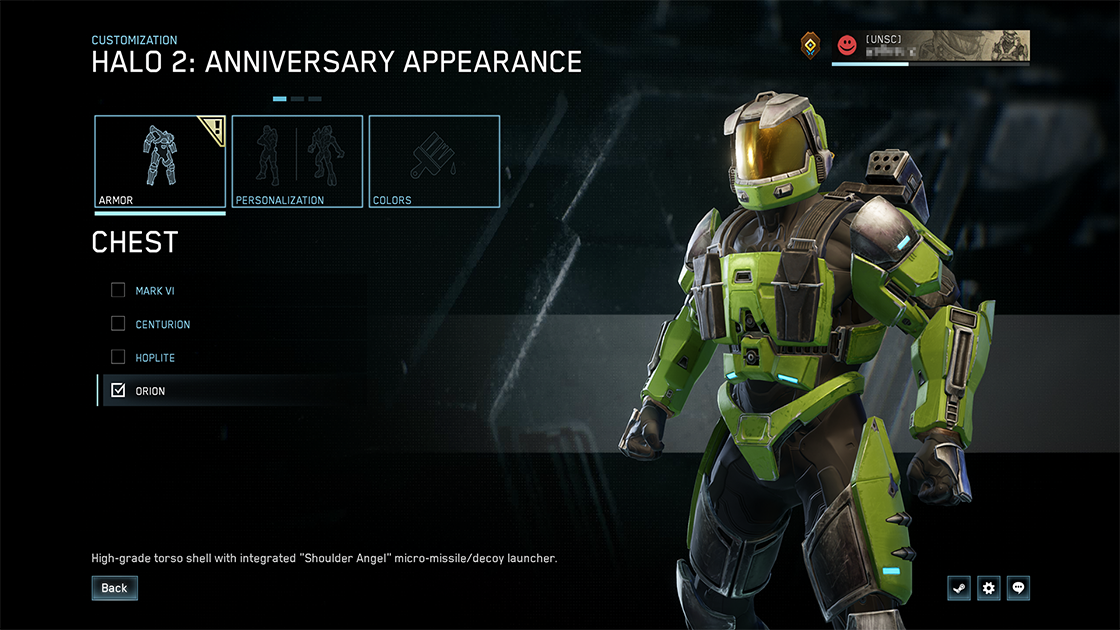 Party like it's 1999 in Halo 2: Anniversary with the "Orion" set! [To download this image at full res, please click here.]
For a full rundown of everything that's included in this update, be sure to check out our full Patch Notes right over here. And as always, if you need any help or find any issues within MCC, be sure to contact the Halo Support team over at aka.ms/HaloSupport.
Thank you for 20 years
It's hard to believe that we've been together though this great journey together for 20 years now. Console generations, along with human generations have risen up right in front of us during that time. And whether you preferred to spend your time in BTB with friends, replaying campaigns to try your hand against legendary Jackal Snipers, or anything in between, it's impossible to ignore just how much your feedback and friendship have meant to us.
Thank you, and we hope you enjoy! Putting together this content for MCC to celebrate 20 years of Halo has inspired us greatly, and we couldn't be happier to get it into your hands. So whether you're just diving into Halo for the very first time or you're a veteran that's been by Sierra-117's side since the very beginning, we're eternally thankful to have you here.
And, when you're done exploring the new looks, be sure to let us know how your new Spartan looks! Send a Tweet our way when you get a chance.