Games
Welcome to Reach
Today, we're thrilled to announce that Halo: Reach is available to play within The Master Chief Collection on Xbox One and PC! Whether you're new to the series or a returning Spartan, we're excited to welcome players to Noble Team and an epic experience that looks and plays better than ever. Visit Xbox.com, select your platform of choice, and jump in now.
From the beginning you may know the end, but you've never experienced Reach quite like this before. Read on for everything you need to know about Halo: Reach on PC, what you can expect for Halo: Reach on Xbox One, how to share issue reports and feedback, and more helpful details.
PC: A CLASSIC SAGA, BUILT FOR PC
The Master Chief's saga on PC comes equipped with new features, optimizations, and customizations built for the platform. Halo: Reach looks and plays better than ever at 60 frames-per-second (or greater via an experimental variable framerate option) with 4K UHD support, and a multitude of settings to custom-tailor the experience to your hardware and personal preferences.
Players will have a few different avenues to obtain Halo: Reach depending on the platform of choice:
Xbox Game Pass – Subscribe with Xbox Game Pass Ultimate or Xbox Game Pass for PC (Beta) and get Halo: Reach, the first chapter in Halo: The Master Chief Collection, today. Halo: Combat Evolved Anniversary, Halo 2: Anniversary, Halo 3, Halo 3: ODST (Campaign) and Halo 4 are also included in your membership and will be available on each game's respective release date, completing the collection on PC in 2020.
Microsoft Store & Steam – The Halo: The Master Chief Collection bundle is available today for $39.99 USD, which includes Halo: Reach and will automatically update with the remaining titles as they launch next year. Halo: Reach can also be purchased individually for $9.99 USD. Note that you don't have to purchase both of these options - we've seen some confusion out there. Think of the MCC product as a launcher that will house Reach. You can purchase MCC complete which will auto-update with all titles as they are released or you can just purchase Reach standalone (but it will still install the MCC shell as a launcher).
Please note that an Xbox Live Account is required to play Halo: Reach PC online. If you don't have one yet, head HERE to create a FREE Xbox Live account now.
JUST THE BEGINNING
Today is an exciting day as the first big step in the journey to bring Halo: The Master Chief Collection to PC but there's plenty more work to be done. As a reminder, Forge and Theater will not be included with Halo: Reach on PC at launch. These complex features require additional work and fine-tuning in order to support the additional requirements (and opportunities) offered on PC. Work is already well underway on these features (and additional post-launch updates to Reach) and we'll share more details later next year. In the meantime, the 343 team has performed a mass migration of more than 8 million unique pieces of Forge content from the Xbox 360-era so your favorite maps and modes from the original game are available to enjoy today.
BOX ONE: IMPROVED, REFRESHED, AND BETTER THAN EVER
For existing owners of Halo: The Master Chief Collection on Xbox One, the Halo: Reach Campaign, along with Firefight, is now available as a premium add-on for $9.99 USD. The multiplayer components of Halo: Reach – including PVP modes, Forge, and Theater – are automatically included as part of the base content offering of Halo: The Master Chief Collection at no additional cost via a game update available today.
If you're new to Halo: The Master Chief Collection on Xbox One, you can obtain the entire updated and improved collection with Xbox Game Pass Ultimate or with Xbox Game Pass for Console, or purchase through the Microsoft Store. As of today, Halo: The Master Chief Collection is available for purchase at $39.99 USD and includes the totality of Halo: Reachas well as the Halo 3: ODST Campaign (previously only available as a premium add-on).
WELCOME TO HALO SUPPORT
In conjunction with today's launch of Halo: Reach, we're also excited to officially launch the new Halo Support site! This new resource is designed to help streamline and expedite our ability to capture issues reported by the community. The Halo Support site currently contains a number of helpful articles to help improve your game experience and give you insights into current known-issues and ongoing development priorities.
To get started, be sure to follow our new official Twitter account @HaloSupport. We'll use this channel to help provide quick broad announcements and helpful info.
And lastly, in addition to reports of any issues you may encounter, the team is also eager to hear your feedback on Halo: Reach. For nearly two years now, the MCC team has been working closely with the community using feedback to help inform feature development, address issues, and drive update priorities to continue improving MCC. If you have general feedback, feature requests, and other thoughts to share with the development team, please do so in the official forum threads.
BECOME AN INSIDER
Please consider opting-in to the Halo Insider program for a chance to participate in surveys, share feedback, receive official communications, and have a chance to join future hands-on flights (alpha/beta tests). We wouldn't be here today without all of the support we've received from the community and we'll continue to partner closely with Halo Insiders to help test and polish the remaining titles heading to MCC on PC in the coming year. If you're passionate about Halo and want to help ensure that future games, products, and services are the best they can be – become a Halo Insider today!
343 VS THE WORLD
To help celebrate the launch of Halo: Reach, we'll be ordering in pizza and jumping into Matchmaking on Xbox One and PC later this week and putting some special prizes on the line. During our "343 vs. the World" stream on December 5th, we'll be giving away special MCC nameplates to everyone who matches with us on both PC and Xbox. And, any players who match and win against Team 343 will receive an ultra-rare commemorative nameplate as a token of victory. Join us in the stream chat to talk with members of the team and maybe even win a copy of Halo: Reach for the platform of your choice!
Join myself and other members of the 343 Team later this week for our "343 vs. the World" live stream on Thursday, December 5th from 1PM to 6PM PT on Mixer.com/Halo. Stay tuned to @Halo for more details, including the scheudle for who's playing what and where (spoiler: 343's Pro Team will be throwing down in Team Hardcore). We'll see you online!
LOOKING AHEAD
As the team launches Halo: Reachtoday, the foundation is already being laid to kick off public flighting of the next PC release – Halo: Combat Evolved Anniversary – in early 2020. Additionally, work is underway for post-release updates to Halo: Reach including additional refinements and improvements as well as the release of Theater and Forge (the latter of which includes several brand new objects). We'll be paying close attention to Halo Support tickets and player feedback to help inform ongoing needs and priorities for Halo: Reach.
Thank you to the Xbox and Halo communities for going on this journey with us and thank you for partnering with us to finally make this long-requested dream a reality! This is just the start, and we cannot wait to finish the fight throughout next year as we release rest of the collection in 2020.
Until then, we'll see you on Reach, Spartans.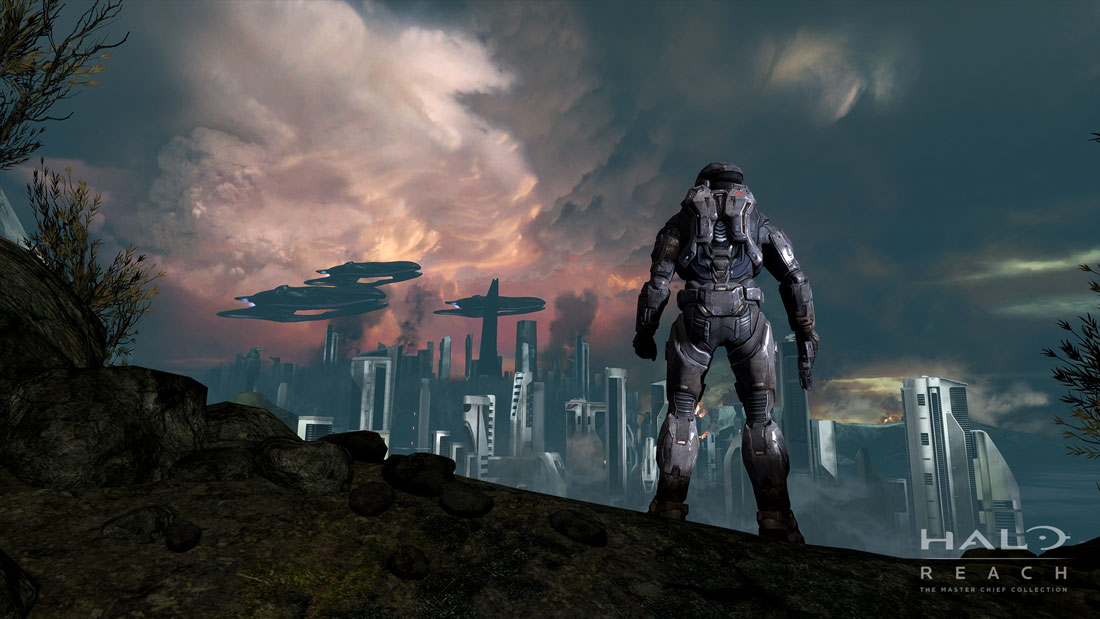 ADDITIONAL RESOURCES
Looking for more info on Halo: Reach and the journey to bring MCC to PC? Want to stay up to date on the latest and greatest Halo happenings? Can't get enough Halo news and info? Check out these helpful links:
Catch up on Halo: Reach and MCC Development with our latest monthly update blogs: